After 100 Days, Is the War in Ukraine Finally Turning in Putin's Favor?
On February 24, tens of thousands of Russian troops invaded Ukraine with the military aim of securing the capital in a matter of days. That operation failed when Ukrainians, both those in uniform and those in civil society, banded together to defend their country.
However, as redeployed Russian forces make incremental territorial gains in Ukraine's eastern Donbas region, momentum appears to be shifting back in the Kremlin's favor. While Russia's initial hopes of an easy victory were quickly dashed, its capacity to fight a protracted campaign means that Vladimir Putin's ultimate goal of incapacitating the Ukrainian state remains achievable.
Contrary to much of the speculation in Western circles, Putin's Kremlin does not appear to be searching for a means of declaring victory and calling off its aggressive campaign, nor does it appear eager to sign on to any sort of face-saving diplomatic compromise. On the contrary, in its carefully controlled messaging to the domestic population, Russian media continue to push the idea that the country is fighting a war of necessity, and that it is winning.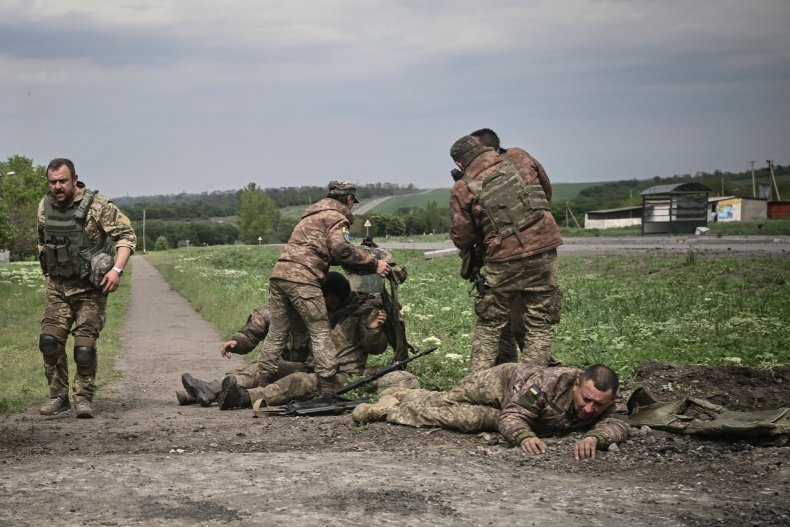 On Tuesday, in a segment typical of the fare presented to Russian viewers for hours every day by multiple Kremlin-controlled channels, television host and State Duma deputy Vyacheslav Nikonov presented a quote from Kirill Stremousov, vice chairman of the Russian occupation regime in Kherson region, which is located just to the east of the cities of Mykolaiv and Odesa.
"People in Mykolaiv and Odesa are awaiting liberation," Stremousov was quoted by Russian state news agency RIA-Novisti as saying. "The local population in these regions is getting in touch with the authorities in Kherson and asking about help."
Russian military analyst Igor Korotochenko offered viewers his own interpretation of Russia's aims for Mykolaiv and Odesa.
"I suspect that the task of liberating these territories will be the next phase following the completion of the battle for the Donbas," he said. "This is perfectly obvious."
While the battle for the Donbas is ongoing, recent weeks have seen Russian forces capture the cities of Popasna and Lyman, and they appear to be on the verge of driving Ukrainian forces from Severodonetsk. Although the Russian advance has been slow, it continues to move forward.
Russian military expert Vladislav Shurygin, who has reported from the Russian side of the Donbas front, offered his analysis to Newsweek.
"Russia hasn't completely broken the Ukrainian defenses in the east," Shurygin said. "There's still Sloviansk and Kramatorsk, but Russia has enough strength to take those even without declaring mobilization or shifting the economy to a full war footing."
He believes a negotiated settlement at this point is unlikely.
"One month ago, after the Russian redeployment from the areas around Kyiv and Chernihiv, the Ukrainian leadership was hoping to enter negotiations as victors, but that plan did not come to fruition," he said. "From a military standpoint, neither side is facing a truly catastrophic situation, which means that there is no necessity for either of them to agree to a compromise solution ending the war."
Shurygin expects this dynamic to remain in force for the foreseeable future.
"The Ukrainian army is not capable of transitioning from defensive to offensive operations in areas where Russian positions are well-fortified, and simply taking the Donbas is not enough to satisfy Russia," he said. "After securing the east, phase three of the war will focus on the liberation of Mykolaiv and Odesa."
While its earlier failures around Kyiv and Kharkiv call into question Russia's capacity for carrying out offensive operations on a scale sufficient to capture the entirety of Ukraine's Black Sea coast, Shurygin sees other possible means of forcing the cities into submission.
"The tactics will depend on how much strength the Ukrainian armed forces retain after fighting to defend the Donbas," he said. "Even if the Russian military chooses not to mount direct offensive operations, it can blockade and bombard the areas. It can communicate to the leadership in Kyiv that it would be better for them to decide this question through negotiations rather than by fighting to the last cartridge and leaving these places looking like Mariupol."
Of course, Russia's prospects for maintaining even incremental forward progress depend largely upon the level of resistance that Ukrainian forces are able to continue putting up. While the actual losses on both sides remain a matter of speculation, recent reports suggest that, despite infusions of Western military equipment, Ukrainian casualties may be starting to affect Kyiv's capacity to continue contesting territory in the east.
Canadian journalist Neil Hauer recently completed an extended trip to the frontline. What he saw there raises serious questions about the state of Ukraine's armed forces.
"The general atmosphere on the Ukrainian side is just exhaustion, really," Hauer told Newsweek. "Over the couple of weeks that I was in Donbas, I saw it get worse and worse over time as the Ukrainians were subjected to the overwhelming firepower advantage that the Russians have there."
"The casualties are so enormous," Hauer said. "And guys on the front will see that and feel that. The other day I was talking to a soldier who fought in Lyman. He said that, out of his unit of 60 people, only four were left uninjured or un-killed."
As for the strategic consequences of such losses, Hauer says that increased Western military assistance will be needed if Ukrainian forces are to halt the Russian advance.
"Severodonetsk itself is basically lost," Hauer said. "The Ukrainians realize that and are pulling back across the river, which makes a lot of sense. This is where the help that America is sending could be really make a difference. The HIMARS and MLRS systems that Ukraine is receiving are much better than anything the Russians have, and that's the sort of heavy equipment that they will continue to need in order to stabilize the situation on the front there."
Developments in the war also depend on the willingness of Russian society to continue suffering economic hardship in exchange for military advances of questionable material value. Even here, however, the Kremlin may at least have inertia on its side.
"Russians aren't really feeling the effects of sanctions," Moscow-based professor of international relations Nikolai Topornin told Newsweek. "Sure, certain Western goods have become more scarce, but the ruble is actually stronger than it was on February 24. Now there's a paradox."
Despite the European Union's decision to phase in an embargo on imports of Russian oil via tanker ship, the economic situation remains largely unchanged since April. Back then, the International Monetary Fund forecast an 8.5% decline in Russia's GDP in 2022, along with a corresponding 35% drop for Ukraine. While Russia's war of choice has made Russians poorer than they otherwise would have been, the costs borne by the Ukrainian side remain significantly greater.
The Kremlin did not achieve the cheap and easy victory it seems to have expected back in February. Still, 100 days into its war, Russia's willingness and ability to keep up the brutal fight indefinitely appears to be undiminished. Even if Ukraine's defensive efforts prove capable of holding cities like Mykolaiv and Odesa to the bloody end, that end now appears to be as far away as ever.