Russia's Gas Attack Could Paralyze These NATO Nations
More European countries could face the same fate as Poland and Bulgaria and have their gas supplies halted by Russia, as Moscow's threat to turn off the taps becomes the next front in the Ukraine war.
Russian state energy giant Gazprom's severing of supplies to the two NATO members for refusing Vladimir Putin's demand to pay in roubles has raised fears that other European countries—including alliance members, could soon be hit.
Expansion of the alliance toward Russia's borders was one of the justifications Putin gave for invading Ukraine in February. The reliance that NATO members have on Russian gas, gives him leverage to lessen the impact of sanctions and disrupt Europe's energy supplies.
Poland, which gets 40 percent of its gas from Russia, has been at the forefront of efforts to supply Ukraine's military with equipment. Latvia gets almost all (93 percent) of its gas from Russia, while NATO members Italy (46 percent) and France (24 percent) are also reliant on Moscow.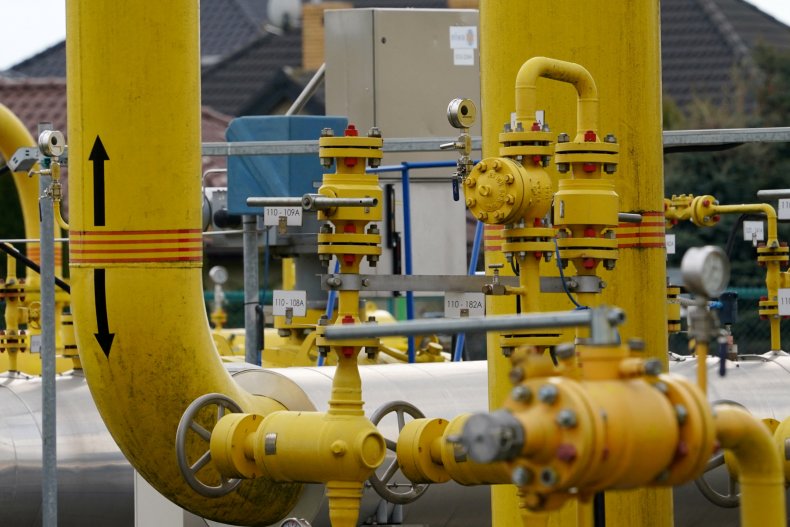 Particularly vulnerable is Germany which last year relied on Russia for around half (49 percent) of its gas, and which this week announced its first delivery of heavy weapons to Kyiv's forces to fend off Russian aggression.
"It's about bullying, blackmail, whatever you want to call it," Timothy Ash, emerging markets senior sovereign strategist at Bluebay Asset Management told Newsweek. "[Putin] obviously wants arms supplies to be cut off to the Ukrainians."
The EU has rejected paying for gas in roubles but with deadlines looming, other governments will have to decide whether to accept the terms or lose supplies.
Ash said that some European entities will be lobbying the EU to pay in the Russian currency and then "you end up with Europeans fighting amongst themselves about this issue."
He said that Putin and Russia "want disharmony and disunity in Europe in the west and they want pressure towards an energy embargo to be weakened."
Putin's decree requires companies to set up two accounts—one in a foreign currency and the other in roubles with Gazprombank, which would convert the payments into roubles.
Bloomberg reported that 10 European companies have already opened the accounts at Gazprombank to meet Russia's payment demands and four European gas buyers have already paid for supplies in roubles.
Meanwhile, the Czech Republic, Germany, Italy, North Macedonia and Slovakia have said Russian gas supplies were still flowing, Reuters reported. Non-NATO countries Austria, Bosnia and Serbia also had no disruption of supplies.
"Other EU countries might follow the same fate of Poland and Bulgaria, as their own payment dates will come, depending on their approach," Simone Tagliapietra, a senior fellow at the Bruegel think tank in Brussels, told Newsweek.
"This might be the preview of similar moves coming up vis-à-vis other European countries in coming weeks," he said. "And this is the key issue—will all European countries follow the EU indication to only pay in euros or dollars as indicated in the contracts? Or will some decide to go their own way, complying with the Russian request?"
The payment schedules between European countries are confidential and so it is not known which could be next to have their gas cut off, although some contracts are expected to be up in May.
Countries at risk are those whose payments are not executed within Putin's demands, and while NATO membership will not be a factor in that, it adds to the pressure that Russia is trying to exert on Europe.
However, there is a degree of brinkmanship in Putin's divide-and-rule energy policy. While he balances undermining Europe's punishment for his war, he is also depriving his sanctions-hit economy of much-needed revenue.
"If Russia doesn't sell gas to Europe, it can't really sell anywhere else. If transit stops, Russia has a problem, it would lose about 50 billion dollars a year," said Ash.
Newsweek reached out to Gazprom for comment.