Russian Diplomat Found Dead Outside Embassy in Germany: Report
A Russian diplomat suspected of being an undercover officer of the Russian secret service was found dead near Moscow's embassy in Berlin last month.
The body of a 35-year-old man was found by law enforcement about 7.20 a.m. local (2:20 a.m. ET) time on October 19, German news magazine Der Spiegel reported.
The man is believed to have fallen from an upper floor of the embassy complex located on Behrenstrasse in the Mitte district of the German capital.
He had been listed as the second embassy secretary in Berlin since the summer 2019. It was not immediately clear why he fell or the cause of death.
German security authorities said the man had been accredited as second embassy secretary in Berlin since summer 2019. But Der Spiegel said he was an undercover officer of the Russian secret service the FSB, and that Russia did not agree to an autopsy, with diplomatic immunity preventing Germany's public prosecutor investigating.
The magazine said that the deceased diplomat was "related" to a high-ranking official at the FSB's Second Service. Open-source investigative outlet Bellingcat reported that he was the son of a high-ranking FSB officer.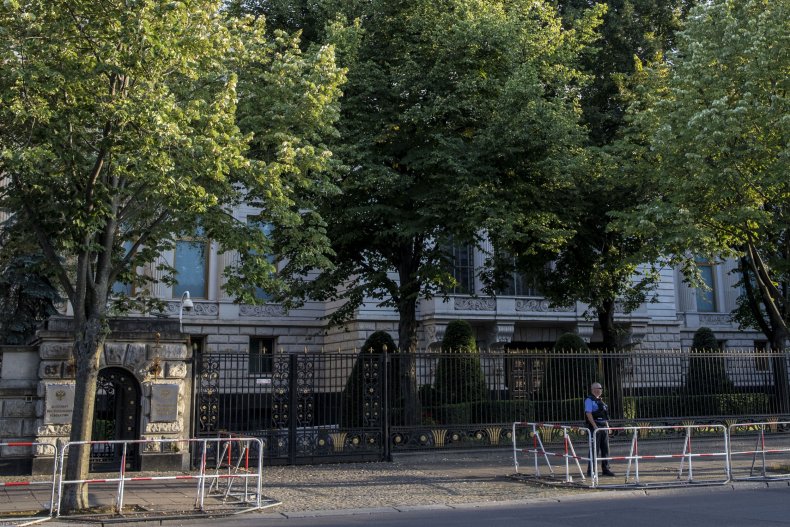 The FSB's Second Service has previously been linked to the Novichok poisoning of Kremlin critic Alexei Navalny.
Western intelligence has also linked the service to the assassination of an ex-Chechen commander, Zelimkhan Khangoshvili, in a Berlin park in 2019.
Moscow denies it was behind either attack.
It said he had arrived in Berlin two months before Khangoshvili's murder although added that there was no evidence linking the two events.
German Foreign Ministry spokesman Christopher Burger told reporters Berlin could not comment on the diplomat's death, according to Russian news agency RIA Novosti. He added that the ministry was "aware of this incident."
On Friday, the Russian embassy issued a statement which said: "A tragic accident with a Russian diplomat occurred on October 19, 2021."
It added that the formalities had been "promptly settled with the law enforcement and medical authorities of Germany in accordance with the current practice," RIA Novosti reported.
"We consider the speculation that appeared in a number of Western media in the context of this tragic incident to be absolutely incorrect."