Russia Willing to Help Donald Trump Get U.S. Troops Out of Afghanistan
Russia has expressed its willingness to help oversee a desired peace deal between the United States and the Islamist Taliban militant group, allowing the Pentagon to withdraw troops from its longest-ever war.
As the ninth round of negotiations led by U.S. special Afghanistan envoy Zalmay Khalilzad and the Taliban's Mullah Abdul Ghani Baradar continued in the Qatari capital of Doha, Russian Foreign Ministry spokesperson Maria Zakharova said Wednesday "it's possible" Moscow could serve as "a guarantor in the agreement" if it "received such requests from parties to the negotiations."
Taliban spokesperson Suhail Shaheen, who has previously said Russian, Chinese and United Nations officials would be present at the announcement of any deal, tweeted Wednesday that "talks continue today and we are close to reaching a final agreement. We hope to have good news for our Muslim and freedom-seeking people."
Previously on Tuesday, Zakharova expressed skepticism toward the Trump administration's prospects of exiting Afghanistan, writing in a Facebook post: "What? As quickly as it said last time, or like from Syria" after the president expressed a desire to leave both countries in December.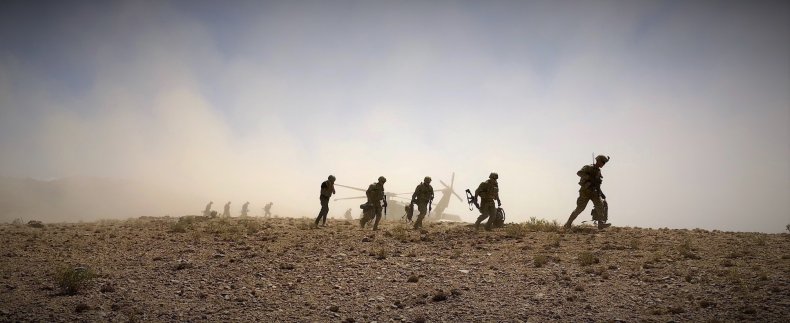 Afghanistan's modern conflict could be traced back to an international bout between Washington and Moscow, whose Soviet forces supported a communist government there against a mujahideen rebellion backed by the CIA and Islamist groups such as Al-Qaeda in the 1980s. As warring militias overtook Kabul, the Taliban emerged as the most powerful faction the following decade, beating back a Northern Alliance supported by Russia, Iran, India, Turkey and others.
The U.S. led an international intervention in Afghanistan in 2001 following the 9/11 attacks orchestrated by Al-Qaeda, which the Taliban were accused of harboring. What followed was nearly 18 years of the Pentagon's "War on Terror" that continued against the Taliban, Al-Qaeda and, later, the Islamist State militant group (ISIS), in Afghanistan and spread across the region and beyond.
Since becoming the third U.S. leader to be charged with the Afghan war effort in 2017, President Donald Trump has expressed an interest in ending the conflict and Khalilzad opened initial talks with the Taliban in October. The following month, Russia hosted its own dialogue between the insurgent group and the Afghan High Peace Council.
In both cases, however, the Taliban has continued to refuse to meet with the Kabul government, which it considers illegitimate. Senior Pentagon officials have told Newsweek that the U.S. was likely to withdraw thousands of troops in exchange for fostering an intra-Afghan peace deal, which it sought to secure before September and Afghanistan's elections that the Taliban have vowed to disrupt.
Hopes were high earlier this month after both sides appeared close to a deal following the last round of talks, but Khalilzad returned to Doha last week to "try and close on remaining issues." Since then he has tried to dispell some speculation over the potential agreement, tweeting Saturday that "we have had no discussions about an interim government" and Monday that the U.S. "will defend Afghan forces now and after any agreement" with the Taliban.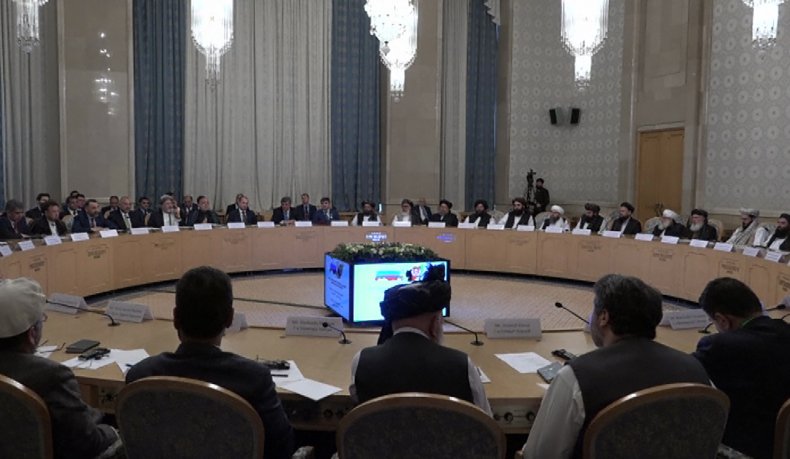 Moscow has also provided support for the Afghan government and has denied Washington's accusations of arming the Taliban as Russia worked alongside the U.S. and China to address security in the region. At a press conference alongside his Indian counterpart, Russian Foreign Minister Sergey Lavrov said Wednesday that he "would like to attract other countries as well, including India, Pakistan and Iran."
The top diplomat said any agreement in Afghanistan "will be based on the principle of national consensus and will exclude the threats of terrorism, extremism and drug trafficking," but Russia would "continue to provide assistance and equipment to the Afghan army and security forces" as "they have been unable to root out the terrorist threat on their own, which is why we must carry on our efforts in this sphere."
"There is no doubt that the fight against terrorism must exclude any double standards," Lavrov added.
"For a number of reasons, including the wars in Iraq, Libya and Syria launched by the United States and its allies, the so-called Islamic State is spreading to other countries, such as Afghanistan, where ISIS is trying to take a stand in the north and to create a bridgehead for projecting its influence onto our Central Asian allies," Lavrov said, criticizing his "Western colleagues' policy of double standards towards this terrorist group, which has been prohibited by the U.N. Security Council and which they are trying to use to attain one-sided geopolitical goals in Afghanistan."
In the first Pentagon press briefing since May, Defense Secretary Mark Esper — the first in his position to participate in such an event in exactly one year — and Joint Chiefs of Staff chairman Joseph Dunford declined to speak Wednesday on the progress of ongoing U.S.-Taliban talks, but the latter called talks of a withdrawal premature and instead said the focus was to "initiate an Afghan dialogue ideally leading to peace and stability for the Afghan people" and "Afghanistan not being a sanctuary for which we can be attacked."