U.S. Forces Draw Back Afghanistan Operations Against Taliban As Peace Talks Conclude
On the same day peace talks concluded between U.S. and Taliban officials in Doha, Qatar, U.S.-led operations against the militant group in Afghanistan have significantly reduced or halted as the Pentagon continues to plan for a potential withdrawal of thousands of U.S. forces from its longest conflict ever.
While a final agreement has yet to be reached between Washington and Taliban negotiators, Newsweek has learned from senior Pentagon officials that U.S. personnel have been ordered to limit nearly all offensive combat operations against the Taliban and cease advising the Afghan National Defense and Security Forces as the Trump administration proposes cutting U.S. troop strength in Afghanistan by nearly half to 6,000 as a means of finalizing "technical" details among Taliban leadership.
The withdrawal figure is subject to change, however, depending on the course of the ongoing conflict and the talks trying to end it, U.S. officials told Newsweek.
"The drawing down numbers are the powering projections but can change in the next hour," explained a senior Defense Department official, with knowledge of the current figures being considered. The source spoke to Newsweek on condition of anonymity due to Pentagon media regulations.
More than a week ago, The Washington Post, also citing unnamed U.S. officials, reported that an agreement between Washington and the Taliban resulted in the Pentagon accepting a final figure of 8,000 to 9,000 troops.
On Tuesday, U.S. Army General Austin S. Miller, the commander of NATO's Resolute Support mission and United States Forces - Afghanistan, rebuked what Defense Department sources told Newsweek about the alleged U.S. partnership changes with the Afghan government.
"This article is inaccurate and speculative, sighting unnamed sources who are likely as far from the subject as they are from Afghanistan itself," said Miller in a statement to Newsweek. "The characterizations of changes to our authorities and operations have no basis in face. We have no such orders and have made no such changes."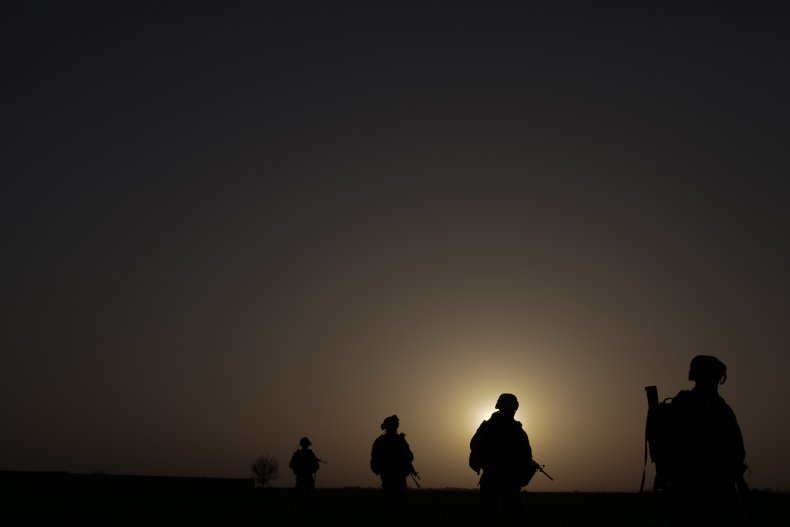 Of the 14,000 U.S. military personnel in Afghanistan, 8,475 are assigned to the NATO-led Resolute Support mission "to train, advise, and assist Afghan security forces," according to figures the Defense Department provided in March to the Special Inspector General for Afghanistan Reconstruction, a congressionally-mandated oversight authority.
The "remaining U.S. military personnel serve in support roles or in conducting air operations, training the Afghan special forces, and conducting counterterror operations."
While the fight against the Islamic State in Afghanistan, known as Islamic State Khorasan, would continue, American forces assigned to Resolute Support, the NATO-led mission to train, advise and assist the Afghan National Defense and Security Forces would cease unless approved by senior Resolute Support officials.
Nearly all offensive combat operations against the Taliban have been reduced for U.S. forces except in situations of self-defense or to aid fellow members of the NATO Western military alliance. Even Joint Special Operations Command was told to seek higher approval authorities for operations.
While engagement operations such as security talks with local government still occur, U.S. forces are no longer performing, "Find, Fix, Finish" doctrine aimed at the systematic targeting and dismantling of the Taliban hierarchy via Special Forces raids or through U.S. military drones.
"The assertion that offensive combat operations against the Taliban have reduced is absolutely not true," said U.S. Army Colonel Sonny Leggett, a spokesman for United States Forces - Afghanistan. "Claims that the NATO-led mission to train, advise, and assist will cease unless approved by senior Resolute Support officials is uniformed conjecture ungrounded in any planning efforts," he added.
But for the Defense Department officials, who spoke to Newsweek, the changes in U.S. military policy in Afghanistan are vastly different than the strategic viewpoints from earlier this year. For U.S. Special Forces soldiers working with the Afghan military, the mission aimed at increasing the body count among Taliban militants to keep the group at the negotiation table.
The Associated Press reported last Tuesday that the U.S. and the Taliban had resolved their differences, citing an unnamed official from the militant group. TIME reported last Thursday that lead U.S. negotiators Zalmay Khalilzad of the U.S. and Mullah Abdul Ghani Baradar of the Taliban were quietly telling their respective partners a deal had been reached.
Whispers of such an arrangement have surfaced in other outlets as well, but there was little fanfare in Kabul, where the Taliban claimed a car bombing last Wednesday that killed 14 people and injured dozens of others just days after Khalilzad touted "excellent progress" in their negotiations — another bloody reminder of the grim, often paradoxical dynamics of a country gripped by decades of non-stop bloodshed with deep international footprints.
Since February, the two sworn enemies have sat down for successive rounds of talks in Doha, though the Taliban has so far publicly refused to sit down with the rival government in Kabul, which it considered illegitimate. Months of dialogue have focused on the withdrawal of American forces, a permanent cease-fire, a Taliban counterterrorism pledge and a commitment by the group to hold talks with the Afghan government.
The recent U.S.-Taliban deal would see to the beginning of an inter-Afghan peace process, but what came next was far from certain. Some critics have often painted comparisons to the jihadi insurgency and the eventual rise of ISIS that gripped Iraq following Obama's 2011 withdrawal; others look back to the Fall of Saigon to communist Vietnamese forces in 1975.
Members of the U.S. Army Special Forces community told Newsweek in March they believe the future of Afghanistan may look similar to the role U.S. special operations forces played in Plan Colombia, a U.S.-funded strategy conceived under former President Bill Clinton, and signed into law in 2000.
The legislation aimed at solving the drug trafficking problem and political infighting in Colombia, where more than 200,000 people have died since 1958. There is no consensus on whether the nation-building efforts under Plan Colombia are a success or failure.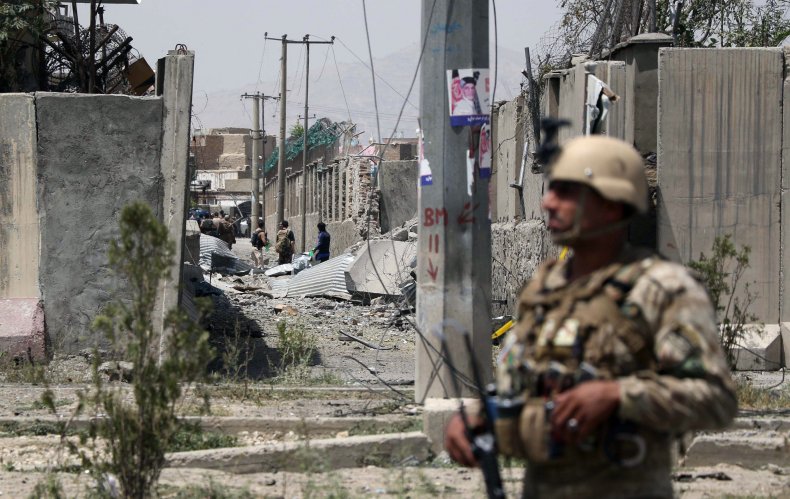 The senior Defense Department official Newsweek spoke to about the Doha peace talks described the negotiations as a "firesale," suggesting that President Donald Trump's plan somewhat resembles Obama's ill-fated effort to leave the country in 2014, but appeared even more rushed.
The source felt that this time around, the U.S. was bargaining with the Taliban from a point of weakness as American officials abandoned its historical deal breaker caveats to ensure the Trump administration could score a face-saving withdrawal ahead of the 2020 presidential election.
Last month, Secretary of State Mike Pompeo, the former CIA director, seemed to suggest that President Trump had directed his staff to strike a deal with the Taliban to rapidly withdraw troops from the country before the 2020 presidential election.
When Economic Club President David M. Rubenstein asked about timing the withdrawal of U.S. Forces to the 2020 presidential election, Pompeo laughed, and said: "It's not only my expectation, it would be job enhancing."
Pompeo pushed back on news reports that suggested his remarks implied the withdraw of U.S. forces was tied to the 2020 presidential election.
"I wish reporters had been a little more careful in what they had said. They got it wrong," Pompeo told reporters while traveling to the Indo-Pacific region. "There's no deadline for this," he said.
What is also unclear about a potential U.S. withdrawal is how the inter-Afghan peace process would affect the competing interests of other regional players, who have their own vested interests in the country's fate.
China, India, Iran, Pakistan and Russia were all among the nations who have become increasingly involved in efforts to solve the crisis taking place in their own neighborhood, though each had their own, sometimes conflicting reasons for doing so.
All of this plays out as the country nervously nears a national election next month, in which President Ashraf Ghani faced a list of prominent former officials looking to unseat the Afghan leader. Their primary foe, however, was likely to be the Taliban itself, which has vowed to disrupt and derail any efforts to actually hold the race in what could be an upcoming watershed moment for Trump's approach to a country that he recently bragged "could be wiped off the face" if he saw to it.
Update: Aug. 13, 2019
This article has been updated from its earlier version to include comments from United States Forces - Afghanistan and an official statement from U.S. Army General Austin S. Miller, the commander of NATO's Resolute Support mission and United States Forces - Afghanistan.

James LaPorta reports on national security and the Defense Department for Newsweek. He is a former U.S Marine infantryman and intelligence cell chief. You can follow him on Twitter at @JimLaPorta
Tom O'Connor is a staff writer focusing on foreign conflicts and politics. Prior to joining Newsweek, he formerly reported for the International Business Times and the New York Post. You can follow him on twitter at @ShaolinTom