Russians Fail to Block HIMARS Bridge Strike—Viral Video Purportedly Shows
A video that has gone viral on social media appears to show Russia's defenses failing to block a HIMARS attack on a strategic bridge in Ukraine's occupied Kherson region.
An unverified video that first appeared to be posted on Ukrainian Telegram channel Horevica on Sunday, purportedly shows the moment Russian air defense systems failed to intercept an attack by Ukraine using Washington-supplied HIMARS (High Mobility Artillery Rocket Systems) on the Antonovsky Bridge.
Ukraine has targeted the bridge multiple times using the high-precision munitions. It's significant because it's the only road bridge connecting Kherson, located on the western side of the Dnieper river, with a part of the Kherson region on the other side.
The bridge is the main crossing over the Dnieper, and it's a key route for Russia to supply its forces occupying territory in Ukraine's south.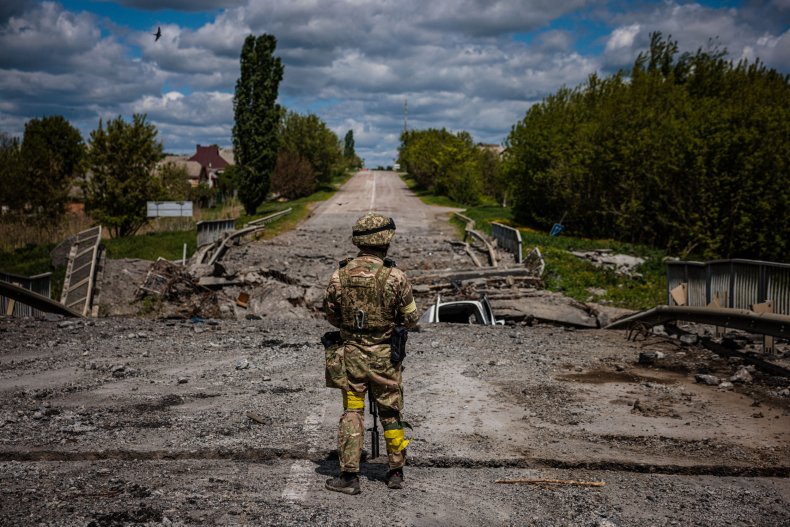 Head of the Joint Press Center of the Defense Forces of the South Nataliya Humenyuk told reporters during a briefing on Sunday that strikes to the bridge have left Russian forces unable to move heavy equipment.
"The blows inflicted currently do not allow the use of these bridges for the movement of heavy equipment," Humenyuk was cited by Ukrainskaya Pravda as saying. "We carry out fire control over all transport and logistics arteries in the occupied territory, because we realize, like the occupying forces, that the enemy has a high dependence on these arteries."
Humenyuk said that Ukraine's armed forces had already struck the Antonovsky bridge, a railway bridge in Kherson and the Kakhovsky bridge. She emphasized that the bridges aren't completely destroyed.
"Currently, we see and observe how the leadership of those military units little by little uses these remnants of transport routes to evacuate to the left bank in order to feel safe," the spokeswoman added.
Last week, the British defense ministry said in an intelligence update that Russia had only succeeded in making superficial repairs to the damaged Antonovsky road bridge, "which likely remains structurally undermined."
The August 13 update said that the two primary road bridges "giving access to the pocket of Russian occupied territory on the west bank of the [Dnieper] in the Kherson region" were "probably out of use for the purposes of substantial military resupply."
Ukrainian precision strikes on August 10 likely rendered the road crossing of the Dnieper at Nova Kakhovka unusable for heavy military vehicles, it said.
"Even if Russia manages to make significant repairs to the bridges, they will remain a key vulnerability," the defense ministry claimed.
Newsweek has contacted the foreign ministries of Ukraine and Russia for comment.