Ukraine Lists This Week's HIMARS, MLRS Conquests Against Russia
Ukraine's armed forces have said western supplied weapons had allowed them to make successful strikes against a number of Russian targets this week.
The General Staff of the Armed Forces of Ukraine said their troops had hit more than 10 enemy control points during the week using the U.S.-produced M142 High Mobility Artillery Rocket Systems and Multiple Launch Rocket Systems (MLRS) supplied by partner countries.
Ukraine has hailed the latest delivery of HIMARS, whose range has helped their forces hit Russian command centers and ammunition depots.
"Our missile troops and artillery hit about 15 warehouses and logistics bases," Brigadier General Oleksiy Gromov, deputy chief of the forces' main operational department, said on Thursday, according to a translation of Ukrainian news outlet Novi Narnia.
The strikes hit "both ammunition and fuel and lubricants....three of the aggressor's radar reconnaissance and electronic warfare stations were hit, including the modern Pidlit radar station," he said.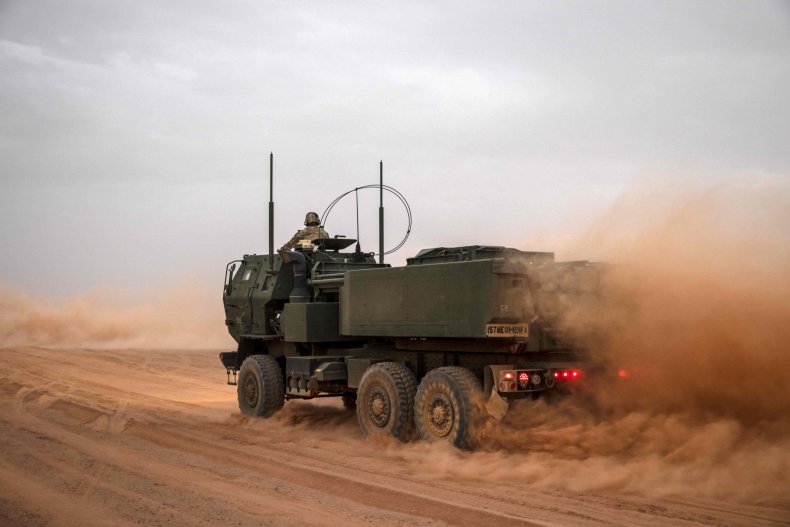 He also said Ukraine's Air Force had carried out 38 strikes during the week against weapons, military equipment and troops.
At the same time, damage was inflicted on 11 platoon strongholds, a company stronghold, two tactical level control posts, as well as seven ammunition depots.
Ukraine's ministry of defense quoted a song by the Beatles in its latest update of Russian military losses. It tweeted on Friday that a further 150 Russian troops had been killed in the past 24 hours, taking their total troop losses to 41,650.
"'With a little help from my friends' John Lennon & Paul McCartney," the ministry tweeted on Friday alongside a graphic which listed Russian losses, including 1,792 tanks, 4,032 armored combat vehicles and 223 jets.
These numbers have not been independently verified and Ukraine's allies estimate Russian troop losses to be much lower than Kyiv's claims. Newsweek is still attempting to verify the claims.
It comes as the British Ministry of Defense raised concerns about the security of the Zaporizhzhia nuclear power plant, which is under Russian control.
In their daily assessment of the war, British defense officials said on Friday that Russia's intentions towards the plant "remain unclear" and that their actions at the site "have likely undermined the security and safety of the plant's normal operations."
They said Russian troops are likely to be near the power station and have used artillery units to target Ukrainian territory on the western bank of the Dnipro river.
"Russian forces have probably used the wider facility area, in particular the adjacent city of Enerhodar, to rest their forces," the assessment said. This allowed Russia to use the protected status of the plant to shelter its equipment and troops from Ukrainian attacks.
Newsweek has contacted the Russian defense ministry for comment.