Russia Will Blame HIMARS for 'War Crime' POW Attack, U.S. Suggests
Russia is looking to frame the deadly strike that killed dozens of Ukrainian prisoners of war in eastern Ukraine as being caused by U.S- supplied weapons, the White House has said.
U.S. intelligence officials believe that Russia will try to plant false evidence to make it look as if Ukrainian forces were responsible for the July 29 attack on Olenivka prison that left 53 dead and injured dozens, according to White House National Security Council Strategic Communications Coordinator John Kirby. Ukrainian President Volodymyr Zelensky called the strike a "deliberate Russian war crime."
The fabrication would take place ahead of journalists and investigators visiting the site and involve the U.S.-supplied High Mobility Artillery Rocket Systems (HIMARS).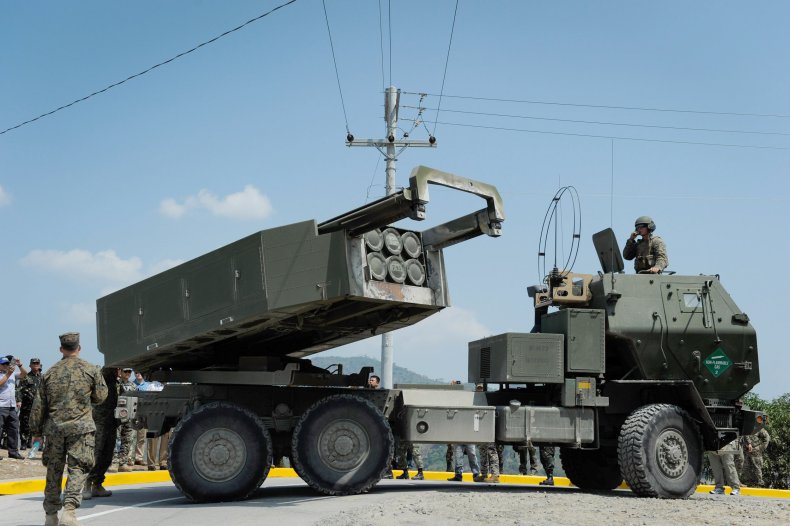 "We have reason to believe...that Russia would go so far as to make it appear that Ukrainian HIMARS... that have been in so much in the news lately, were to blame. And to do that before journalists arrived on site," Kirby told reporters on Thursday.
"We have evidence, information that suggests they're going to plant evidence to include maybe pieces of HIMARS," he said, although he added that analysts would probably be able to tell "whether it was, in fact, coming from the munitions that HIMARS fire."
Newsweek has contacted the Russian defense ministry for comment over the U.S. claims.
While unable to order a criminal investigation, United Nations Secretary-General Antonio Guterres said on Wednesday that he would set up a fact-finding mission following requests from both Russia and Ukraine to investigate the attack on the prison in the Russia-backed Donetsk People's Republic.
The Ukrainian POWs who were killed and injured included troops who had been captured after they had been holed up for months in the giant Azovstal steel mill in the southern port city of Mariupol, which fell to the Russians.
Their surrender followed months of Russian bombardment and their defiance was a symbol of Ukrainian resistance.
Moscow has said that Ukraine's military used the U.S.-supplied rocket launchers to strike the prison, with Kremlin spokesperson Dmitry Peskov rejecting the U.S. claims about fabricating evidence over the strike.
"It's absolutely obvious what happened in Olenivka," Peskov told reporters on Thursday. "Ukrainian prisoners of war were killed by the Ukrainian military."
Ukraine has hailed the delivery of four more of the weapons systems whose agility and range have made a big difference to Kyiv's forces and have been used to hit dozens of Russian command centers and ammunition depots.
Last week, the U.S. Department of Defense said it would provide further ammunition to Kyiv's forces as part of a $550 million security assistance package.