Russia on Wednesday announced sanctions on 398 members of the U.S. House of Representatives. Included on the list were several Republican representatives who have been accused of making comments sympathetic to Russia, such as Marjorie Taylor Greene of Georgia, Matt Gaetz of Florida and Madison Cawthorn of North Carolina.
The Russian Foreign Ministry said the list of sanctioned members of Congress—as well as 87 Canadian senators—was a response to the United States placing sanctions on 328 members of the Russian State Duma, the country's lower house of parliament, on March 24.
No explanation was given for how Russia chose the names for its list. Last week, Greene and Gaetz were two of only three House representatives who voted against banning the import of Russian oil.
In public comments, Greene has also seemingly been more sympathetic toward Russia than many of her colleagues.
"NATO has been supplying the neo-Nazis in Ukraine with powerful weapons and extensive training on how to use them," Greene tweeted on March 15. "What the hell is going with these #NATONazis?"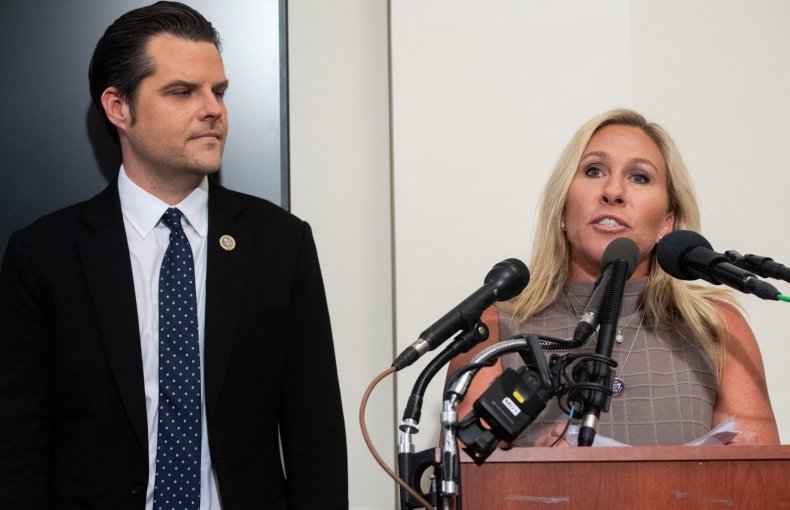 During a March interview on the digital outlet Voice of Rural America, Greene also stated how she felt Ukraine was mismatched against the invading Russians.
"You see Ukraine just kept poking the bear, poking the bear, which is Russia, and Russia invaded," she said. "And the hard truth is...there is no win for Ukraine here. Russia is being very successful in their invasion."
The U.S. sanctions on the State Duma members target their property and assets, as well as banning them from dealings with American citizens. Few details were made available about Moscow's sanctions against American politicians, aside from that they would "mirror" the U.S. measures and ban those on the list from visiting Russia.
A group known as the Republican Accountability Project recently published a list of "pro-Putin Republicans and conservatives." Links to video or text of various statements deemed favorable toward Russian President Vladimir Putin and/or Russia from the people on the list are available on the group's website. Along with Greene, Montana Representative Matt Rosendale and Illinois Representative Mary Miller were also on the list, as were Gaetz and Cawthorn.
"I'm more concerned with the US-Mexico border than the Russia-Ukraine border. Not sorry," Gaetz tweeted in January prior to the invasion.
Meanwhile, Cawthorn attacked Ukrainian President Volodymyr Zelensky recently while speaking to a group of his supporters.
"Remember that Zelensky is a thug," Cawthorn said during the event, which can be seen in a video shown by local NBC-affiliated station WRAL-TV. "Remember that the Ukrainian government is incredibly corrupt and it is incredibly evil and has been pushing woke ideologies."
However, on Twitter, Cawthorn called Putin's actions "disgusting."
"I am praying for Ukraine and the Ukrainian people," Cawthorn also wrote.
Newsweek reached out to the Russian Foreign Ministry, Cawthorn, Gaetz and Greene for comment.