Russia Loses 2 Jets, 13 Tanks and a Helicopter in a Single Day: Ukraine
Russia's military lost two jets, 13 tanks and a helicopter over the last 24 hours, Ukraine's military claimed Friday, despite Vladimir Putin announcing the annexation of four Ukrainian regions hours later.
In a statement on their official Facebook page on Friday, the General Staff of the Armed Forces of Ukraine detailed Russia's combat losses between the beginning of the war on February 24 and September 30, as well as those from the last day.
It estimated that 59,080 Russian troops and military personnel had died in the fighting since the war started, including 500 over the last day.
It said Russia had lost 13 tanks in the last day, and 2,338 since the beginning of the fighting. Russia lost two jets in the last day, contributing to the 264 it has lost in total since the start of the conflict.
Over the last day, Russia lost one helicopter to Ukrainian forces; it has lost 225 overall since February 24.
In the last 24 hours, Russia lost 23 armored combat machines (APVs), six artillery systems, an anti-aircraft warfare system and eight UAVs.
The opponent suffered the biggest losses "in the Kramatorsky and Donetsk directions" over the last day, the military said.
Newsweek has contacted the Russian foreign ministry for comment.
Meanwhile, in Moscow on Friday, Russian President Vladimir Putin declared four occupied regions of Ukraine as part of Russia, after Russian forces annexed the areas, which include Donetsk, Kherson, Luhansk, and Zaporizhzhia.
He solemnly signed four decrees declaring each territory part of Russia before doing a joint handshake with the four Russian-installed leaders of the regions, which account for about 15 percent of Ukraine.
The international community recognises these territories as Ukrainian. The European Union condemned the move within minutes, saying it would never recognize the "illegal" referendums held in Ukraine by Russian officials.
The bloc also threatened further economic sanctions on Russia.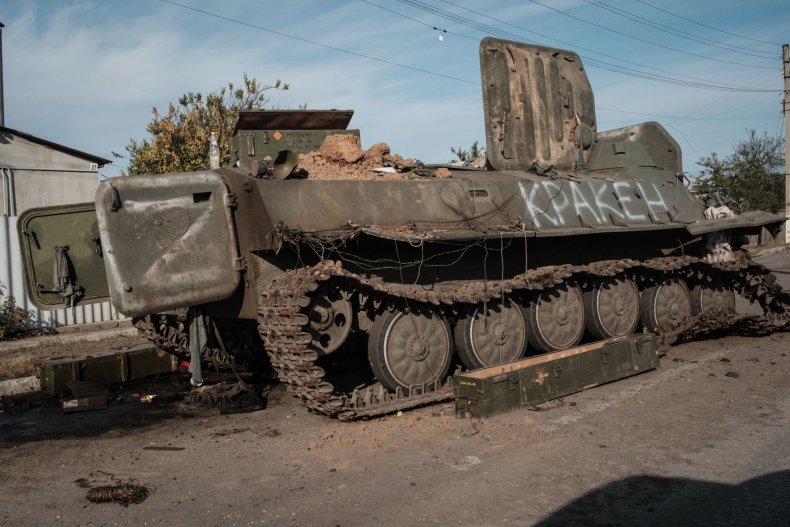 But Putin said the results of the referenda, which critics say were rigged, were definitive. A concert in Red Square in Moscow will be held on Friday evening to celebrate the annexation.
Ukraine's President Volodymr Zelensky has said Ukraine will not stop until it can take back those four regions, as well as the Crimean Peninsula, which Russia annexed back in 2014.
Putin used the speech to accuse the U.S. of creating a precedent for nuclear weapons, by dropping atomic bombs on Hiroshima and Nagasaki during World War II.
Putin has previously threatened the use nuclear weapons if Russia feels "its territorial integrity is being threatened."