Russia Suffers Major Losses in Bloody Bakhmut Weekend—Kyiv
Russian troops have sustained further heavy losses as the battle to gain control of the fiercely contested city of Bakhmut drags on, according to the Ukrainian military.
Ukraine's armed forces killed 710 Russian military personnel in the previous 24 hours, the General Staff of Ukraine's Armed Forces said on Monday morning. On Sunday, the General Staff reported a daily death toll of 1,090, with the figure placed at 1,010 for the previous day.
The fight to control the eastern Donbas city of Bakhmut has lasted months, and parts of it have become what the British defense ministry described on Saturday as a "killing zone."
The figures reported by the Ukrainian defense ministry will not correspond entirely to the battle for Bakhmut, and Kyiv's estimates for Russian casualties typically come in higher than Western estimates. Ukraine's military said on Monday that a total of 159,800 Russians had been killed in Ukraine since February 24, 2022.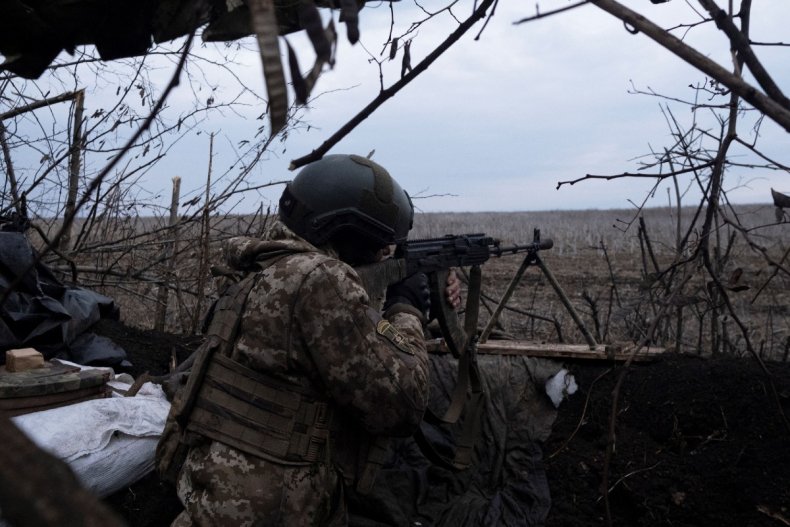 However, the U.K. defense ministry said on February 17 that Russian troops and Wagner mercenary fighters had likely sustained up to 200,000 casualties since the invasion began. Up to 60,000 soldiers had died, the ministry evaluated in February.
Newsweek has reached out to Russia's defense ministry for comment via email.
On Sunday, Russia said that 220 Ukrainian soldiers had been killed in a single day in fighting in Donetsk, without specifying the death toll for Bakhmut. The previous day, Ukrainian military spokesperson, Serhiy Cherevaty, said that 221 of Moscow's fighters had been killed in Bakhmut in the 24 hours before the figure was released.
In his evening address on Sunday, Ukrainian President Volodymyr Zelensky said that in under a week, from March 6, Ukraine managed to kill "more than 1,100 enemy soldiers" in the area around Bakhmut alone.
There are "irreversible losses" for Russia near the city, he said, adding that a further 1,500 Russian fighters had been taken out of action.
Ukraine's General Staff said Monday that Russian military and paramilitary forces were continuing to attack the city, but that Ukraine had not ceded control.
On Sunday, the chief of the Wagner Group mercenary force, Yevgeny Prigozhin, said that the closer Russia's forces get to the center of the city, "the harder the battles, the more artillery works against us, and the more tanks."
But Ukrainian fighters "throw in endless reserves," Prigozhin added, in comments cited by Reuters. "But we are advancing and we will be advancing."
Russian military commanders "may be trying to expend Wagner forces—and Prigozhin's influence—in Bakhmut," the Washington-based Institute for the Study of War (ISW) said Sunday.
Russian advances had slowed in Bakhmut after Ukraine withdrew from the eastern part of the city last week, the think tank said. On Saturday, the ISW had suggested Wagner fighters were "becoming increasingly pinned in urban areas," making advances in Bakhmut harder.