Russia's McDonald's Replacement Reveals Logo After Pullout Over Ukraine War
The new fast-food chain that will take over the 850 McDonald's locations in Russia has debuted its new logo: two orange-yellow sticks representing french fries and an orange circle representing a hamburger against a green background.
On Thursday, the Sistema PBO company, which has managed the McDonald's restaurant chain in Russia after the corporation left the country, confirmed to Russian state media agency TASS that it had selected a new logo.
McDonald's, like nearly 1,000 other international companies, pulled out of Russia back in March during the first few weeks of Russia's invasion of Ukraine. After more than three decades of operation in the country, the fast-food chain initially suspended the operation of all of its Russian locations on March 14, before announcing a full withdrawal just two days later.
"The green background of the logo symbolizes the quality of products and service that our guests are accustomed to. The logo will be used in the advertising campaign that we are launching today," a Sistema PBO spokesperson said, adding that a new name for the replacement chain has not been finalized yet.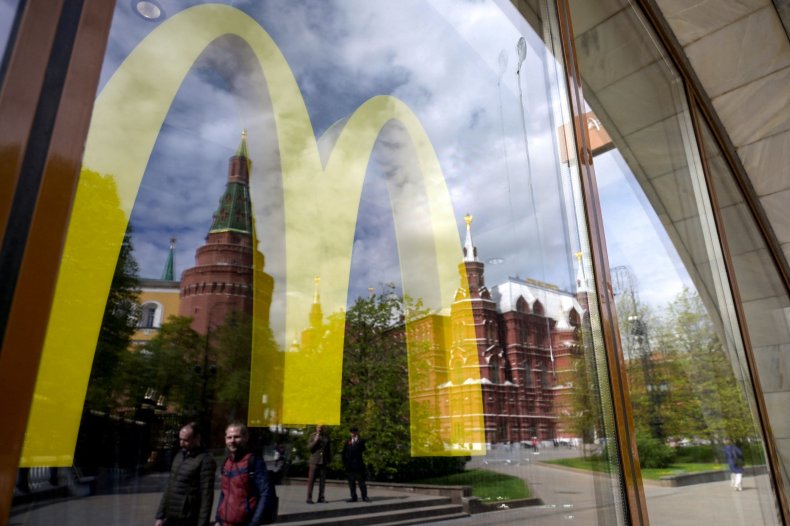 McDonald's said in a statement on March 16: "The humanitarian crisis caused by the war in Ukraine, and the precipitating unpredictable operating environment, have led McDonald's to conclude that continued ownership of the business in Russia is no longer tenable, nor is it consistent with McDonald's values."
The multinational corporation went on to sell its business to Russian businessman Alexander Govor for an undisclosed sum, although McDonald's announced it would write off its net investment in the market by up to $1.4 billion.
As part of the deal, Govor agreed to keep on all employees "under equivalent terms" for at least two years and "de-Arch" the chain's Russian locations. Because McDonald's continues to retain its trademark in Russia, the new chain is forbidden from using "the McDonald's name, logo, branding, and menu."
Two of the eight names under consideration are reportedly "Available Cash Register" or "The Same," according to The Moscow Times.
"We're exceptionally proud of the 62,000 employees who work in our restaurants, along with the hundreds of Russian suppliers who support our business, and our local franchisees. Their dedication and loyalty to McDonald's make today's announcement extremely difficult," McDonald's President and Chief Executive Officer Chris Kempczinski said earlier this year.
"However, we have a commitment to our global community and must remain steadfast in our values," he continued. "And our commitment to our values means that we can no longer keep the Arches shining there."
The first 15 restaurants under Govor's leadership and rebranding are set to reopen in Moscow on June 12. Another 200 locations across Russia are expected to follow suit at the end of the month. Govor is aiming not only to reopen all 850 locations within two months but expand the chain to 1,000 restaurants.