Russia Missile Launch Goes Spectacularly Wrong in Video
Videos circulating online appear to show the moment a Russian missile launch went spectacularly wrong.
Ukrainian military officials said that on Wednesday night, the Russian army launched six S-300 air defense missiles in the direction of Kharkiv in northeast Ukraine, however, one of the missiles deviated off-course, and hit a district in the Russian city of Belgorod, near the Ukrainian border.
Several Belgorod residents caught the moment on camera, Ukrainian military officials said.
Open-source intelligence account OSINTtechnical shared some clips that reportedly showed the failed launch on Twitter, suggesting that "something went seriously wrong with the guidance system."
In a 19-second clip, the missile can be seen moving forward at one point, before veering off-course and eventually falling to the ground, creating an explosion.
The place where the rocket hit is still unknown, but local Telegram channels suggested that it fell in the area of the village of Komsomolske, southwest of Belgorod.
Earlier, Vyacheslav Gladkov, governor of the Belgorod region, said on his Telegram channel that several explosions were reported in the city, and that the region's air defense system was active.
The governor noted that, according to preliminary data, there was no damage or casualties.
Newsweek has reached out to Russia's foreign ministry for comment.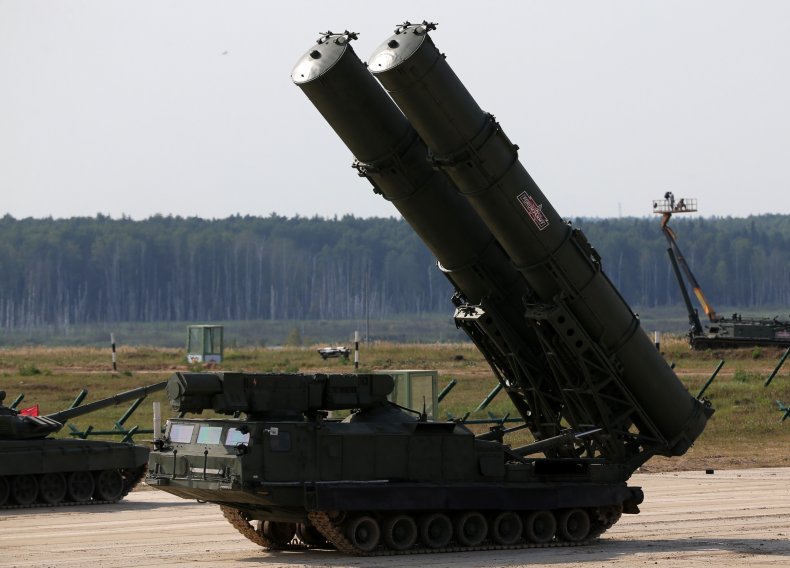 This is not the first time Russian military equipment has appeared to have malfunctioned.
A video that circulated on social media in June appeared to show the moment a Russian air defense system malfunctioned and the missile appeared to turn back towards the point where it was fired from.
The air defense missile launched from the city of Alchevsk in Ukraine's Luhansk region, seemed to change trajectory after launch, and struck near to the system itself.
The clip, first published by the Telegram channel Kyiv Operative, showed the moment a missile turned sharply and flew in the opposite direction moments after launch, creating a large explosion upon impact and sending sparks into the sky.
Multiple sirens and alarms could be heard going off in the background shortly after the explosion.
It was unclear whether any equipment was destroyed or damaged, or whether there were any casualties among Russian-backed separatist forces.
The cause of the bizarre malfunction was not clear.
And in June, Russian forces attempted to launch missile strikes in the city, but the first rocket exploded in the sky over the city shortly after launch and fell apart, causing a fire not far from residential buildings in the area, Ukrainian news outlet 24TV reported at the time.