Russian Air Defense System Suffers Epic Malfunction, Video Shows
A video circulating on social media reportedly shows the moment a Russian air defense system malfunctioned and the missile appeared to turn back towards the point where it was fired from.
In the Ukrainian city of Alchevsk in the Luhansk region, an air defense missile appeared to change trajectory after launch, and struck near to the system itself, local media outlets reported Friday.
The video was first published by the Telegram channel Kyiv Operative on Friday, Ukrinform Ukraine reported.
Alchevsk is currently under the occupation of Moscow-backed separatist forces.
The clip shows the moment one of the missiles turned sharply and flew in the opposite direction a few seconds after launch, creating a large explosion upon impact and sending sparks into the sky.
Multiple sirens and alarms can be heard going off in the background, moments after the explosion.
While it appears that the missile fell near the launch site, it is still unclear whether any equipment was destroyed or damaged, or whether there were any casualties among Russian-backed separatist forces.
The cause of the bizarre malfunction is not clear.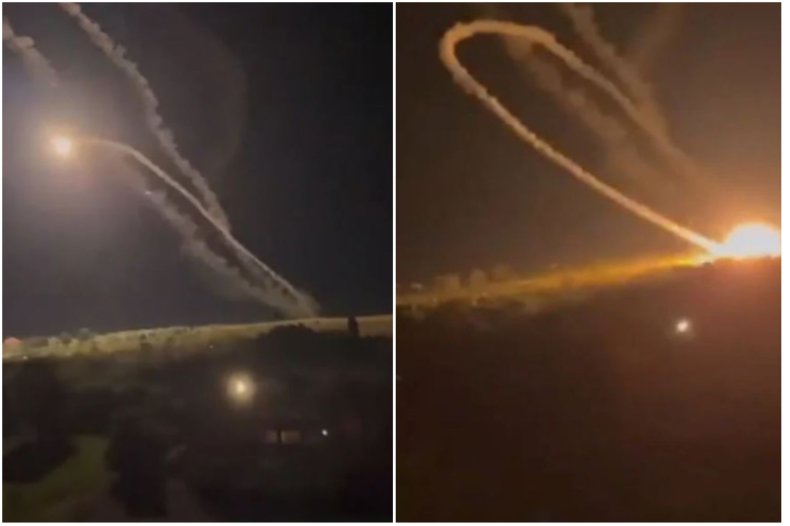 According to Ukrainian news outlet 24TV, the explosion caused a fire not far from residential buildings in the area.
Some videos from the scene in the aftermath of the explosion showed a large ​​fire and a patch of grass burning where the rocket fell, 24TV reported. The person recording the clip said the missile struck on Alchevsk's Sarmatskaya Street—a street on the eastern outskirts of the city.
Just days earlier, on June 19, Russian forces attempted to launch missile strikes in the city, but the first rocket exploded in the sky over the city shortly after launch and fell apart, the news outlet reported.
Some local media reports claimed that Russia's own anti-air defense systems may have been intercepted.
It isn't clear what type of air defense system missile was in the video.
In a separate incident on Friday, a Russian military aircraft crashed and caught fire in western Russia on Friday, killing four people and injuring five others, according to local media reports.
Citing the Russian defense ministry, the Russian state-run news agency Interfax reported that the IL-76 military transport plane crashed near the city of Ryazan after attempting an emergency landing due to an engine malfunction while on a training flight.
The plane "partially collapsed" as it attempted to land, the ministry said.
Four people died and five were injured and taken to hospitals in Ryazan, local government officials said.
Newsweek has reached out to the Russian foreign ministry for comment.