Russia Fires Missiles Near Border with U.S. Allies, Conflicting Reports Appear Over Nuclear Bombers
Russia has held missile drills across its western borders, near U.S. allies, but conflicting reports emerged as to whether nuclear-capable bombers had been deployed to a disputed territory that has exacerbated tensions between Moscow and Washington.
Dozens of aviation and air defense crews were put on "the highest level of combat readiness" involving Sukhoi Su-24, Su-34, Su-25, Su-27 and Su-30SM fighter jet pilots conducting raids on simulated anti-aircraft positions and S-300PMs defense systems. Crews were tasked with blasting the "simulated enemy" out of the skies over Voronezh, Kursk and Tver, as well as the region of Leningrad and the Republic of Karelia. The exercise involved more than 1,000 troops as well as more than 30 airplanes and about 200 weapons and pieces of military equipment.
The drills took place in Russia's Western Military District, its most heavily fortified region, and bordering Estonia, Latvia, Lithuania and Poland—all of which are members of the U.S.-led NATO Western military alliance—as well as Ukraine, which has accused Moscow of supporting eastern separatists. The two ex-Soviet neighbors have been hostile since Russia annexed the Crimean Peninsula during a 2014 political uprising in Ukraine.
On Monday, Russian President Vladimir Putin commemorated the fifth anniversary of his government's control over the Crimean Peninsula by visiting the contested territory. That same day, a lead Russian senator claimed the country deployed nuclear-capable bombers there in response to U.S. missile defense systems across the tense waters of the Black Sea.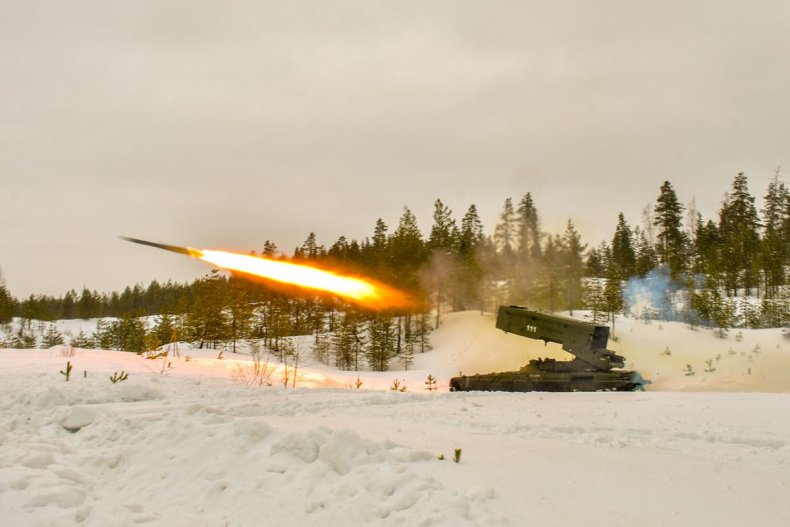 As Putin marked Monday's events with a concert and compared Crimean residents' steadfastness to the Red Army's battle against the Nazis during World War II, Russian Senator Viktor Bondarev—head of the national defense committee of Moscow's upper house of parliament—revealed Russia had deployed Tupolev Tu-22M3s to the Gvardeyskoye air base. He called it a direct reaction to the U.S. deployment of the Aegis Ashore defense system, which Putin and his officials have argued could be used offensively as well.
"The deployment of American missile defense systems in Romania came as a major challenge, in response to which the Russian Defense Ministry made the decision to deploy long-range missile-carrying bombers Tupolev Tu-22M3 at the Gvardeyskoye airbase. This move has drastically changed the balance of forces in the region," Bondarev told reporters, according to the semiofficial Tass Russia News Agency.
Even under Ukrainian control, Crimea hosted Russian military installations, and Bondarev argued that "if it were not for a prompt return of Crimea and Sevastopol within Russia, these territories would have gone under the protectorate of the U.S.," which "would have immediately deployed its weapons systems there." During a November flare-up in tensions following Russia's seizure of three Ukrainian vessels accused of violating maritime law in the neighboring Kerch Strait, Moscow moved advanced systems such as the S-400 and the Bal coastal defense apparatus to Crimea.
On Tuesday, however, the head of the lower house of parliament's defense committee, Vladimir Shamanov, claimed reports that Tu-22M3s, or Iskander-M short-range missile systems, had been sent to Crimea were "not true" in a statement to Tass. He noted that S-300, S-400, Buk-M2 and Pantsir-S1 anti-aircraft systems and the Bastion coastal defense system were among the weapons deployed to the territory, which was "capable of repulsing any attempts to attack by a potential enemy."
A dispute over weapons deployed in the region led to the collapse of the 1987 Intermediate-range Nuclear Forces, or INF, treaty last month. The agreement had banned the deployment of land-based missile systems with ranges between 310 and 3,420 miles. Washington accused Moscow of violating the terms by developing the Novator 9M729 missile, while Russian officials pointed to the Aegis Ashore's alleged dual-purpose capabilities.
While Moscow has unilaterally pledged not to develop new medium-range missile systems as long as Washington did not move ahead with them, Putin and his top officials have threatened strikes on not only Europe-based missile sites but their "decision-making centers" in the U.S itself.