Russia Claims Devastating Overnight Barrage Was 'Retaliatory Strike'
Russia's deadly overnight barrage on Ukrainian infrastructure was a "retaliatory strike" in response to what it called a terrorist attack by Ukrainian "saboteurs" in Russia's Bryansk region on March 2, officials said Thursday.
In a statement on its Telegram channel, Russia's defense ministry said its military had conducted a "massive retaliatory strike" in response to the incident in Bryansk, which President Vladimir Putin called a "terrorist attack." Ukraine has said it played no part in it.
Ukraine was hit with a barrage of 81 missiles overnight, including six Kinzhal ballistic missiles, the Ukrainian military said. At least six civilians were reported dead in the strikes that targeted 10 regions, including Kyiv, Lviv, Dnipro, Odesa, Kharkiv and Zaporizhzhia.
General Valery Zaluzhny, the commander-in-chief of Ukraine's armed forces, said the country's air force had succeeded in shooting down 34 cruise missiles overnight.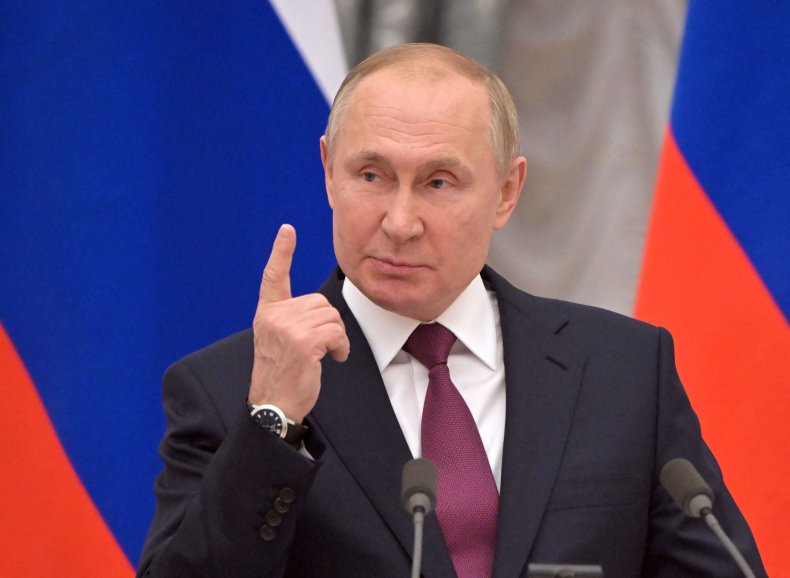 Ukrainian President Volodymyr Zelensky said the attacks hit "critical infrastructure and residential buildings."
"It's been a difficult night," he said in a Facebook message. "The enemy fired 81 missiles in an attempt to intimidate Ukrainians again, returning to their miserable tactics. The occupiers can only terrorize civilians. That's all they can do. But it won't help them. They won't avoid responsibility for everything they have done."
Russia's defense ministry said it struck "Ukraine's military infrastructure, military-industrial complex enterprises, as well as energy facilities" using high-precision, long-range air, sea and land-based weapons.
The goal of the attacks was achieved and all the designated targets were struck, the ministry said.
"As a result of the strike, unmanned aerial vehicle bases were destroyed, the transfer of reserves and rail transportation of foreign weapons was disrupted, and production facilities for the repair of military equipment and the production of ammunition were disabled," it said.
Russia's defense ministry spokesman Lieutenant General Igor Konashenkov was also cited by state-run news agency Tass as saying that the attacks were carried out "in response to the terror attacks carried out by the Kyiv regime in the Bryansk region on March 2."
Russia said two civilians were killed in the incident in Bryansk, which is located near to the border with Ukraine. Kyiv has accused Moscow of staging the attack as a false flag "provocation."
It's not the first time Russia has targeted Ukraine's critical infrastructure in a missile barrage.
Putin, in October 2022, blamed Ukrainian secret services for an explosion on the bridge over the Kerch Strait, the only bridge connecting the annexed Crimean Peninsula with Russia. The explosion damaged a key supply route for Russia's forces amid the Kremlin's flagging war effort in Ukraine.
Days later, strikes targeted at least 14 Ukrainian cities, including the capital Kyiv. Putin said at the time that the attacks on Ukrainian cities were a response to the Crimean bridge strike, vowing further action should "attempts to carry out terrorist attacks on our territory continue."
Those strikes continued for weeks, causing blackouts nationwide.
Yurii Ihnat, spokesman for the Air Force Command of Ukraine, said on Ukrainian television that Thursday's attack was "really large-scale" and "for the first time using such different types of missiles."
"We see that this time as many as six Kinzhals were used. I don't remember seeing an attack like this before," he said.
"So far, we have no capabilities to counter these weapons," Ihnat added, referring to Kinzhal hypersonic missiles, which are impossible for Ukrainian air defense to intercept.
Newsweek has contacted Ukraine's foreign ministry for comment.
Do you have a tip on a world news story that Newsweek should be covering? Do you have a question about the Russia-Ukraine war? Let us know via worldnews@newsweek.com.