Russia and NATO Could Fight 'Terrible Conflict' If Georgia Joins Alliance, Medvedev Warns
Russian Prime Minister Dmitry Medvedev has warned that plans for Georgia to join the NATO alliance could lead to full-blown conflict between Russia and the West.
Medvedev issued the stark warning in an interview with the Kommersant FM radio station, Russian news agency Tass reported.
The prime minister said Georgia's joining NATO, which was agreed to at an alliance summit in 2008, could spark "a terrible conflict" with catastrophic results. Georgia, a small nation in the Caucasus Mountains, fought a brief but costly war with Russia in 2008 over the breakaway provinces of South Ossetia and Abkhazia, whose separatists were backed by the Kremlin.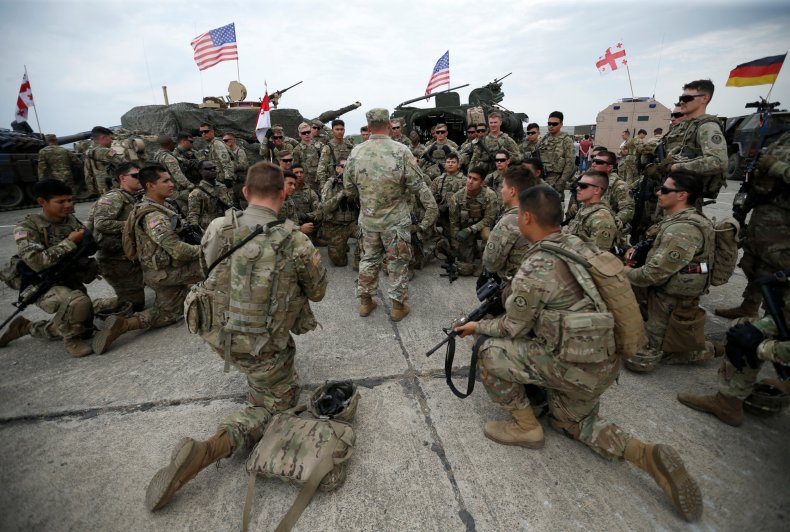 Medvedev said this war was not "inevitable." For Georgians, however, the conflict was evidence that without the backing of a powerful multinational alliance like NATO, the country would forever be threatened by Russia.
President Vladimir Putin sees any attempted NATO expansion as a strategic threat to Russia, not least when those joining the bloc are along its borders. At the 2008 NATO summit in Bucharest, Romania, alliance nations agreed that both Georgia and Ukraine would become members at some point in the future, though an exact timeline was not set. The Kremlin considered this an attempt to surround Russia with its enemies.
At this year's summit in Brussels, NATO Secretary-General Jens Stoltenberg restated the alliance's intention to admit Georgia as a full member. Thousands of Georgian and NATO soldiers have begun two weeks of military exercises in the country, which are known as Noble Partner 2018.
Georgian President Giorgi Margvelashvili opened the Noble Partner exercises with a speech attacking Russia's support of separatist groups, telling troops, "Today, you are standing on the territory of a country, 20 percent of which is absolutely illegally occupied by our neighbor Russia."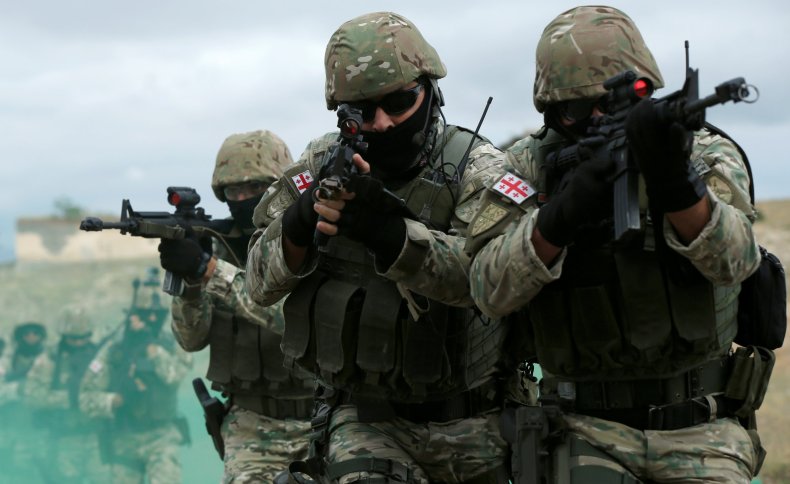 The drills have been harshly criticized by Russian officials, with Russian Foreign Ministry spokeswoman Maria Zakharova claiming they are an attempt "to project power pressure, chiefly over South Ossetia, Abkhazia and Russia." She added, "Stability and security mean constructive dialogue, not helicopters and tanks."
Russia's annexation of Crimea in 2014 and its support of separatists in eastern Ukraine since then have damaged ties between Moscow and the West. Putin's backing of Syrian President Bashar al-Assad against Western-backed rebels and Russia's meddling in elections across Europe and in the U.S. have been a further blow to relations.
Last month, Russian Defense Minister Sergei Shoigu said the country had deployed thousands of new troops and vehicles to its western borders to guard against the NATO threat. "Strengthening Russia as an independent international player does not give rest to our NATO colleagues," Shoigu said during a ministry meeting. "They are trying in every possible way to prevent Russia from becoming a geopolitical competitor, all the more having allies."