Russia Has Sent Thousands of Troops and Weapons to Its Western Border, Near U.S. Military and NATO Allies
The Russian military has sent thousands of new troops and weapons to its western border, where the U.S. and fellow NATO Western military alliance partners have attempted to beef up their defenses.
During a board session Tuesday, Russian Defense Minister Sergei Shoigu said the "developing situation" in the region designated the Western Military District has led to the establishment of "more than 70 large units and military formations, including two divisions and three brigades" since 2016. He also revealed that "about 5,000 new and modernized weapons and equipment" were delivered to Russian troops there, who were subject to over 350 sudden inspections that "showed a qualitative increase in the level of training of the troops of the district and confirmed their readiness to solve tasks for the intended purpose."
Headquartered in St. Petersburg, the Western Military Command covers 26 federal subjects including Moscow and Kaliningrad, thus bordering Poland, the Baltic States, Finland and Norway. It was described as hosting "Russia's most-capable ground and air forces" in a May 2018 Rand Corp report.
"Strengthening Russia as an independent international player does not give rest to our NATO colleagues," Shoigu said during the ministry meeting. "They are trying in every possible way to prevent Russia from becoming a geopolitical competitor, all the more having allies."
He expressed "concern" over the increasingly close ties between NATO and technically non-aligned Nordic states Finland and Sweden. Both countries signed an agreement with the U.S. in May allowing them to participate in NATO drills in exchange for granting the transatlantic defense pact access to their territory and military infrastructure. Shoigu warned the move could "lead to the destruction of the existing global security system, generate even greater distrust, forcing us to take retaliatory measures."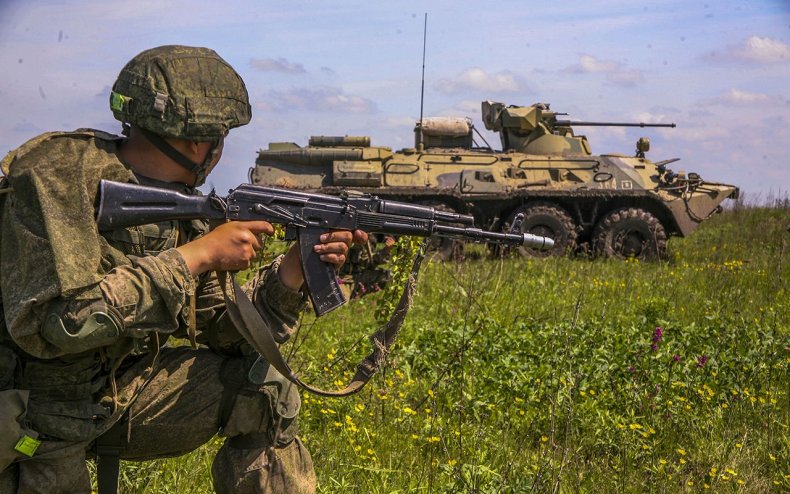 After a detente ushered in by the collapse of the Soviet Union and end of the Cold War, tensions between Moscow and NATO have again resurged as both accuse each other of threatening world order. NATO hardened its position following Russia's 2014 annexation of the Crimean Peninsula amid a Ukrainian political uprising the Kremlin argued was a threat to the well-being of the ethnic Russia majority living in the Black Sea territory. NATO accused Russia of violating Ukraine's sovereignty and deployed multinational battle groups to defend the alliance's easternmost stretch in Poland and the Baltic states of Estonia, Latvia and Lithuania.
Shoigu said Tuesday that, since 2014, NATO's troop size in Eastern Europe has been inflated from 2,000 to 15,000, while the number of troops annually participating in exercises has increased tenfold to 20,000. He said there were also about 10 times as many aircraft involved in drills, bring the total figure to about 101. He noted NATO's creation of five cyber warfare centers in Finland, Estonia, Poland, Germany­ and France as well.
Related: Can NATO Defeat Russia? U.S. Alliance Could Lose a War and Trump Is Not Helping
Shoigu criticized the frequency in which Russia came up at the NATO summit held earlier this month in Belgium, but expressed hope that the U.S.-Russia summit held days later in Helsinki would "deepen Russian military cooperation with Washington and NATO countries and will consolidate the efforts of the parties in the interests of common security."
President Donald Trump, who appeared at both summits and called the latter "even better," has expressed a desire to mend strained U.S.-Russian ties, but has faced considerable opposition at home. Trump has warned NATO allies that they must contribute more to the alliance, which is largely driven by U.S. financial contributions and—as experts have pointed out—remains vulnerable to a potentially larger, better-organized Russian assault on its eastern flank. Russia has denied any intention to attack or interfere in the affairs of other countries, instead criticizing the U.S. and NATO for their expansive missile shield and increased tempo of drills.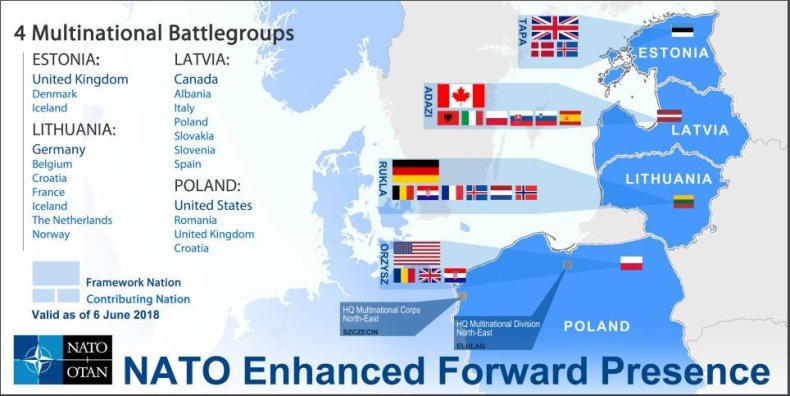 Shoigu discussed other additions to other changes to Russia's army, including the formation of one combined army, four motorized rifles, one armored division as well as one rocket, two artillery and one air defense brigades. Since at least 2008, Russian President Vladimir Putin has overseen a massive overhaul of the country's armed forces, looking to update and expand their combat capabilities both in the conventional and nuclear realms.
As part of this ongoing modernization campaign, Shoigu also said that the combat capabilities of 10 types of weapons and equipment were improved and that five new weapons and equipment were entered into service, including a tank support vehicle (likely referring to the latest Terminator update), the large-caliber Tornado-S multiple rocket launcher system, the Tor-M2 short-range anti-aircraft missile system and the Typhoon-K and Typhoon-U armored vehicles.