Russia Unveils New Nuclear Strategy
Moscow is developing a new military strategy in which nuclear weapons will be used to protect Russia against possible aggression from the United States, according to a Russian Ministry of Defense journal.
The article published in the magazine Voennaya Mysl (Military Thought) follows a series of incendiary remarks from Russian political figures about the prospect of Russia using nuclear weapons.
Guests and anchors on Russian state television have also boasted about Moscow's nuclear capabilities and called for strikes on western countries backing Ukraine in the war against Russian aggression.
Adding to the discourse is the defense journal article, which said that the U.S. was concerned it was losing dominance over the world and so had prepared plans to strike Russia to neutralize it.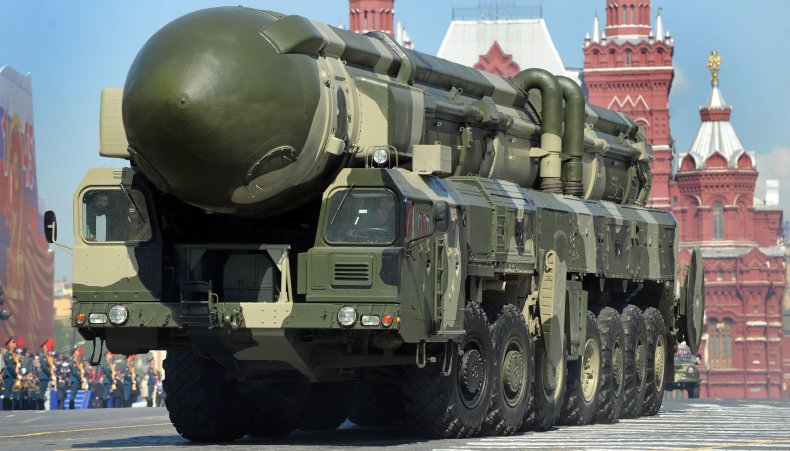 Part of the strategy involved the Pentagon trying to "defeat" up to 70 percent of Russia's strategic nuclear forces "using a conventional instant global strike," according to the article, Russian state news agency RIA Novosti reported.
Russian military experts are looking to counter what they say is U.S. aggression by operating Russia's "strategic deterrence forces."
Defeating the "American aggressor" would entail "modern strategic offensive and defensive, nuclear and non-nuclear weapons, taking into account the latest military technologies," said the article written by a deputy commander of Russia's strategic missile forces and a retired colonel.
This would show Washington it could not cripple Russia's nuclear missile system and would not be able to fend off a retaliatory strike.
Newsweek reached out to the Russian defense ministry for comment.
Last month, Russian President Vladimir Putin announced that Russia would suspend the New START treaty, the final remaining nuclear arms control agreement with the U.S., saying that he wants to re-evaluate what NATO allies have in their nuclear arsenal.
In reference to his invasion of Ukraine, Putin said that the West wanted "to inflict a 'strategic defeat' on us and try to get to our nuclear facilities at the same time."
The New START treaty limited Russia and the U.S. to no more than 1,550 deployed nuclear warheads and 700 deployed missiles and bombers. It was signed in 2010 by former President Barack Obama and his Russian counterpart at the time, Dmitry Medvedev.
Now as the deputy chairman of Russia's Security Council, Medvedev has ramped up nuclear threats in inflammatory posts on his Telegram social media channels.
In an op-ed for the newspaper Izvestia, he again took aim at the West's support for Ukraine and that its continued supply of weapons to Kyiv would mean that "everyone loses."
In a nod to what might follow a nuclear war, he wrote that "life that existed before" will be forgotten until "smoky debris ceases to emit radiation."