Firm in Russian Arctic Oil Spill Probe Admits Pumping Waste Into Tundra
The world's biggest nickel producer, already at the center of an investigation into a massive Arctic oil spill, is facing a separate probe into why wastewater was pumped from one of its processing plants into nearby tundra.
In the second environmental controversy Nornickel has had to deal with in a month, the company admitted that it pumped wastewater from its Talnakh enrichment plant near Norilsk, north of the Arctic Circle in the Krasnoyarsk region.
The newspaper Novaya Gazeta posted video on YouTube of industrial wastewater flowing through streams that feed into Lake Pyasino. Both the newspaper and Greenpeace say the water contains heavy metals such as nickel, cobalt and copper—claims the firm has denied.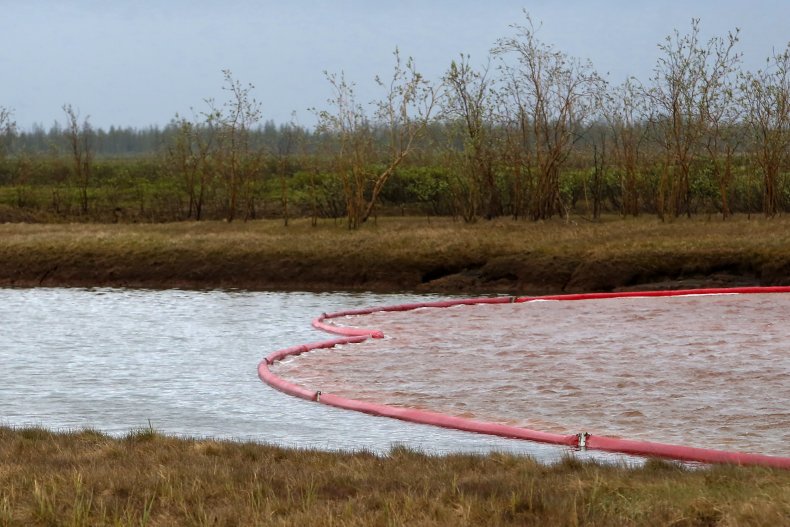 Nornickel said that purified water, which was not toxic, had been pumped away from the reservoir to stop it from spilling over—but admitted this was not acceptable.
"This decision constituted a gross violation of the factory's operational protocols. The responsible personnel have been suspended effective immediately and Nornickel has opened an internal investigation," it said in a statement.
"The company is cooperating with Russia's ecology watchdog (Rosprirodnadzor) and the Ministry of Emergency Situations to monitor the situation and assess whether any damage has occurred," it added.
Russia's Investigative Committee has launched its own investigation into the incident. Newsweek has contacted Nornickel for further comment.
Meanwhile, the same newspaper and Greenpeace said there has been a cover-up of the consequences of the massive nearby oil spill last month involving Nornickel, whose biggest shareholder is billionaire Vladimir Potanin.
On May 29, more than 20,000 metric tons of diesel oil spilled into the Ambarnaya river after a fuel tank built on permafrost collapsed.
The spill, which is is so extensive that it can be seen from space, contaminated an estimated 135-square mile area in the Krasnoyarsk region, sparked a criminal investigation and led to President Vladimir Putin declaring a state of emergency.
The media association Syndicate-100 said that Novaya Gazeta reporters, Greenpeace activists and Moscow City Duma Deputy Sergey Mitrokhin were prevented from taking soil and water samples from Lake Pyasino and the Pyasina River for analysis.
Airport officials at the city of Norilsk reportedly stopped the samples from being taken, saying, according to news outlet Meduza, that "Nornickel decides what can be shipped and what cannot."
In a statement, Syndicate-100 said it was illegal to classify information on environmental matters and to obstruct lawful journalists' activities.
"In this regard, [we] would like to recall that Norilsk is still a city within the Russian Federation," the statement read.
Novaya Gazeta editor-in-chief Dmitry Muratov said: "What are they so afraid of, if in their own words, the consequences of the accident have already been eliminated. "
Greenpeace has said that in the month since the spill, there is still only limited access to the site.
"Objective data on the accident will help the region adequately cope with the consequences of the disaster, silence leads to a total distrust of the authorities," Russian Greenpeace project director Vladimir Chuprov said in a statement.
Newsweek has contacted Nornickel for a response to Greenpeace's and Novaya Gazeta's claims.
On Monday, a fire broke out at a landfill where Nornickel stores waste, spiraling plumes of smoke towards the nearby tundra. The company said the site only contained bricks, concrete and household and not industrial waste.