Russia's Nuclear Options Dismissed by TV Guest: 'It Will Mean Our Defeat'
Any use of nuclear weapons by Moscow in Ukraine would lead to a "final and irreversible defeat" for Russia, a state TV guest has said.
In a clip posted to Twitter on Monday by Julia Davis of Russian Media Monitor, Russian State Duma member Aleksey Zhuravlyov can be seen discussing what the other guests take to mean nuclear weapons, although he denies this without offering an explanation.
Explaining that Russian forces were advancing slowly through Ukraine towards Kyiv, and sustaining heavy losses along the way, Aleksey Zhuravlyov said Moscow's troops should have been at the Ukrainian capital "a long time ago."
He told the guests that Russia "had enough strength and resources" not to be "depleted" before an assault on Kyiv, "but the question is whether we will use them or not."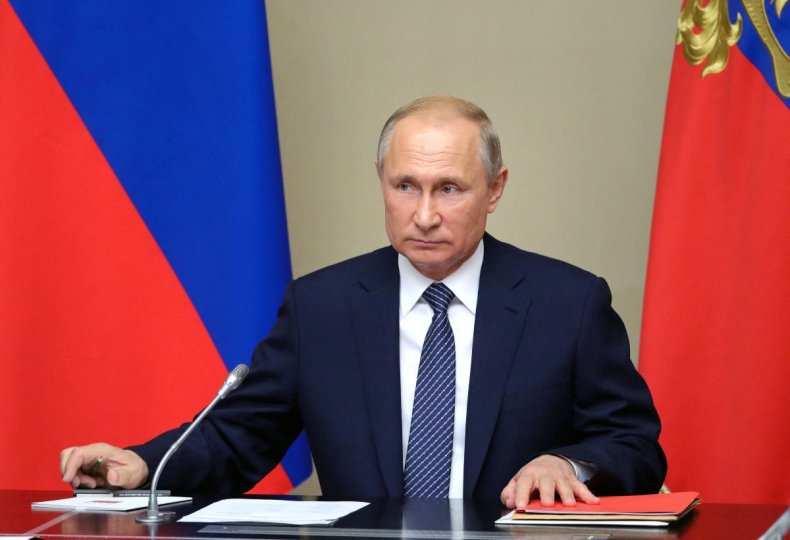 "I hope that we aren't discussing it in the media, but in reality something is being prepared," he added, telling the other guests that "if we don't do this, then we keep fighting according to this scenario. We'll be fighting and getting depleted."
Responding to these comments, Alexei Chadaev, a political scientist, then said that Russia also does not "want a World War III or a nuclear apocalypse."
Although Zhuravlyov later said he believed a "slightly radioactive Ukraine is less important than the lives of my soldiers," Chadaev, referring to the use of nuclear weapons, replied: "It will mean our defeat, a final and irreversible defeat."
"It would mean everything they said about us is true," he continued, "but if we manage to win with the resources that we currently have on the battlefield, that will be an honest military victory."
Chadaev argued Russian forces instead needed "other resources," scientists and a "new concept of war."
Russian state TV frequently discusses the possible use of nuclear weapons. Earlier this week, State Duma member Andrey Gurulyov discussed on the state-controlled Russia-1 channel said that "striking America with nuclear weapons is the only way forward, because Russia brings peace and calm everywhere it goes," according to Davis.
In another state TV segment hosted by Russian propagandist Vladimir Solovyov, Russian MP Semyon Bagdasarov called looking to "nuclear weapons as a solution is a dangerous trend." He called for investment in Russia's ground troops and modern conventional weapons.
But Solovyov fired back, according to the video posted by Davis on January 25, that "not using nuclear weapons is a dangerous trend," asking that if Russia has nuclear stockpiles at its disposal, "why can't we use them?"