Russia 'Obviously at a Loss,' 'Improvising' in War: Ex-Putin Speechwriter
A former speechwriter for Russian President Vladimir Putin said in an interview published Friday that the Russians are "obviously at a loss" in the Ukraine war.
"They don't know what to do, so they are improvising. Putin needs to achieve something that will convince Russians that he won and he can't get it," the ex-speechwriter, Abbas Gallyamov, told Radio Free Europe.
Gallyamov's comments come after Russian Foreign Minister Sergei Lavrov announced earlier this week that Russia's territorial ambitions go beyond the Donbas region—which has been the nation's focus in recent months.
Reuters reported that in an interview with state media, Lavrov said Russia's geographical ambitions are "now different" and are "far from being just" Donetsk and Luhansk—which together make up the Donbas region.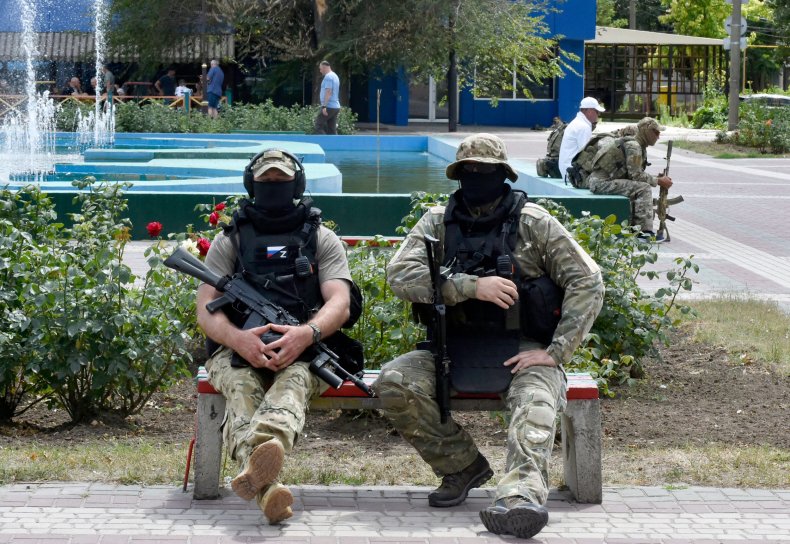 "[It's] also Kherson and Zaporizhzhia regions and a number of other territories," Lavrov said, according to Reuters. "This process is continuing logically and persistently."
Russia has partially occupied Kherson and Zaporizhzhia since it launched its invasion of Ukraine in February.
Aglaya Snetkov, a professor at the University College London and an editor of the Russian Analytical Digest, told Radio Free Europe that the Russians are "obviously making it up as they go along" in Ukraine.
"They had a crazy plan, and then it didn't work out, and then they had to adjust," Snetkov said.
Newsweek has reached out to the Russian Foreign Ministry for comment.
Earlier this month, the United Kingdom's Ministry of Defence said as the Russian military has recently assembled reinforcements near Ukraine, many of its troops are being placed in "ad hoc groupings," and using ill-suited gear.
"Despite President Putin's claim on 07 July 2022 that the Russian military 'has not even started' its efforts in Ukraine, many of its reinforcements are ad hoc groupings deploying with obsolete or inappropriate equipment," the ministry wrote in a brief posted to Twitter.
On Saturday, Ukrainian President Volodymyr Zelensky hailed the news that the United States intends to send his country High Mobility Artillery Rocket Systems (HIMARS) to aid in the fight against the Russians. A new $270 million in security assistance package for Ukraine announced by the White House on Friday includes four HIMARS.
"Thank you @POTUS for the new defense aid package for Ukraine. Critically important, powerful arms will save our soldiers' lives, speed up the liberation of our land from the Russian aggressor. I appreciate the strategic friendship between our nations. Together to victory!" Zelensky tweeted.