Zelensky Says New HIMARS From U.S. to 'Speed Up' Ukraine's 'Liberation'
Ukrainian President Volodymyr Zelensky welcomed the news on Saturday that the United States plans to send an additional four High Mobility Artillery Rocket Systems (HIMARS) to assist his country in its fight against Russia's unprovoked invasion.
The White House on Friday announced that an additional $270 million in security assistance would be sent to Ukraine, including the four HIMARS. The rockets have been seen as crucial to helping Kyiv's forces repel Moscow's military.
The package additionally included 580 Phoenix Ghost drones as well as 36,000 rounds of artillery ammunition. Additional ammunition for the HIMARS will be sent to Ukraine as well.
"Thank you @POTUS for the new defense aid package for Ukraine. Critically important, powerful arms will save our soldiers' lives, speed up the liberation of our land from the Russian aggressor. I appreciate the strategic friendship between our nations. Together to victory!" Zelensky wrote on Twitter several hours after the announcement was made. He tagged President Joe Biden in the post.
Previously, Ukraine's Foreign Minister Dmytro Kuleba cheered the news of further military assistance on the social media platform on Friday.
"I had a call with @SecBlinken [Secretary of State Antony Blinken] on practical steps to strengthen Ukraine as we resist Russian aggression and terror. Good news: more military aid is coming Ukraine's way from the U.S. and partners. We also focused on essential budgetary assistance to support Ukraine's economy," Kuleba wrote.
Prior to Friday's announcement, a senior U.S. defense official told journalists that HIMARS previously sent to Ukraine had helped the country's forces take out more than 100 "high value" Russian targets.
"They can't keep it up forever," the official said of Russia's aggression against Ukraine. "They have expended a lot of their smarter munitions...Their capabilities are getting dumber."
The U.S. has provided Ukraine with billions of dollars in military and humanitarian assistance in support as it defends itself against Moscow's assault. Russian President Vladimir Putin launched the internationally condemned war nearly five months ago on February 24, bizarrely claiming that Kyiv's government is led by Nazis. In reality, Zelensky is Jewish and had family members killed in the Holocaust genocide perpetuated by the German Nazis in World War II.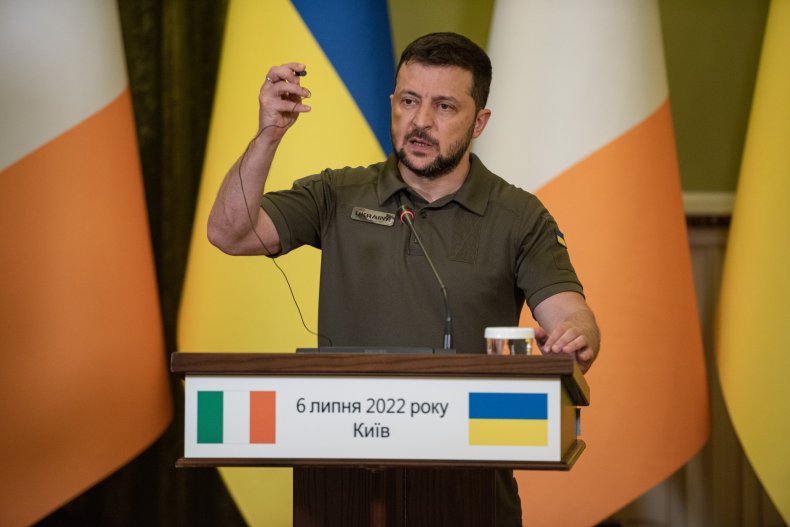 Russia's Defense Ministry claimed on Friday that it had destroyed four HIMARS in Ukraine. Kyiv rejected the claim. U.S. military officials had previously pushed back against similar reports.
U.S. General Mark Milley, chairman of the Joint Chiefs of Staff, told reporters on Wednesday that Ukraine's use of the HIMARS was "degrading" Russia's capabilities, adding that Moscow's troops had not yet destroyed any of the rocket systems.
"These strikes [from the HIMARS] are steadily degrading the Russian ability to supply their troops, command and control of their forces, and carry out their illegal war of aggression," Milley said.
Serhiy Haidai, the governor of Ukraine's Luhansk region, told Newsweek last week that Putin's forces have been in "panic mode" since the U.S. rocket systems arrived.
Despite Russia's substantially larger military and its apparently more advanced stockpile of weapons, Kyiv successfully fended off Moscow's initial full-scale invasion. Putin and his inner circle of Kremlin leaders reportedly believed that their troops would quickly take control of their Eastern European neighbor and overthrow Zelensky's government.
Due to Kyiv's early success, Russia was forced to curb its ambitions and focus on the east of Ukraine. Moscow's military has made more significant progress there. However, analysts have said that Russia continues to make blunders and is taking heavy losses with relatively minimal gains.
Newsweek reached out to Russia's foreign ministry for comment.