Various Ukrainian officials have asked for more weapons and ammunition in recent days as Russian President Vladimir Putin's forces have begun experiencing more battlefield success.
After experiencing numerous setbacks during the early stages of the war that began in late February, Russia has made advances in eastern portions of Ukraine as it concentrates more of its efforts into winning in the Donbas region. According to the BBC, Putin's military is also making gains in southern Ukraine as it tries to create a land corridor between Crimea, which was annexed by Russia in 2014, and areas held by Kremlin-backed separatists. One of those areas is Luhansk, which the BBC reports is now 90 percent controlled by Russia. The Institute for the Study of War further reported Russian troops recently blew up strategic bridges across the Siverskyi Donets River in a "likely attempt to cut Ukrainian ground lines of communication."
Many analysts still contend Putin failed in his original objective of securing a quick victory in Ukraine and establishing a Kremlin-approved government in Kyiv, but the recent battlefield success has been significant, especially as Ukraine says it is running out of weapons.
"This is an artillery war now," Vadym Skibitsky, deputy head of Ukraine's military intelligence, told The Guardian on Friday. He added that Ukraine's troops "are losing in terms of artillery" as its military has "one artillery piece to 10 to 15 Russian artillery pieces."
"Everything now depends on what [the West] gives us," Skibitsky said.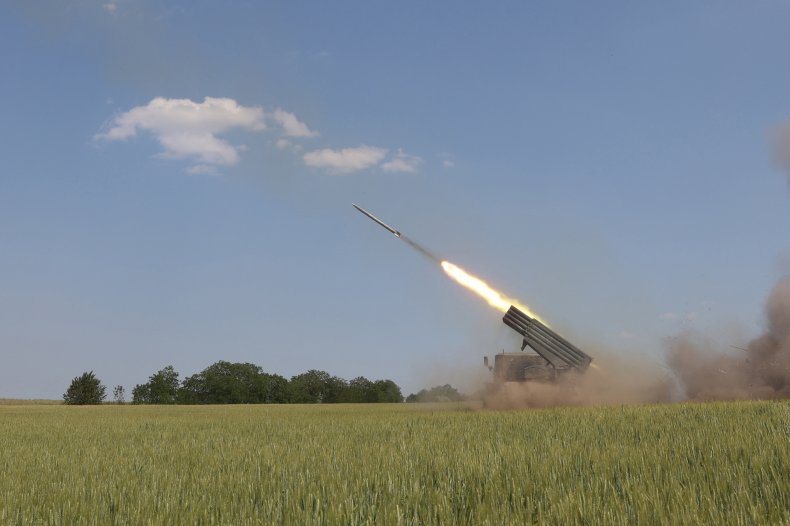 Mykolaiv Regional Governor Vitaliy Kim has also requested more supplies from U.S. and European allies, according to VOA News. He reported that troops in his region of Ukraine, which is located in the south and features a small shoreline on the Black Sea, are running low on ammunition and that "Russia's army is more powerful."
On Saturday, Ukraine's Foreign Minister Dmytro Kuleba said he had spoken with Poland about the neighboring nation sending heavy weapons to the Ukrainian military. Kuleba also made a plea on Twitter Monday, writing that he urges "partners to set a clear goal of Ukrainian victory and speed up deliveries of heavy weapons."
Mykhailo Podolyak, an adviser to Volodymyr Zelensky, added to the call for more military aid.
"Being straightforward—to end the war we need heavy weapons parity," Mykhailo Podolyak said on Twitter Monday.
Meanwhile, Russia's Defense Ministry on Monday said Russian missiles had taken out a large amount of weapons and military equipment in Donbas, which included supplies from Ukraine's U.S. and European allies. On Sunday, the defense ministry made a similar claim about destroying a weapons depot containing U.S. supplies in western Ukraine's Ternopil region, Reuters reported.
Newsweek contacted Ukraine's Ministry of Defense for comment.