Ukraine's at Risk of Losing War With Russia: Military Official
Russia's attack on Ukraine has become a war of artillery, and Ukraine is at risk of losing, according to the deputy head of Ukrainian military intelligence.
Vadym Skibitsky told The Guardian in an interview published Friday that Ukraine is now heavily reliant on weapons provided by the West in its counteroffensive against Russia. Russia, meanwhile, currently outranks Ukraine in terms of artillery supplies, according to the official.
"Everything now depends on what [the West] gives us," Skibitsky said. "Ukraine has one artillery piece to 10 to 15 Russian artillery pieces. Our Western partners have given us about 10 percent of what they have."
While there are indications that neither Russia nor Ukraine is currently poised to score a decisive victory in the conflict, Skibitsky's comments indicate that weapons, or a lack thereof, may serve as a tipping point in the ongoing "artillery war." Maps with assessments of territorial control in Ukraine, which are shared daily by the Institute for the Study of War, show that Russia and Ukraine have only been gaining and losing land in small increments in recent weeks.
Skibitsky told The Guardian that Ukraine is using between 5,000 and 6,000 artillery rounds every day. They have nearly run out of their own artillery ammunition and are using NATO-standard 155-caliber shells, he said.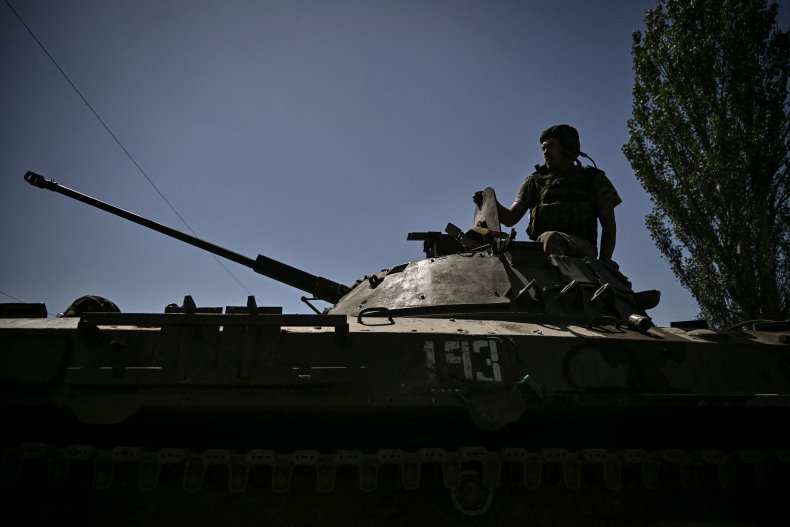 Skibitsky said that even Ukraine's Western arms suppliers are beginning to run low on stock.
"Europe is also delivering lower-caliber shells but as Europe runs out, the amount is getting smaller," he said.
Last month, U.S. President Joe Biden signed a $40 billion aid package for Ukraine. He also announced an additional security assistance package for the country worth $700 million on June 1. Skibitsky did not mention the U.S. aid in the interview, nor whether it is expected to make any significant impact in Ukraine's fight against Russia.
While Ukraine barrels through its ammunition and arms supplies, it is also reportedly seeing heavy daily losses in terms of manpower. An aide to Ukrainian President Volodymyr Zelensky told the BBC this week that 100 to 200 Ukrainian troops are being killed every day on the war's front line.
Russia, meanwhile, has largely refrained from commenting on its own troop losses.
Ukraine's Defense Ministry said in a Facebook post Wednesday that about 31,500 Russian personnel had been killed in the war. Russia last released a death toll on March 25, saying that 1,351 Russian soldiers and officers had been killed in Ukraine, Radio Free Europe reported.
Newsweek reached out to Russia's Defense Ministry and Ukraine's Defense Intelligence agency for comment.