Russia Tells Pilots To Repair Their Own Planes Amid Sanctions—Report
Pilots of regional Russian airlines will be instructed to carry out maintenance on their own aircraft, amid sanctions imposed on the country following its invasion of Ukraine.
The comments came from Oleg Bocharov, Russia's deputy minister of Industry and Trade, speaking earlier this month at the Eastern Economic Forum in Vladivostok.
During an address on "Air transport accessibility of the Far East in conditions of turbulence," he said: "Together with the Ministry of Transport, we must train and certify pilots as universal fighters: they must simultaneously be pilots and aircraft technicians. And the equipment should provide for the possibility of field repairs in operation.
"We are talking about pilots, primarily of regional aviation, for which a fundamentally new system for maintaining the airworthiness of new types of domestic regional aircraft should be created."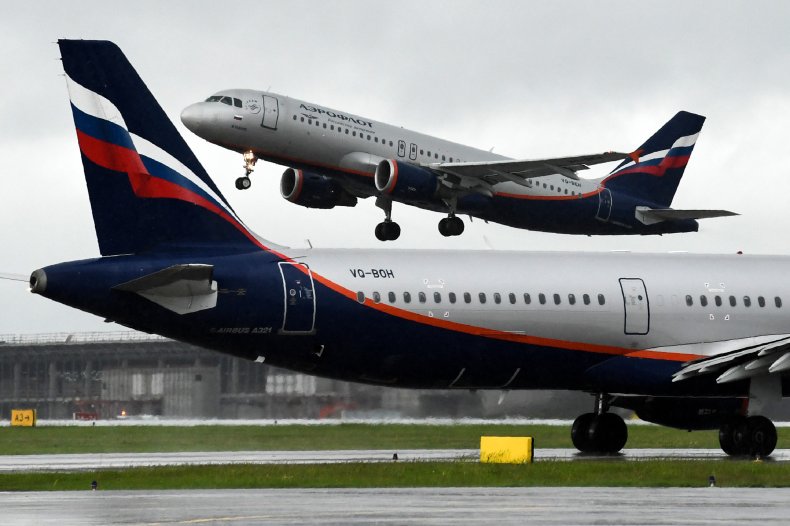 Bocharov, who has held his current position since 2017, was previously elected four times to the Moscow City Duma.
The Russian aviation sector has been badly hit by Western sanctions imposed following Vladimir Putin's invasion of Ukraine on February 24.
Russian airlines were banned from U.S., European Union (EU), U.K. and Canadian airspace following the invasion. In retaliation, Moscow prohibited EU and Canadian airlines from its territory.
For a period, Aeroflot, Russia's flagship carrier, suspended all international flights other than to Belarus.
The EU also added 21 Russian airlines to its Air Safety List in April, preventing them from operating in its territory on "safety grounds."
EU Commissioner for Transport Adina Vălean said this was unrelated to the invasion of Ukraine, commenting: "We are living in the context of Russia's unprovoked and unjustified military aggression against Ukraine.
"However, I want to make it crystal clear that this decision is not another sanction against Russia; it has been taken solely on the basis of technical and safety grounds. We do not mix safety with politics."
Western sanctions have also undermined Russian airlines' ability to maintain their existing aircraft.
In August, Reuters reported Aeroflot had started stripping some of its aircraft for parts after being cut off from Western equipment and servicing.
Speaking to the news agency, an insider said an almost new Airbus A350 was being disassembled for parts. They also said equipment had been removed from a number of Aeroflot's Boeing 737s and Airbus A320s, to keep other aircraft in flying condition.
Based on flight data, Reuters calculated 50 of Aeroflot's 360 aircraft haven't taken off at all since July.
The risk of secondary sanctions means it is very dangerous for Chinese and Middle Eastern companies to supply their Russian counterparts with Western equipment.
In Ukraine, Russia has lost some of its most advanced combat aircraft and is replacing them with "outdated" fighter jets, according to Kyiv.
The Russian Ministry of Industry and Trade has been contacted for comment.