Russia Preparing Chemical Weapons Attack, Zelensky Warns
On Wednesday, Ukrainian President Volodymyr Zelensky warned that Russia was preparing an attack against Ukraine using chemical weapons.
While speaking virtually to Japan's parliament, Zelensky said, "I'm receiving reports that Russia is preparing attacks using chemical weapons such as sarin, just like Syria."
According to the Centers for Disease Control and Prevention (CDC), sarin is a human-made nerve agent that was originally developed as a pesticide. Sarin was utilized in 1995 when members of a Japanese cult attacked a subway system in Tokyo, resulting in 14 deaths.
Zelensky's comments regarding chemical weapons come shortly after U.S. President Joe Biden said that Russian President Vladimir Putin was "considering" using both chemical and biological weapons against Ukraine.
"They're also suggesting that Ukraine has biological and chemical weapons in Ukraine. That's a clear sign he is considering using both of those. He's already used chemical weapons in the past, and we should be careful of what about — of what's about to come," Biden said on Monday.
Biden also spoke about claims made by Russia that the U.S. has chemical weapons in Europe, which Biden called a "false flag."
"[Putin's] back is against the wall. And he's — now he's talking about new false flags he's setting up, including he's asserting that, we, in America, have biological as well as chemical weapons in Europe — simply not true," Biden said.
In addition to Biden's comments on the possible use of chemical weapons, Reuters reported on Wednesday that German Chancellor Olaf Scholz directly warned Putin against using chemical or biological weapons. Citing the German newspaper, Die Zeit, Reuters reported that Scholz said that using chemical or biological weapons "would be unacceptable and unforgivable."
Amid the ongoing conflict between Russia and Ukraine, Putin has placed his nuclear forces on high alert, prompting fears of a potential nuclear war from a number of Western nations.
During an interview last night with CNN, Kremlin spokesperson Dmitry Peskov said that Putin could possibly use a nuclear weapon in Ukraine if Russia was facing an "existential threat."
Newsweek reached out to the Russian Foreign Ministry for comment but did not receive a response in time for publication.
In addition to warning of a potential chemical attack, on Wednesday, Zelensky also applauded Japan for its sanctions imposed on Russia, as a number of countries across the globe have done so, following Russia's invasion of Ukraine.
"I ask you to continue to impose sanctions," Zelensky said. "Let's make efforts to ensure Russia will want and seek peace."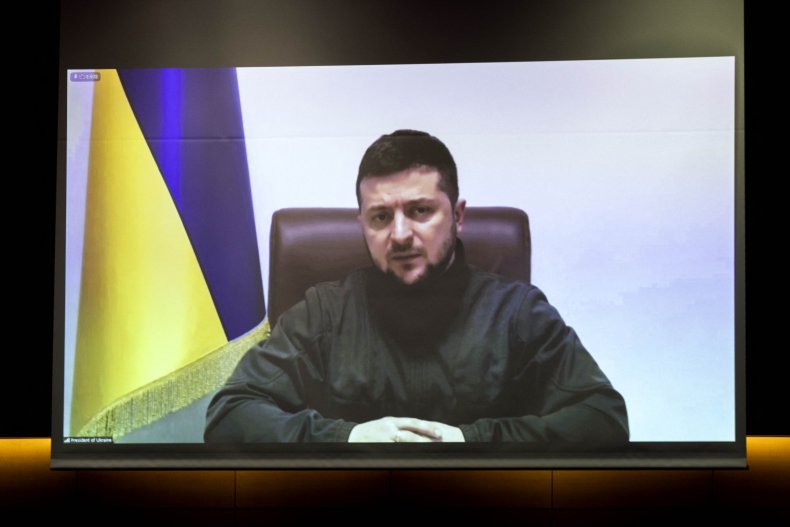 Update 3/23/22 9:51 AM ET: This story has been updated with additional information.