Russia President Vladimir Putin's Ability to Wage War Is Being Limited by International Sanctions, Ukraine's Spy Chief Claims
International sanctions against Russia are negatively impacting President Vladimir Putin's ability to wage war around the world, including in Ukraine, Kiev's top spy chief said.
Yehor Bozhok, head of Ukraine's foreign intelligence service, told the European media outlet EUObserver in late January that Western sanctions, levied by the United States and the European Union, have cost the Russian budget around $173 billion between 2014 and 2018, the same period of time that Russia has supported an armed pro-Russian separatist movement in Eastern Ukraine. Bozkhok claimed that these estimates were based on Russia's own calculations.
"By imposing sanctions, the West is not only supporting Ukraine, it is hedging the risk that Russia will use the same money for asymmetric operations against EU countries," Bozhok said. "How do you stop Russia? By ensuring the Kremlin's resources for foreign operations are depleted."
Other sources have provided lower estimates, and at least one Russia newspaper recently claimed that Moscow had lost around $600 billion due to the combined effect of sanctions and falling oil prices. Some analysts say that Bozhok's estimates are likely inflated for political purposes.
"It's incredibly difficult to disaggregate the effect of sanctions from the effects of low oil prices, capital outflows already taking place and the structural challenges facing the Russian economy that prevented it from growing at a healthy clip before Crimea was annexed," Nick Trickett, an associate scholar and expert on Eurasia with the Foreign Policy Research Institute, told Newsweek.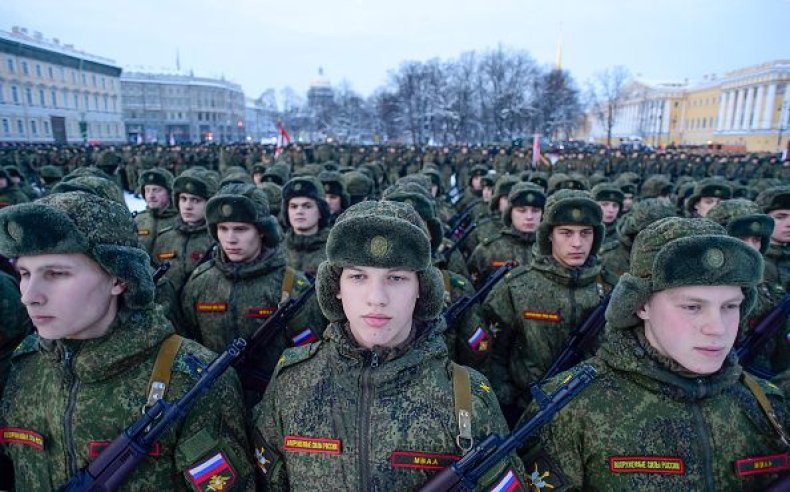 "Further, budget spending was most affected by reliance on oil and gas revenues and was then cut. Revenues have since been adjusted by using a lower oil price, around $49 a barrel, to avoid deficits, as well as moves to increase the tax load on the population," Trickett continued.
Since 2014, the U.S. and its allies have sanctioned Russia for military interference in Ukraine and Syria, for waging cyber attacks and influence campaigns in the U.S. and other countries and for helping North Korea evade sanctions.
Nevertheless, the country's ability to avoid deficits has ensured that Russia has plenty of reserves to spend on social services and infrastructure, experts note. Meanwhile, unemployment has fallen in Russia and inflation has also dropped significantly since 2015.
Throughout this time, Moscow has continued to support the pro-Russian separatists in Eastern Ukraine and many analysts say they are bracing for further interference in the lead up to Ukraine's March 31 presidential elections. In November, Russian troops seized three Ukrainian naval ships attempting to enter the Sea of Azov, which borders the Crimean peninsula. Putin is also taking a lead role in determining the future of Syria now that the U.S. has decided to withdraw its troops from the country.
Nevertheless, some say the sanctions may have made it a little more difficult for the Kremlin to interfere in Ukraine.
"Russia is an extraction state already, which makes your economy brittle. Sanctions make the economy even more brittle and the currency drop in 2014 is an example of that," Brian O'Toole, an expert in economic sanctions at the Washington D.C.-based Atlantic Council, told Newsweek.
"Sanctions are meant to place a strain, not necessarily to break. But they sharpen policy choices for the Russian government. Sanctions make it a little more expensive because there are sanctions on their military activities abroad, so they can't just wire money to an account in Ukraine, they have to smuggle it in," O'Toole continued. "Everything they're doing is more complicated and costly."