As tensions mount between Russia and Ukraine, many observers are starting to wonder what a war between the two countries would look like.
On Monday, Ukrainian President Petro Poroshenko declared that his country's intelligence services have evidence that Russia is preparing a ground offensive. The address was made just one day after Russian troops attacked three Ukrainian navy vessels attempting to enter the Sea of Azov from the Black Sea.
Throughout all this, President Donald Trump has remained silent. He eventually addressed the issue at the end of the day on Monday when questioned by a reporter, saying that that the U.S. does "not like what's happening."
But that tepid response made some question how the international community would react should an overt Russian military attack on Ukraine occur. Experts agree that the entire international community would have to band together to put pressure on Russia to withdraw.
"We would be interested in de-escalating as soon as possible, as we would in any scenario," Evelyn Farkas, the former deputy assistant secretary of defense for Russia, Ukraine and Eurasia with the U.S. Department of Defense, told Newsweek.
"You could imagine we would ramp up military assistance to Ukraine, go to the [United Nations] Security Council and make some noise. I would hope we would slap some immediate and strong sanctions on Russia that could be reversed if they withdraw. And we should put a halt to any diplomatic ties with Russia, uninvite them from the G-20 meeting," Farkas continued.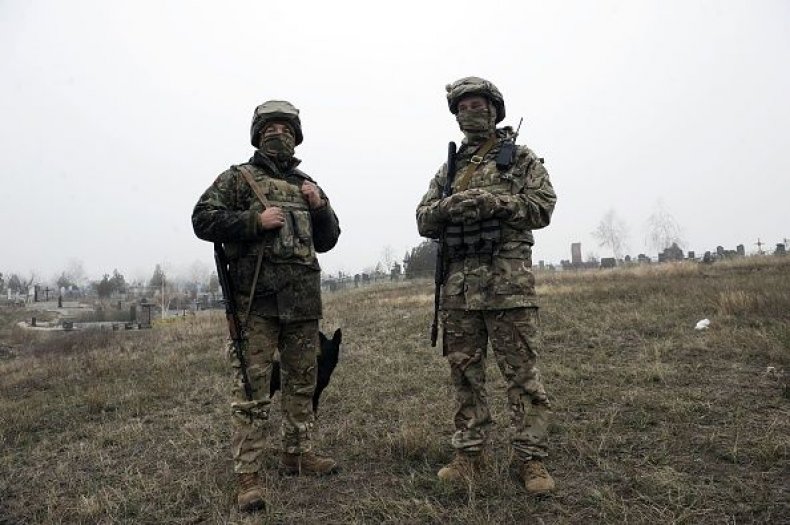 Russia and Ukraine have had an exceptionally tense relationship ever since the annexation of the Crimean Peninsula in 2014. Moscow has also backed pro-Russian separatists in eastern Ukraine who have been fighting the military ever since a pro-Western social movement ousted Ukraine's pro-Russian President Viktor Yanukovych that same year.
But throughout the now nearly five-year-old conflict, Russia has been able to deny its involvement in Ukraine. Moscow has repeatedly claimed that there are no regular Russian military troops in Ukraine and that all Russians in the country are patriotic volunteers. These claims have been belied, however, by social media posts featuring Russian soldiers posing in eastern Ukraine.
Sunday's skirmish in the Sea of Azov, which ended with Russia detaining three wounded Ukrainian soldiers, was the first open conflict between the two countries' regular militaries. Furthermore, the standoff between the Russian and Ukrainian ships was caught on film, ruling out any opportunity for plausible deniability.
On Monday, Ukraine put its military in charge of much of the country for the next month to ensure it could respond quickly in case of an outright invasion. Regions of Ukraine that border Russia, Transnistria or the Black Sea have all been put under martial law.
Last year, President Donald Trump reversed the Obama administration's decision to halt the provision of lethal weapons to Ukraine. Since then, the Trump administration has quietly been increasing arms shipments to the country. In May, the U.S. sold Ukraine a deadly Javelin missile system, thus making it more difficult for Russia to launch a serious military offensive.
Many experts agree that it is unlikely that Russia will launch a full-scale invasion of Ukraine, but there should be a coordinated and high-level response from both the U.S. and Europe should any Russian troops begin encroaching on Ukraine's territory.
"The tension that has risen recently increases the chances that Russia will push the line of contact further west to punish Ukraine. That would be a disaster for Russia, because of Ukraine's increased military capabilities and because it could lead to further Western sanctions," Mark Simakovsky, a Russia expert at the Washington, D.C.-based Atlantic Council, told Newsweek.
"The international community would see it as blatant, naked Russian aggression. You would likely see an acceleration of military aid to Ukraine. I don't see NATO forces as likely, but western military advisers to help Ukraine defend their country would likely be deployed," Simakovsky continued.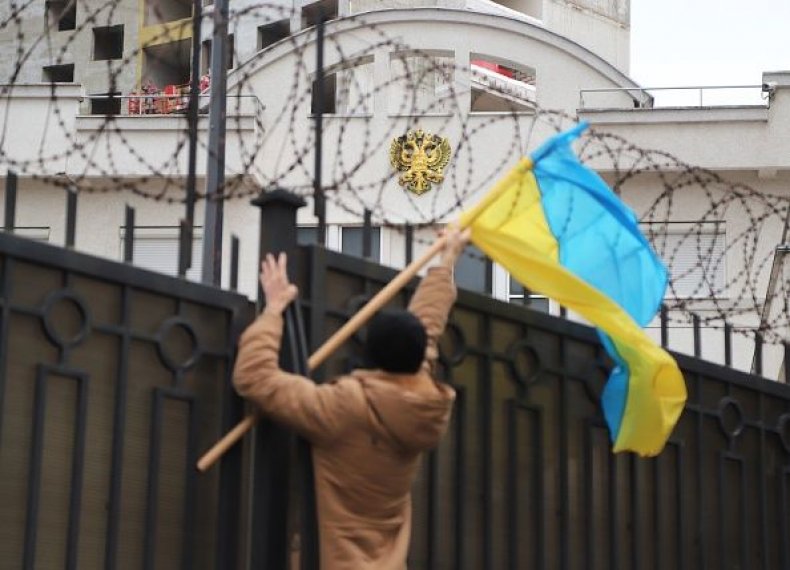 Michal Baranowski, the director of the German Marshall Fund's office in Warsaw, Poland, said it's now up to the West to ensure that the situation de-escalates.
"Russia's latest actions should be seen as more of a test of the West than anything else—though the economic importance of the Azov Sea to Ukraine should not be discounted," Baranowski told Newsweek. "The challenge for the international community—especially with strong support from the US—will be to make very clear that there is a price to be paid for this behavior by Russia. The U.S. and Europe should focus on tools such as targeted economic sanctions and increased support for Ukraine."
On Monday evening, the State Department released a statement condemning the "aggressive Russian action."
"We call on both parties to exercise restraint and abide by their international obligations and commitments. We urge Presidents Poroshenko and Putin to engage directly to resolve this situation," the statement read. "The United States supports Ukraine's sovereignty and territorial integrity within its internationally recognized borders, extending to its territorial waters, as well as the right of its vessels to traverse international waters."
Also on Monday, NATO Secretary-General Jens Stoltenberg said the incident in the Sea of Azov is a reminder that "there is a war going on in Ukraine" and Russia "has to understand that its actions have consequences."
Farkas, who helped oversee the Obama administration's Russia policy, said Washington should be "leading the charge against an overt military open war against Ukraine."
"We're the largest military power, the largest democracy, we have the most at stake in ensuring that international borders are sacrosanct," Farkas said. "This is directly in the U.S. national security interest."