Ukraine Tests Lethal Weapons Donald Trump Sent to Combat Russia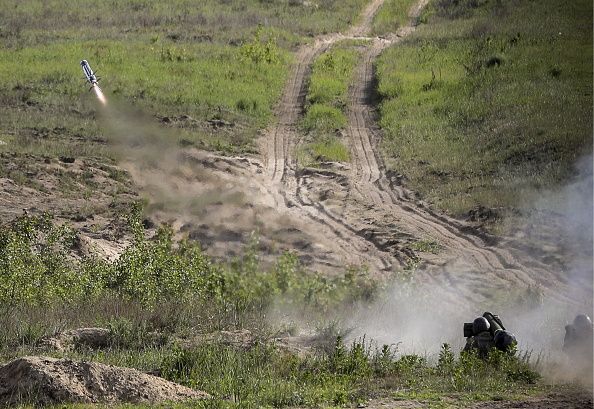 Ukraine tested the Javelin missile system for the first time on Tuesday, which the U.S. gave the country to defend itself against Russia, government officials revealed.
Taking to Twitter, Ukraine's President Petro Poroshenko expressed gratitude for the anti-tank system, which was delivered to Ukraine from the U.S. in late April.
"Finally this day has come," Poroshenko wrote. "I am grateful for the firm decision that Ukraine should be armed."
Ukraine has been fighting an insurgency of pro-Russian separatists on its territory since 2014, when a pro-Western movement ousted former President Viktor Yanukovych, who fled to Russia, and Moscow annexed Ukraine's Crimean peninsula. There is still frequent fighting between the separatists and Ukrainian troops in Ukraine's eastern Donbas region, and at least 10,000 people have died as a result over the past four years.
The administration of former President Barack Obama supported Ukraine in its fight against the Russian-backed separatists, but it refrained from sending lethal military aid for fear it would cause the conflict to escalate. The administration of President Donald Trump, however, reversed this policy.
In what resembled a quid-pro-quo deal, reports in early May suggested that Ukraine's government had stopped cooperating with the investigation of Special Counsel Robert Mueller in exchange for receiving the deadly javelin missiles. Trump has attacked the Mueller investigation, which is looking into whether the Trump campaign collaborated with the Russian government to swing the outcome of the 2016 U.S. presidential election, calling it a "witch hunt."
Trump's former campaign manager Paul Manafort has been indicted by the Special Counsel, which accused Manafort and his business partner Rick Gates of acting as unregistered agents of a foreign government due to their close ties to former Ukrainian President Yanukovych. The two men have also been accused of money laundering. Anti-corruption investigators and journalists from Ukraine had been looking into suspicious payments Yanukovych made to Manafort, allegedly using public funds. But Ukraine's chief prosecutor called off any investigation into the payments, reportedly to stay on Trump's good side and obtain military aid from the U.S.
Reports suggested that the current government of Petro Poroshenko was anxious to cultivate close ties to Trump, despite the U.S. president's professed respect for Russian President Vladimir Putin. On Wednesday, a day after Ukraine tested the Javelins, the BBCreported that Trump's personal lawyer Michael Cohen had received payments of at least $400,000 from Ukraine's government to facilitate a meeting between Trump and Poroshenko. The meeting took place last June, not long before Ukraine called off its investigation into Manafort and stopped cooperating with Mueller.
Cohen, who is already under investigation by state and federal prosecutors, has denied the report.