Russia Proposes Solution to End Ukraine War
A demilitarized Ukraine with its own army could be the solution to end the raging war in Ukraine, Russia said on Wednesday.
Kremlin spokesperson Dmitry Peskov was quoted by RIA news agency and Reuters as saying that "this is a variant that is currently being discussed and which could really be seen as a compromise."
It's not yet clear if the offer of neutrality has come from Ukrainian officials, but Russian chief negotiator Vladimir Medinsky has claimed so. On Wednesday, he told state TV that "Ukraine is offering an Austrian or Swedish version of a neutral demilitarized state, but at the same time a state with its own army and navy."
The suggested solution was confirmed by Russian foreign minister Sergei Lavrov, who speaking to RBC news on Wednesday said "neutral status is now being seriously discussed along, of course, with security guarantees."
He added that "negotiations are not easy for obvious reasons," while he hoped a compromise could be reached. He said the sides were close to agreeing on the terms of this solution.
Ukrainian presidential aide Mykhailo Podolyak said Ukraine could agree only to "legally certified security guarantees," and Ukraine is discussing a new agreement under which the country would be protected by a group of allies legally bound to defend Ukraine in case of attacks.
A demilitarized Ukraine would not be able to host any foreign military base, join any international military alliance, or participate in a war.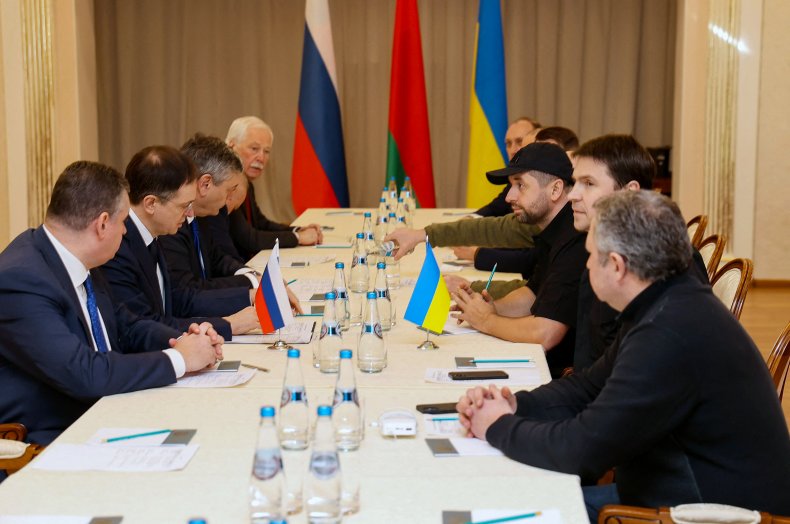 That a solution to the conflict might be reached at the Ukraine-Russia negotiating table seems in line with recent statements from both parties, who have proclaimed that progress towards ending the war has been made after weeks of death, loss and resistance.
On Tuesday, Ukraine's President Volodymyr Zelensky announced that his country will give up on its aim to join the NATO alliance. This key concession was likely seen as a positive start for peace talks from Russian officials.
"Ukraine is not a member of NATO. We understand that. We have heard for years that the doors were open, but we also heard that we could not join. It's a truth and it must be recognized," Zelensky said in a video message.
Russia made Ukraine not joining NATO a key reason for its troops massing at the Ukrainian border before launching a full invasion. NATO never agreed to give such assurance, sticking to its open doors policy.
On Wednesday, Zelensky said negotiations sounded "more realistic" and that though the parties might be closer to a compromised, "time is still needed for the decisions to be in the interests of Ukraine."
The Precedents of Austria and Sweden
Austria, which has been mentioned as an example of a demilitarized country, has been neutral since 1955. After World War II, the country was under the occupation of both U.S. and the Soviet Union, and it was only allowed independence once it promised permanent neutral status.
Because of its neutrality, Austria isn't a member of NATO, but it is a member of NATO's Partnership for Peace (PfP) and NATO's Euro-Atlantic Partnership Council (EAPC).
The alpine, landlocked country has also participated in U.N. peacekeeping operations around the world, including in Kosovo, Lebanon and Bosnia-Herzegovina.
Sweden's neutrality dates back to the 19th century, and it was maintained even after the principle was formally abolished in 1995 when the country joined the European Union. Sweden, like Finland, is closely integrated with the West but isn't part of NATO.