A Russian political philosopher and propagandist believed to have influenced Vladimir Putin's war in Ukraine has said Moscow should send arms to its allies to retaliate against Western countries giving weapons to Kyiv's forces.
Aleksandr Dugin is a 60-year-old intellectual and former Moscow State University professor, who has been described variously as "Putin's Rasputin", "Putin's philosopher" and even "Putin's brain."
He is believed to have the ear of the Russian president and his theories are thought to have shaped Moscow's annexation of Crimea in 2014 as well as the full-scale invasion of Ukraine that started on February 24.
Drawing on an ideology of an illiberal totalitarian Russian Empire that runs from Dublin to Vladivostok, Dugin's vision is to challenge the U.S. and "Atlanticism."
In a week in which the U.K. and the U.S. announced further military help for Ukraine, Dugin said in a VKontakte post that Russia should, in turn, respond by arming U.S. adversaries.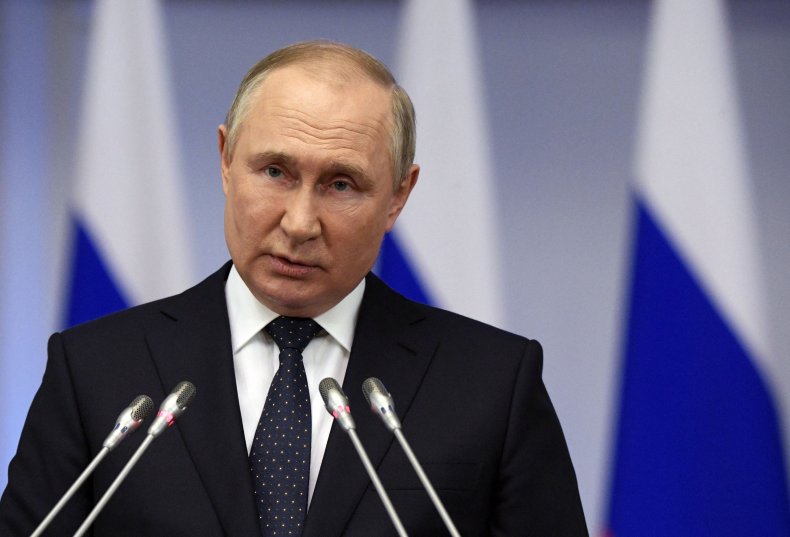 "If the United States and European countries are calmly supplying weapons to Ukraine, why shouldn't Russia also supply various weapons systems to its partners and proxies," Dogin wrote on the Russian social media network Tuesday.
His suggestion is for Russia to arm groups, including the Kurds, Hezbollah and Hamas in a move that would send an "unequivocal signal to the Turks, Israel, and will also make the Americans worry in Iraq and Syria."
He also said that weapons could also be given to North Korea, Serbia and Republika Srpska—the political subdivision of Bosnia and Herzegovina. He added, "of course, in Latin America, it is necessary to strengthen the distribution regime, first by arming Cuba, Nicaragua and Venezuela well."
Dogin said that such deliveries of arms would be accompanied by "the physical presence of our military, which Washington does not particularly like."
In January and with tensions high between the West and Moscow over its military buildup by Ukraine, Russia's deputy foreign minister Sergei Ryabkov refused to rule out the possibility the Kremlin would order military deployments to Cuba and Venezuela.
"What Dugin is talking about here is basically a broader mobilization of Russian support for anti-western powers," said Samuel Ramani, associate fellow at the London think tank, the Royal United Services Institute (RUSI).
"It is part of a broader call for distracting NATO and the West. The argument that the Russians are making is that the West is trying to distract Russia by trying to open up new fronts," he told Newsweek, "so we should distract them back."
The Guardian reported this month that Russia was receiving military hardware and munitions for the Ukraine war from Iraq, through Iranian weapons smuggling networks.
Ramani said "it's possible that Russia could intervene over there," as well as in Bosnia, which Russian ambassador Igor Kalbukhov has threatened if it pursued NATO membership.
"But the idea of arming in Latin America is extremely remote," Ramani said, "the Russians have not made any movements towards backing that kind of policy."
An attempt by Moscow to deploy military assets to Cuba occurred most notably when the Soviet Union tried to put nuclear weapons on the Caribbean island in 1962. The brinkmanship between Moscow and Washington is thought to be the closest the Cold War superpowers came to nuclear war.
"I think it's bluster and bluff from Dugin, but it's certainly something to watch out for," Ramani said.
In response to Moscow's criticism of the U.S. arming Kyiv, a State Department spokesperson told Newsweek that the Russian government "has sought to deflect responsibility for its actions by attempting to shift the blame for its unprovoked, unjustifiable, and brutal war in Ukraine."
"The Kremlin is clearly and solely responsible for any escalation. Putin started this war, and he could end it whenever he wants."
Update 4/30/22, 12:45 p.m. ET: This story has been updated with a U.S. State Department response.