Russian President Vladimir Putin and North Korean leader Kim Jong Un may have greeted each other with a firm grip but many speculated on who had the upper hand.
With each leader isolated on the global stage in their own way, Kim stepped out of his limousine at the Vostochny Cosmodrome in Russia's far eastern Amur region on Wednesday to a handshake with Putin that lasted more than 30 seconds.
During the visit, the pair discussed Russian promises of help with North Korea's fledgling space program while Putin told reporters there were "possibilities" between the countries for military cooperation. Away from the high politics of Wednesday's meeting was analysis of the dynamic between the pair.
Social media user Sara Jade, who posts on X (formerly Twitter) about body language and psychology, said that as the pair sat next to each other, Kim's display was "confident" and "open" and showed a "manspreading territorial crotch display," which was "dominant" and "authoritative."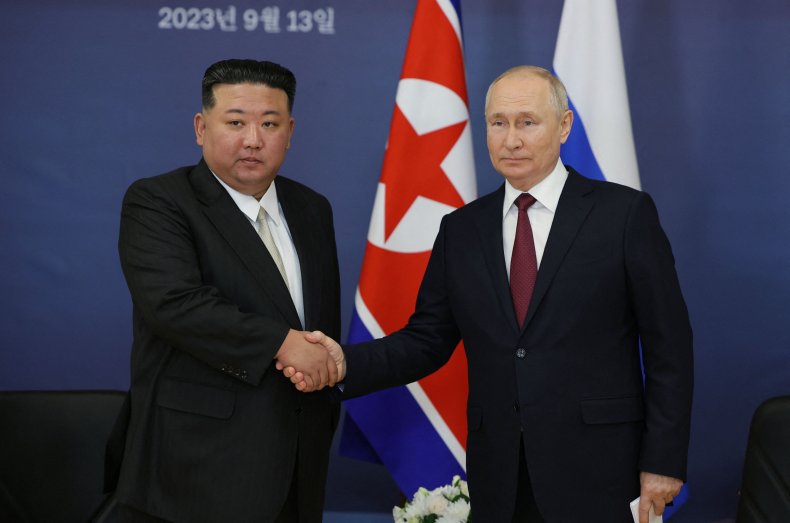 "Putin looks weak," said the post which noted Putin's "closed upper body" and how his leg leaned towards Kim.
The post compared an image of a meeting between Putin and Alexander Lukashenko in September 2020 at a time when the Belarusian leader needed Putin's help after widespread protests calling for his ouster.
The image shows Lukashenko leaning towards Putin, who was "confident dominant and authoritative," according to Sara Jade, who wrote this was "almost the opposite" to Wednesday's meeting.
This difference was also noted by Belarusian opposition politician Valery Kavaleuski, who also compared the images from the two meetings and wrote, "test your body language reading skills in context."
"Lukashenka & Putin, Sept 2020, millions of Belarusians demand that Lukashenka must go - Kim Jong Un & Putin, Sept 2023, Putin is losing the war against Ukraine," added Kavaleuski.
Political analyst Ian Bremner shared the same images, writing, "It's not every day Kim Jong Un can elicit this sort of posturing from a non-North Korean citizen."
Jeffrey Fischer, an author whose X handle is "Colonel Jeff in Austria", wrote, "Body language is everything. Given Belarus panders to Russia, what does the second photo suggest? Oh how far he's fallen. Putin needs Kim."
Body language expert Judi James told British newspaper The Sun that Kim's intense eye contact and "overall appearance is one of utter confidence, from his sharp suit to his heavyweight walk."
As they sat for photos, James said both showed "a very alpha splaying of the legs," although the North Korean leader's pose "is more symmetric." His buttoned jacket, compared with Putin's being undone made the Russian leader "look more open to talks while Kim appears to be keeping his cards closer to his chest."
In comments reported by British newspaper The Mirror, another body language expert, Darren Stanton, told Bitcoin Casinos that with the handshake Putin wanted to be seen as a "stronger force" with his "bone crusher" greeting which was a bid to "exert authority."
Stanton said that Kim is "rubbing his index finger and thumb together," which was "almost a demonstration of anxiety" and can "also be a sign of impatience as if he does not want to be there."