Russia's Putin Meets Top Security Officials as U.S. Supports 'Attempted Coup' in Venezuela
Russian President Vladimir Putin has convened a meeting of his top national security officials as the U.S. expressed its support for a new push to overthrow the government of Venezuela.
Venezuelan Parliament speaker Juan Guaidó, who declared himself interim president in January with the backing of the U.S. and its allies, escalated the ongoing political crisis facing the country by calling on Tuesday for an uprising by the military, which has so far remained loyal to President Nicolás Maduro.
As Maduro and his top officials decried Guaidó's announcement, one of his biggest international supporters was briefed on the situation. Putin, who has sent military personnel to the leftist-led Latin American state in recent weeks, defying protests by President Donald Trump and his administration, reportedly discussed the latest developments in Venezuela during a meeting with Russia's Security Council in Moscow.
"The meeting's participants paid much attention to the situation in Venezuela in light of the news about an attempted coup," Kremlin spokesperson Dmitry Peskov told the state-run Tass Russian News Agency.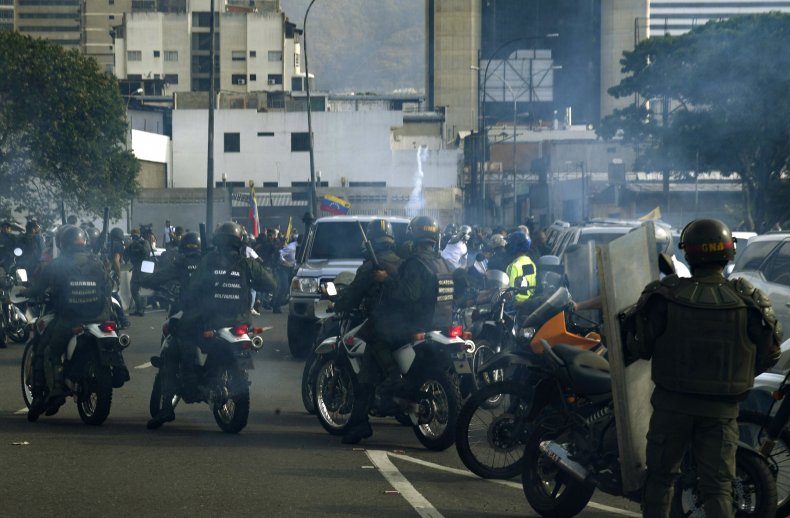 The unrest was widely welcomed in Washington, where Trump and his top officials have mounted a campaign to pressure Maduro into stepping down. The U.S. has accused Maduro of rigging his most recent election and mishandling his economy, leading to historic hyperinflation, shortages of goods and a mass exodus of refugees. Since August 2017, the Trump administration has tightened sanctions against the Venezuelan government, further damaging its financial outlook, and cut ties in January, one month after Russia conducted joint nuclear-capable bomber drills with Venezuela.
White House National Security Adviser John Bolton, who has been among the most hawkish of Trump's officials, echoed Guaidó's calls for the military to defect and back the opposition-controlled National Assembly headed by Guaidó.
"Venezuelans have made clear that the current path toward democracy is irreversible," Bolton tweeted. "Venezuela's military has a choice: Embrace democracy, protect civilians and members of the democratically elected National Assembly, or face more man-made suffering and isolation."
Secretary of State Mike Pompeo hailed the beginning of what Guaidó termed Operación Libertad, or "Operation Freedom." The top U.S. diplomat said on Twitter that the "U.S. Government fully supports the Venezuelan people in their quest for freedom and democracy. Democracy cannot be defeated."
Both men have called on Moscow to immediately end its support for the Venezuelan government, which recently received up to 100 Russian personnel. The State Department suspected they had been sent to perform maintenance on the Russia-built S-300 surface-to-air defense systems bought by Maduro's predecessor Hugo Chávez, who also faced a 2002 coup attempt reportedly linked to the U.S.
The Russian Embassy in Caracas downplayed reports of violence in statements cited by Russia's Interfax news outlet. Asked if Russian military personnel would intervene in the attempted coup, the embassy's press head said it would not.
Chávez and Maduro, leaders of the United Socialist Party of Venezuela, rejected Washington's involvement in the region and instead cemented ties with leftist-led Cuba, Bolivia, El Salvador and Nicaragua. Most other Latin American nations, except Mexico and Uruguay, have joined the U.S. in recognizing Guaidó as acting head of state, as have the EU, Albania, Canada, Israel, Japan, South Korea and Ukraine, among others.
In addition to Russia, China and Iran have recently sent officials to Venezuela in support of the government and to provide humanitarian support.
On the sidelines of the recent Belt and Road Forum in Beijing, Putin and Chinese President Xi Jinping discussed Venezuela on Sunday and "highlighted that it is totally unacceptable when anyone tries to topple authorities in a third country, attempting to use force and illegal international pressure against a sovereign state, in order to change the leadership there," according to Peskov.
Washington and Moscow's falling out on Venezuela came amid a wider deterioration of ties between the two top powers, with fears of Cold War–era tensions—which for decades served as a pretext for various U.S. interventions across Latin America—returning.