Russia Puts U.S. Top of 'Unfriendly Countries' List
The U.S. has been placed on a list of countries Russia considers to be "unfriendly" despite optimism of a summit between Presidents Joe Biden and Vladimir Putin taking place this summer.
Russian foreign ministry spokeswoman Maria Zakharova announced over the weekend that the U.S. would be on the list following a presidential decree on April 23.
In a graphic on Russia's Channel 1 headlined "List of countries unfriendly to Russia," the U.S. was at the top.
Also named were: Ukraine, Lithuania, Poland, Latvia, Czech Republic, Estonia, United Kingdom and Georgia. Another screen grab from Channel 1, circulating on social media, also showed Australia in the group.
Russian foreign policy analyst, Maxim Suchkov tweeted the list was only of "candidate states" currently being discussed, which he said had "ended up leaked."
The list matched the countries named earlier by the Izvestia newspaper, which cited anonymous sources and also included Canada.
Kremlin spokesman Dmitry Peskov told reporters the list had not been finalized, and that he was "unaware, if there is something regarding the deadlines," according to Tass. Newsweek has contacted the Russian foreign ministry for comment.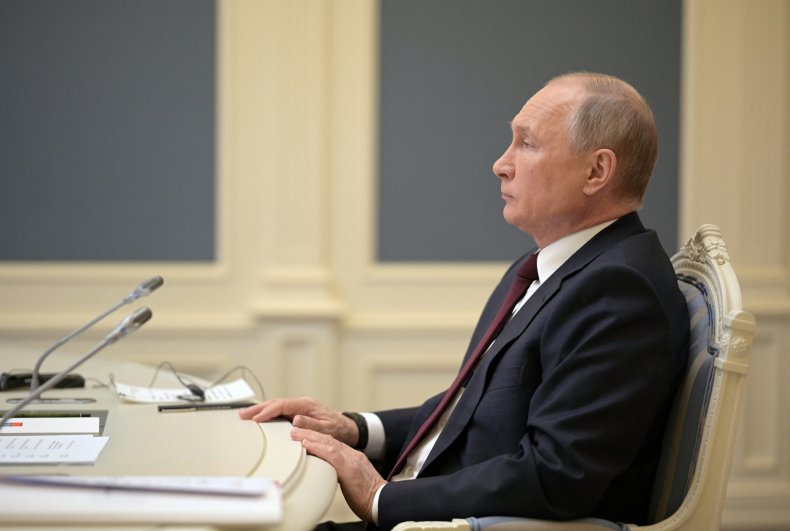 The list appears to be mostly symbolic and the consequences of being included on it are limited to Russian citizens being banned from working in diplomatic missions on Russian soil, Izvestia reported.
State Duma Committee member Oleg Shein told the paper that the notable absentees—Germany and France, were left off despite their frequent criticism of Russia. This was because Moscow considered they were sufficiently independent of Washington, DC and as such, "they are a negotiating party for us," Shein said.
The list of "unfriendly countries" reads like a who's who of nations Russia has engaged in diplomatic spats with recently.
Moscow is expelling diplomats from the U.S. embassy after the Biden administration's sanctions on Russia for the SolarWinds hacks of government agencies and election interference, both of which the Kremlin denies responsibility for.
Poland and Russia are enacting tit-for-tat diplomatic expulsions meanwhile the Czech Republic is expelling 63 Russian diplomats as a dispute escalates over an ammunition depot explosion in 2014, in which Russian spies are alleged to be involved.
In solidarity with Prague, the Baltic States will also expel Russian diplomats and embassy employees.
However, a place on the list was viewed as a badge of honor by Marko Mikhelson, chairman of Estonia's foreign affairs committee.
He tweeted that inclusion was a "quality mark for our foreign and security policy. France and Germany and other allies, it is time to join us!"
Lithuania's ex-foreign minister Linas Linkevicius tweeted: "It's like a list of recognition which countries efforts most efficient in containment and isolation of #Kremlin's aggressive behavior and it's own Anti- Russian activity."
Amid a backdrop of heightened tensions, the details of a summit between Biden and Putin are reportedly being hammered out and a meeting could happen as early as summer, CNN reported.
The Russian newspaper Moskovsky Komsomolets expressed some optimism about what a summit might bring achieve in an op-ed which said that the Kremlin's sanctions of the U.S. was "symbolic" and showed that Putin "had heard and accepted Biden's proposal to de-escalate relations."
It also said that Putin considers "direct dialogue with Biden to be more important and useful than the chance for posturing."
Newsweek has contacted the U.S. State Department for comment.
The graphic below provided by Statista shows the length of time President Vladimir Putin has been in power.