Russia Ramps Up Missile Production as Putin Prepares for Long Haul
Russia is ramping up its missile production a month into its renewed offensive in Ukraine, with President Vladimir Putin seemingly preparing for the long haul in his invasion, which he launched last February.
Russia's Defense Ministry said in a statement Tuesday that Defense Minister Sergei Shoigu ordered the doubling of production of precision-guided weapons during a visit to Tactical Missiles Corporation, an arms manufacturer in the Moscow region.
More than a year into the conflict, the Kremlin has signaled that Russia can only achieve Putin's war goals by military means, not through peace talks. Ukrainian intelligence has said Russia is running low of missiles.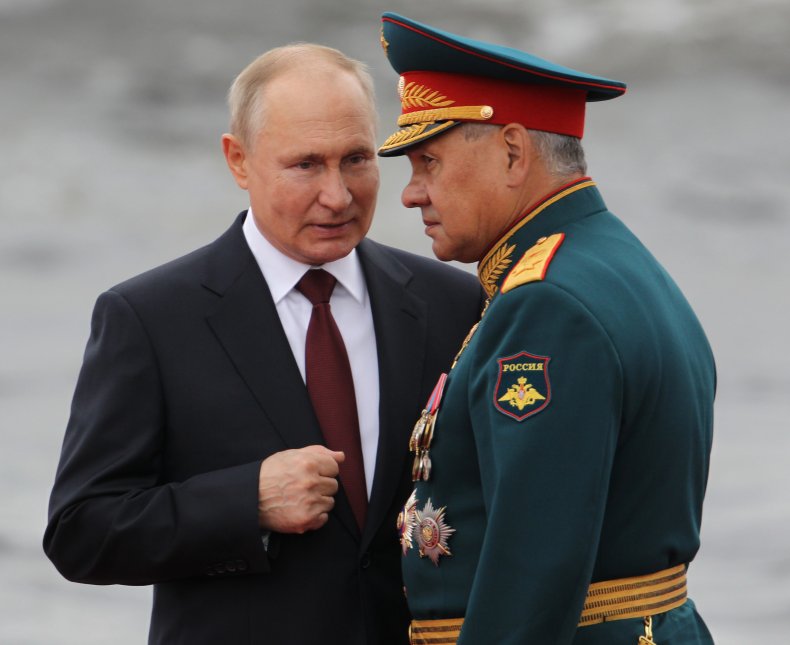 "The main task today is to double production. I think you can do it," Shoigu was quoted as saying at a working meeting. "It is not only the enemy that does not have such weapons—armed forces of other countries of the world have no such weapons either."
Tactical Missiles Corporation, established in January 2002, develops multi-purpose guided missiles, anti-radar, anti-ship missiles, missile systems, air-to-air missiles, guided bombs, weapons for the navy, unguided missiles and target missiles, according to news outlet Pravda.
"Russian Defense Minister Sergei Shoigu noted that the Tactical Missiles Corporation adequately fulfills the state defense order," the defense ministry's statement said. "However, even taking into account the increase in production this year, he ordered to double the production of high-precision weapons."
The arms manufacturer faces a "very serious task," Shoigu said.
"For its implementation, the enterprise has the necessary reserves: highly qualified specialists and production facilities. Therefore, the task is tough, but doable," the defense minister said.
In January, Oleksii Reznikov, Ukraine's Defense Minister, said Russia has used up a significant portion of its Kalibrs, Iskander ballistic missiles and Iranian-made drones in the conflict so far.
"Security formula: the missile power of the 'world's second army' is inversely proportional to the strictness of sanctions compliance multiplied by the strength of Ukrainian air defense," he tweeted.
Reznikov published data suggesting that Moscow has 19 percent of its strategic missiles, about 78 percent of tactical missiles and 12 percent of Iranian drones left.
Ukraine's Air Force spokesman Yuriy Ihnat, citing Ukrainian intelligence, told reporters in January that Russia had fewer than 100 modern Iskander ballistic munitions left, and that Russia was using its S-300 and S-400 systems instead.
"The enemy is trying to use their potential, because there are many S-300 missiles already manufactured, (Russia) is a manufacturer of these missiles, and they are already using them in this way," he said at the time.
Newsweek has contacted Russia's defense ministry by email for comment.
Do you have a tip on a world news story that Newsweek should be covering? Do you have a question about the Russia-Ukraine war? Let us know via worldnews@newsweek.com.