Russia Recruiting Sick and Injured From Hospitals to Replace Losses: Kyiv
Russia has begun recruiting sick and injured soldiers from hospital to replace its losses, according to Ukraine.
The General Staff of the Armed Forces of Ukraine's Facebook page provided an update on the ongoing conflict between the country and Russia on Monday.
In the update, Ukraine highlighted recent attacks by Russian forces and said they had been firing on both military and civilian infrastructure.
It also said, Russia was continuing with "forced mobilization" for areas it occupied in Ukraine.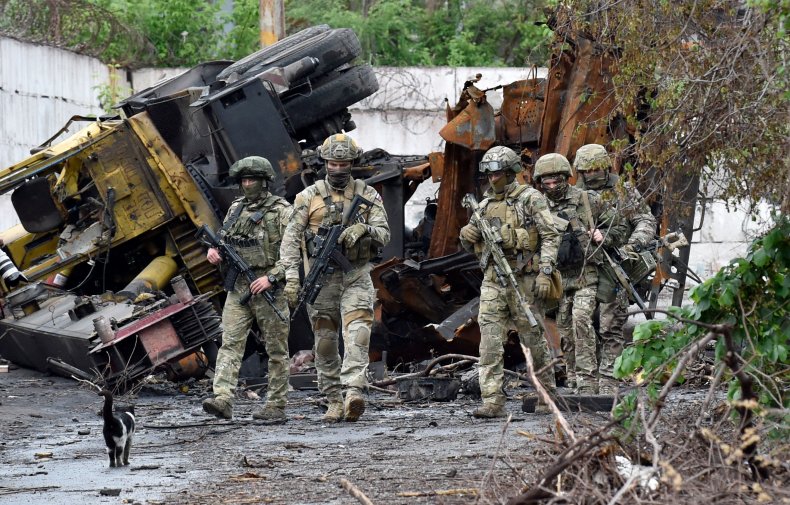 "In Donestsk, the Russian invaders found a 'new source' of replenishment of losses in manpower," the update read.
"So, recently, representatives of the Russian occupation army began to arrive at local hospitals in the city and forcefully 'discharge' patients.
"Men of military age with various diseases or injuries, including those wounded during hostilities who are undergoing treatment, fall under such an extract."
Newsweek has been unable to independently verify these claims and has reached out to Russia's foreign ministry and Ukraine's defense ministry for comment.
This claim from Ukraine comes after reports that Russian authorities were recruiting the homeless to enlist in the military.
The homelessness charity Nochlezhka said that employees from the Frunzensky district administration in Russia's second city had visited a shelter on August 17.
A Nochlezhka representative told Newsweek that officials tried to talk to those staying at the shelter and leave leaflets containing information about contract services.
The duty officer at the shelter didn't allow this and asked the officials to talk to the management before they ended up leaving.
A spokesperson for the charity, Tatyana Bazhenova, said that it can't help facilitate military recruitment for those who use its shelters.
"Nochlezhka is not ready to be an intermediary in this campaign; therefore, we informed them they could not distribute their materials. Afterwards, they left our shelter," she said in a statement.
The British Ministry of Defence also claimed in August that Russia was using financial incentives to entice people to enlist for military service.
"Russia is likely increasingly struggling to motivate the auxiliary forces it is using to argument its regular troops in the Donbas," a tweet from August 22 read.
"Commanders are probably resorting to direct financial incentives, while some combat units are deemed unreliable for offensive operations."
"A consistent contributing factor to these problems is Russia's classification of the war as a 'special military operation' which limits the state's powers of legal coercion."
More recently, the Ministry of Defence has claimed that Russia is unlikely to meet its current goals regarding occupying parts of Ukraine.
Russian forces hold a goal of taking Donetsk by September 15, according to UK intelligence.
"Although Russia has had the most success in this sector, its forces have still only been advancing around 1km per week towards Bakhmut," the ministry said.
"The political goal of the Donbas operation almost certainly remains to secure the whole of Donetsk Oblast, which would enable the Kremlin to announce the 'liberation' of the Donbas. Russian forces have highly likely repeatedly missed deadlines to achieve this aim," it added.
"The Ukrainian authorities have claimed that Russian forces are now under orders to complete this mission by 15 September 2022.
The force is highly unlikely to achieve this, which will further complicate Russia's plans to run referendums on the occupied areas joining the Russian Federation."