Russia Recruiting Homeless People to Join Army Amid Shortage of Volunteers
Authorities in St. Petersburg have tried to get homeless people to enlist as military recruits for the war in Ukraine, as Russian forces reel from huge troop losses, local media reported.
The homelessness charity Nochlezhka said that employees from the Frunzensky district administration in Russia's second city had visited a shelter on August 17. A Nochlezhka representative told Newsweek that officials tried to talk to those staying at the shelter and leave leaflets containing information about contract services. The duty officer at the shelter did not allow this and asked the officials to talk to the management before they ended up leaving.
Tatyana Bazhenova, a spokesperson for the charity, told Newsweek that it cannot help facilitate military recruitment for those who use its shelters.
"Nochlezhka is not ready to be an intermediary in this campaign; therefore, we informed them they could not distribute their materials. Afterwards, they left our shelter," she said in a statement, "Unfortunately, we cannot comment further."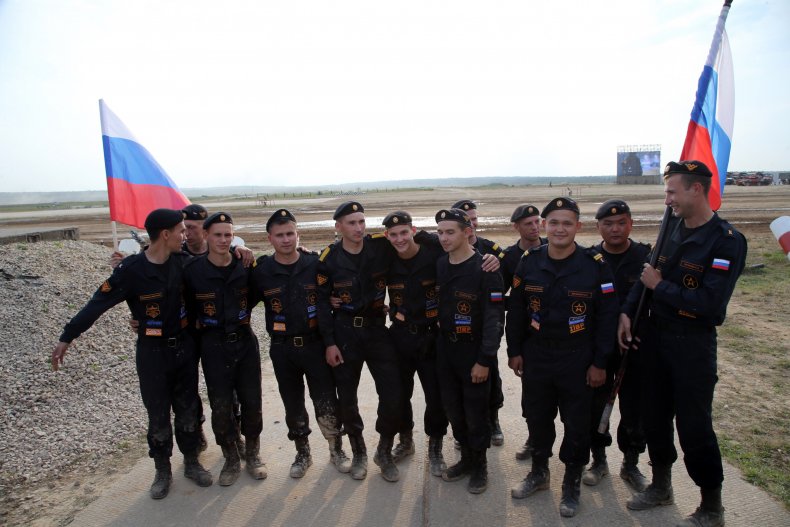 Later, district representatives reportedly tried to contact the charity again by email to give information about distributing military service leaflets to the homeless.
Local news outlet Rotunda said on its Telegram channel that the district confirmed its representatives had visited the shelter but this was not ordered by management. Rather, it was an initiative by certain officials whose goal was "to convey information about contract service to everyone possible," Rotunda reported.
Newsweek reached out to Nochlezhka and the Frunzensky district administration for comment.
Authorities in St Petersburg have been involved in a push to find volunteers to fight in Ukraine since the end of July, according to Rotunda. The outlet shared an image of the leaflet which appealed to recruits titled "Contact military service, My Choice!" It calls for candidates between the ages of 19 and 59 with "not below average" education to serve for an average monthly salary of 200,000 roubles ($3,300).
Moscow has not updated its death toll from the war in Ukraine since the end of March which it said stood at 1,351, although other estimates put the number much higher. Ukraine said on Friday that as many as 49,000 Russian soldiers had been killed though that number is unconfirmed.
Russian President Vladimir Putin announced on August 25 that his army would be reinforced with 137,000 new soldiers to bring the total to 1.15 million active fighters.
However, experts have doubted that this number could be recruited that easily. This week, a U.S. official said that Russia may even resort to trying to enlist convicted criminals amid an acute military manpower shortage.
The official told Reuters that Russia might also try to boost numbers by compelling wounded soldiers to re-enter combat, acquiring personnel from private security companies, and paying bonuses to conscripts.
Update 09/03/22, 10:30 a.m. ET: This article has been updated with a statement from homelessness charity Nochlezhka.