Russia Resorting to Soviet-Era Anti-Aircraft Missiles to Hit Land Targets
Russian forces are reportedly relying on Soviet-era munitions for certain tasks as the invasion of Ukraine labors on.
The Russian government has, in recent weeks, increasingly ordered its forces in Ukraine to repurpose outdated anti-aircraft and anti-ship missiles for use on land-based targets, according to a Tuesday report from iNews.
In Mykolaiv, a city in Southern Ukraine, six strikes over the last weekend have been attributed to Russian S-300 missiles, anti-aircraft munitions introduced roughly 40 years ago with a range of 75 miles. Two Kh-32 missiles, originally designed to sink aircraft carriers, were also credited with the strike on a Kremenchuk shopping center that killed 20 people last month. A slightly older version of the same missile was also used to strike an Odessa apartment complex last week, killing 18 people.
In order to deploy these obsolete weapons on the modern battlefield, the Russian military has reportedly outfitted them with GPS technology, allowing them to roughly target towns and cities.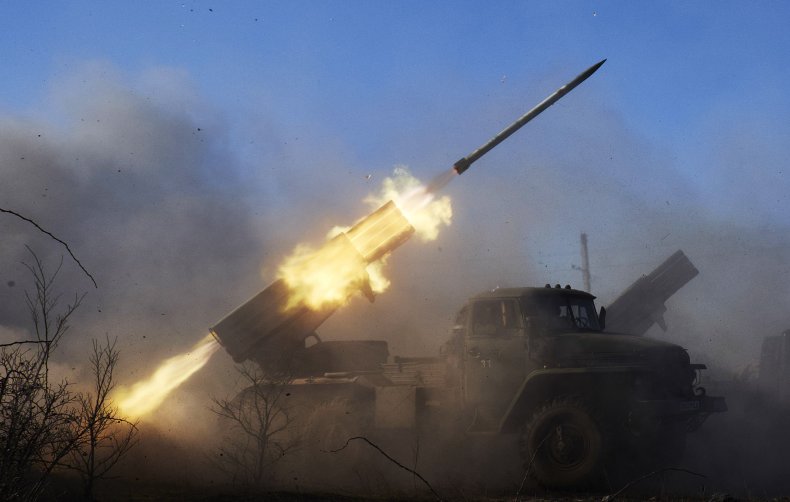 Russian 'Dumb Bombs' in Ukraine War
"The Soviet Union built up vast stocks of munitions for its chosen weapon systems and the S-300 has been replaced by a new, more advance [surface-to-air] system. There will be a lot of S-300 missiles in the Russian inventory," a Western intelligence report, cited by iNews, claimed. "It would make sense from the Kremlin's perspective to retro-fit the S-300s with a GPS capability and redeploy them in a different role. But the problem is that at the end of the day they remain second-rate precision strike weapons and more innocent people will die as a result."
News of this reliance on repurposed, decades-old weaponry reinforces other recent reports indicating that Russian forces are facing hardware shortages as the Ukraine invasion lasts longer than anticipated. Intelligence reports from the United Kingdom previously revealed that they had become more reliant on so-called "dumb bombs" as their supplies of guided weaponry have dwindled. Unable to be precisely guided, outdated munitions have reportedly resulted in heavier civilian casualties and collateral damage.
Over the weekend, the Ukrainian government claimed that the Russian military is leading a "quiet mobilization" of around 20,000 new soldiers, based on vacancy listings for regional contract positions. The report came from the Ukrainian Center for Countering Disinformation, which is operated by its National Security and Defense Council. These sizeable recruitment measures are supposedly being carried out without Russian officials declaring any new mobilizations.
"More than 22,200 vacancies for contract servicemen have appeared in regional employment centers of the Russian Federation," the center posted to Telegram.
Newsweek reached out to Russian officials for comment.