Russia Reacts to U.S. and Israel's Strikes on Rival Targets in Syria
Russia has responded to recent U.S. and Israeli strikes that targeted two rival factions in Syria, where all three foreign powers have engaged in separate military campaigns in pursuit of national interests.
In a statement published Monday, U.S. Central Command announced that it targeted Al-Qaeda in Syria's leadership in strikes the previous day near Aleppo, stating that those targeted were "operatives responsible for plotting external attacks threatening U.S. citizens, our partners, and innocent civilians." Jihadi groups associated with Al-Qaeda were known to have a presence in northwestern Idlib and surrounding provinces such as Aleppo, and the Pentagon warned that the region "remains a safe haven" for such militants.
The U.S., however, has rarely intervened in this corner of the war-torn country. Rather it was Moscow that often supported Syrian efforts here. Asked if the U.S. strikes could be the result of Friday's meeting between President Donald Trump and Russian President Vladimir Putin on the sidelines of the G-20 summit in Osaka, Kremlin spokesperson Dmitry Peskov said that, while he had "no details" on what happened, he could say "there is definitely no connection here," as the state-run Tass Russian News Agency reported.
Washington and its regional allies actually backed a number of the groups fighting as part of the 2011 rebel and jihadi uprising against Syrian President Bashar al-Assad. Since 2015, however, the Pentagon has largely focused its efforts on supporting Kurdish fighters against the Islamic State militant group (ISIS) as the jihadis and various militant and rebel groups also faced off with Syrian troops and allied militias, who were targeted overnight as well.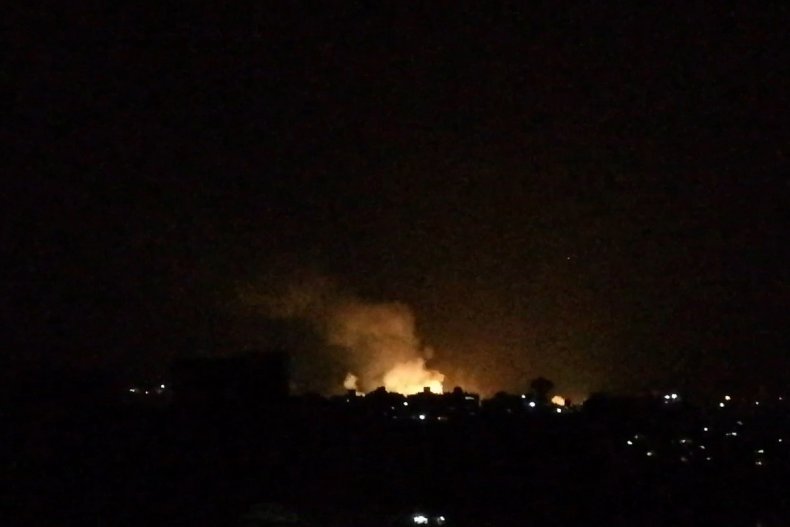 The Syrian Defense Ministry announced Sunday that the country's "air defenses are intercepting hostile missiles launched by Israeli warplanes from Lebanese airspace towards some of our military positions in Homs and the vicinity of Damascus."
The official Syrian Arab News Agency then reported Monday that the Syrian military had repelled the attack, but that four civilians, including an infant, were killed and 21 others, including children, were injured in the rural Damascus town of Sahnaya. The U.K.-based, pro-opposition Syrian Observatory for Human Rights reported Monday that the Israeli strikes targeted a Homs scientific center, positions of the Syrian military and Iran's elite Revolutionary Guards, members of the Lebanese Hezbollah movement and other Iran-backed, Shiite Muslim militias near Damascus, killing about 10 Syrian and non-Syrian combatants along with six civilians, half of whom were children.
In response, Russian Foreign Minister Sergey Lavrov told reporters Monday that Moscow was investigating the incident. He added: "We do not know what happened there. We want to gain insight into it, but the necessity to respect and execute the UN Security Council's operating resolutions, that no one canceled, is our principle which we will proceed from when assessing actions of any players in the region."
Israel has neither confirmed nor denied its involvement in the latest attack, though Israeli Prime Minister Benjamin Netanyahu—who also serves as his country's defense minister—has been increasingly open about such operations, which traditionally involved targets suspected of being associated with Iran, Assad's other major backer. While Russia has sought to maintain security ties with Israel in Syria, it has developed a strategic partnership with Iran, and Moscow's partnership with both powers has been tested as they pursue opposing goals in Syria.
Russia has yet to intervene in any Israeli strikes, but after Syrian anti-aircraft fire accidentally downed a Russian spy plane while attempting to block an Israeli air raid in September, Moscow sent upgraded S-300 air defenses. Sunday's Israeli attack came hours after Israeli satellite intelligence firm ImageSat International released images purported to show four S-300s erected near the northwestern city of Masyaf in the Hama province.
It did not appear, however, that these weapons were involved in Sunday's response—or any previous attempt to intercept Israeli attacks. One stray Russian-made Syrian anti-aircraft missile, reportedly the same S-200s that struck Russia's aircraft last year, did hit a northern mountainside on the Mediterranean island of Cyprus, with no reported injuries.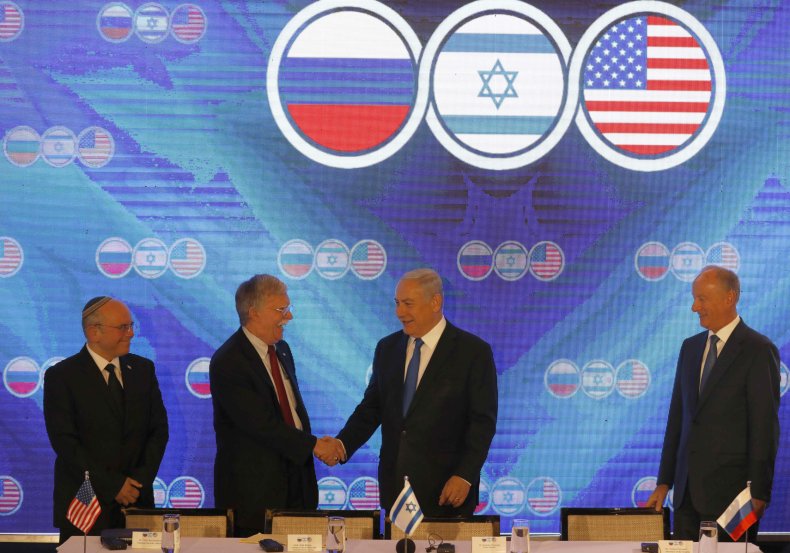 The latest U.S. and Israeli strikes came just about a week after the national security council advisers of both nations met their Russian counterpart for a historic trilateral summit in Jerusalem. With the Syrian government having regained much of the country and ISIS mostly defeated in parallel offensives by the U.S.-led coalition and pro-Syrian government campaign, the U.S. and Israel have sought Russia's support in jointly expelling forces suspected of being under Iranian control from the country.
While Moscow has previously secured deals to distance Tehran's allies from Syria's disputed border with Israel, Russian National Security Council Secretary Nikolai Patrushev warned White House national security adviser John Bolton and Israeli national security council adviser Meir Ben-Shabbat on Tuesday that "Iran has always been and remains our ally and partner."
Russia and Iran have continued to work together with Turkey, the last major remaining state backer of the Syrian opposition, as part of separate trilateral discussions designed to peacefully end the eight-year conflict. New violence between opposing sides in northwestern Syria—where both Russian and Turkish troops have been deployed—has, however, increasingly disrupted a ceasefire struck between Moscow and Ankara in September.
Russian Chief of the General Staff Valery Gerasimov spoke by telephone Monday with Yashar Güler. According to a readout provided by the Russian side, the two "discussed the situation in Syria, including in the Idlib de-escalation zone and exchanged views on ensuring stability in the region." Though a member of the U.S.-led NATO Western military alliance, Turkey has grown closer to Russia as Ankara awaited an imminent delivery of the advanced S-400 surface-to-air missile system in spite of Washington's threats to cancel a deal to provide F-35 jets.