Videos Show Smoke Billowing Into Sky After Fire at Russian FSB Office
At least one person has been killed after a fire broke out at a Russian security services building in the latest unexplained blaze since the start of Moscow's full-scale invasion of Ukraine.
Explosions were reportedly heard around the headquarters of the FSB's border guard service on Siversa Street in the city of Rostov-on-Don, which is located around 75 miles from the Russian border with Ukraine and 20 miles from the Sea of Azov, a strategic location for the war in Ukraine.
Emergency services told the Tass news agency that one person had died and two were injured in the fire, which had been caused by an explosion. Polish news outlet Belsat tweeted what it said was surveillance camera footage of the explosion and the beginning of the fire.
The Telegram channel Mash reported that a 36-year-old man was taken to hospital where he is in intensive care. Preliminary reports said that there may still be people in the basement of the building. Other Telegram channels reported that the building was completely burned out.
Russia's Ministry of Emergency Situations said that the fire was spread over 2,900 square feet, having started on the second floor of a two-story brick building.
Video shared on social media shows the blaze from a variety of angles with smoke billowing into the sky. The Kyiv Post reported that the fire was "most likely" due to "ammunition exploding." Another social media user suggested the fire had started at a warehouse by the FSB building.
The governor of Rostov, Vasily Golubov, said in a statement to a local news outlet that the fire had been caused by an electrical short circuit in the building which ignited containers with fuel and lubricants.
The Twitter account Live UA Map tweeted that firefighters at the scene were "asking for armored plates, as explosions continue and shrapnel flying."
There have been a number of unexplained explosions and fires on Russian territory since the start of the war. Earlier this month, a blast in Kolomna, around 100 miles from Moscow, came only days after Russian news outlet Baza reported a "massive drone attack" in at least five regions.
There have also been dozens of cases of military buildings and ammunition depots catching fire, with Russia blaming some of the incidents on Ukraine, although Kyiv has denied involvement.
Next to images of the blaze, former Ukrainian presidential spokesperson Iuliia Mendel tweeted, "Don't rush to accuse Ukraine. It might be provocation or domestic political fight. Remember their intelligence and defense services are fighting for influence."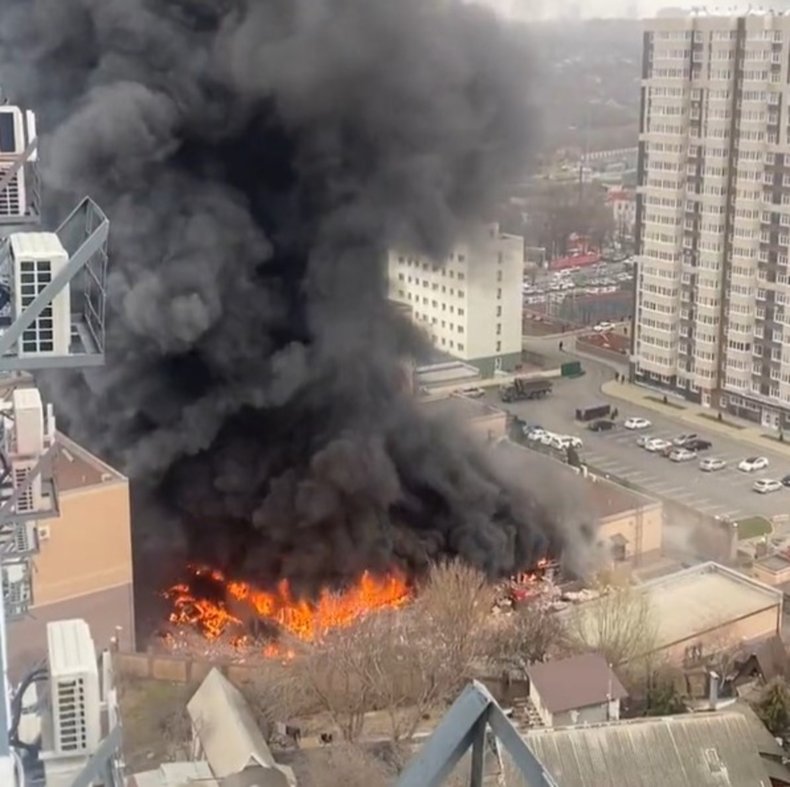 Update 03/16/23, 7 a.m. ET: This article has been updated with further information.