Russia's top diplomat has warned that relations with the United States have deteriorated to the point of a potentially disastrous standoff between Washington and Moscow.
The Russian Foreign Ministry held a board meeting Wednesday led by Foreign Minister Sergey Lavrov, who discussed along with his colleagues the current state of the U.S.-Russia relationship. Following the talks, the ministry released a statement characterizing the participants' views of the tortured ties between the two powers.
"It was noted during the discussion that bilateral relations had approached a dangerous confrontational threshold through the fault of Washington," the ministry said, "who have provoked an unprecedented escalation between our states over the recent years."
The ministry warned Moscow was already engaged in a de facto conflict with Washington, which would only face stiffer resistance.
"Russia is subjected to unprecedented pressure that the U.S. pulls its allies into, introducing a strong ideological component to the standoff with Moscow," the ministry said. "This line by Washington, which blatantly violates international law, will continue to come up against unwavering opposition as far as protecting Russia's legitimate interests goes."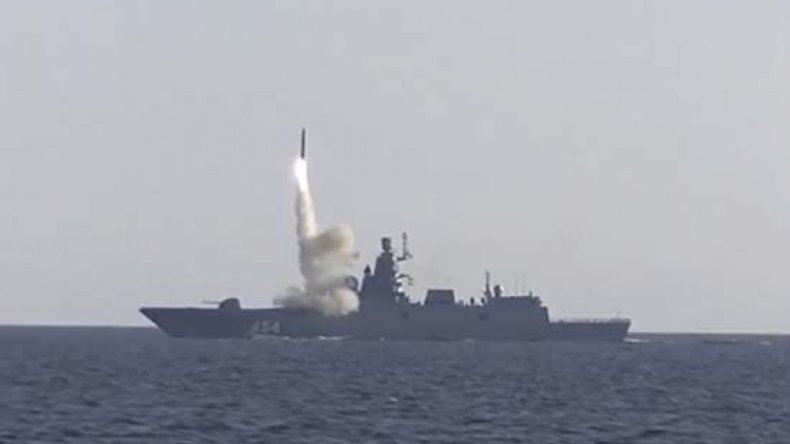 The harsh assessment came a day after Russian ambassador to the U.S. Anatoly Antonov identified what he saw as "a lack of confidence, a lack of trust between the United States and Russia" in an interview with Moscow's state-run RT outlet.
"I am trying to find a day when Russia has become an enemy or a rival for the United States and it is rather difficult to say when it happened," Antonov said. "It seems to me that maybe it was 10 years ago but not when the Ukrainian crisis starts."
The U.S.-Russia rivalry dates back at least to the Cold War, but the collapse of the Soviet Union in the 1990s saw initial steps toward cooperation between Washington and Moscow, even after President Vladimir Putin first came to power at the turn of the century.
A decade ago would mark a crucial moment in the great power feud when the 2011 NATO-led intervention in Libya and then Western incursions into Syria were perceived by Russia as undue interference abroad. The 2014 uprising in Ukraine also proved a pivotal point as a leader resisting Western overtures was overthrown and Russia stepped in directly to secure its interests in the Crimean Peninsula, and was accused by Kyiv of supporting pro-Moscow separatists in the east as part of a still-ongoing conflict.
The U.S. and Russia today find themselves at odds on a number of international hot topics from the war in Syria, cybersecurity and attempts to improve strategic stability between the world's top two nuclear weapons powers.
All of these topics were on the agenda when U.S. President Joe Biden set out to establish a "stable, predictable relationship" with Putin during their summit last month.
Biden revealed during a CNN town hall on Wednesday that meeting the Russian leader, who he has previously sat down while serving as vice president under former President Barack Obama as U.S.-Russia tensions soured a decade ago, was the first time he truly felt was "the leader of the free world,"
"He knows who I am. I know who he is," Biden said.
It comes at a time when Ukraine has again risen to the forefront of tensions between NATO and Russia as the former pursued the annual Exercise Sea Breeze maneuvers in the Black Sea. Washington and its allies have deemed the training as routine, while Moscow has branded the move a test of its claims of its claimed borders, resulting in a spat of international incidents between the two sides.
Also on Wednesday, the White House announced Bide is scheduled to host his Ukrainian counterpart on August 30.
"The visit will affirm the United States' unwavering support for Ukraine's sovereignty and territorial integrity in the face of Russia's ongoing aggression in the Donbas and Crimea, our close cooperation on energy security, and our backing for President Zelenskyy's efforts to tackle corruption and implement a reform agenda based on our shared democratic values," the White House said in a statement.
The geopolitical dispute over Ukraine has also leaked into Europe's energy politics and Russia and U.S. ally Germany pressed on with their Nord Stream 2 pipeline, a new gas artery that would bypass the longstanding Ukraine route to service Western Europe.
Last week, Biden hosted German Chancellor Angela Merkel for a bilateral meeting in which the U.S. leader expressed concerns over Russia's potential to leverage Ukraine's energy needs for political purposes. Berlin has stated its intention to go on with the project anyway, while Washington has sought assurances that the new pipeline would not provide Moscow an avenue to cut off Kyiv.
The White House said Wednesday the U.S. and Germany had agreed on a package satisfactory to both sides.
"Germany will help to preserve gas transit revenues for Ukraine and buy time for Ukraine to eliminate its dependence on Russian gas and transit fees, as it has long sought to do, including with U.S. support," White House Press Secretary Jen Psaki told reporters. "Germany will do this by committing to appoint a special envoy to use all its available leverage to negotiate an extension to Ukraine's gas transit agreement with Russia."
The Biden administration has interpreted this understanding to mean that Merkel would institute economic restrictions against Putin.
"Should Russia attempt to use energy as a weapon or commit further aggressive acts against Ukraine," a senior administration official told reporters Wednesday, "Germany will take action at the national level and press for effective measures at the European level, including sanctions to limit Russian export capabilities to Europe in the energy sector, and that includes gas and/or other economically relevant sectors."
Biden later told the press he had secured a "commitment" from Merkel to respond against Russia if necessary.
Moscow, for its part, had previously expressed skepticism toward such an arrangement.
Speaking to the state-run Tass Russian News Agency earlier that same day amid speculation that the U.S. and Germany would come toward an agreement involving threats of action against Russia, Lavrov said this sort of deal would be "unacceptable" as it had no formal backing from the United Nations Security Council.
Lavrov said that the U.S. and its European allies were "quite often carried away by sanctions."
"They are no longer interested in the culture of diplomacy or talks. In fact, they are losing it," Lavrov said. "They want instant results."