Russia Sends Jets With Hypersonic Missiles to NATO Borders for 24/7 Duty
Russia has reportedly sent three planes with hypersonic missiles to an exclave between two NATO members for around-the-clock combat duty amid fears of war between the alliance and President Vladimir Putin's army.
Russia's Defense Ministry said Thursday that the MiG-31 aircraft are now based at the Chkalovsk airfield in the Kaliningrad region "as part of the implementation of additional strategic deterrence measures," Russian state-owned news agency Ria Novosti reported.
That means the planes, equipped with their Kinzhal hypersonic missiles, are now close to NATO borders. Kaliningrad, which does not share any borders with Russia but is still part of its territory, is sandwiched between NATO countries Poland and Lithuania.
Putin hasn't publicly voiced plans to attack NATO, but he has warned that any countries that "create a strategic threat to Russia" during the ongoing Russia-Ukraine war can expect "retaliatory strikes." Russian state television and the Russian president's allies have repeatedly pushed for a confrontation with NATO and even nuclear strikes against the alliance, increasing concerns of a nuclear war that scientists project could kill billions.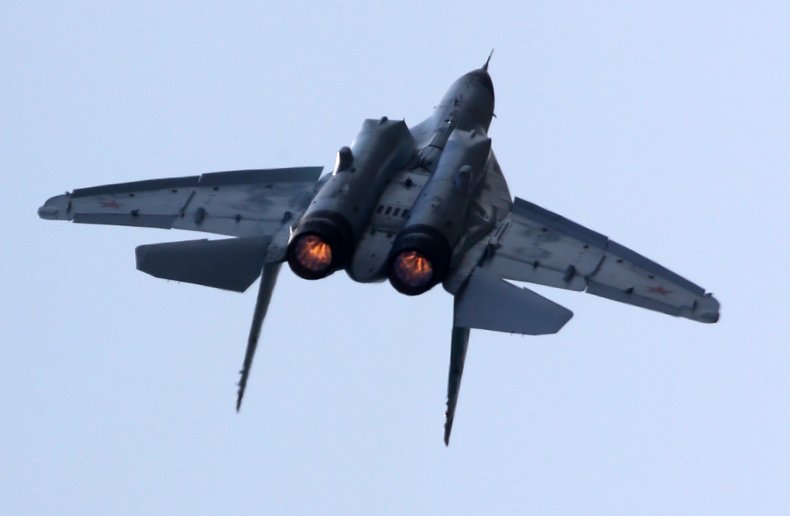 According to the Nuclear Threat Initiative, a Washington D.C.-based nonprofit, the Kinzhal hypersonic missiles that are with the MiG-31s in Kaliningrad are nuclear-capable and air-launched. In 2018, Russia reportedly sent Iskander missiles, which are capable of carrying nuclear warheads, to Kaliningrad.
While Russia ramps up its presence of nuclear-capable weapons in Kaliningrad, NATO has been working to bolster and protect its eastern flank. Last week, the U.S. Mission to NATO announced that soldiers from a U.S. air assault division that arrived in Europe in late July were being sent to NATO members Romania, Bulgaria, Hungary and Slovakia to "reassure our Allies, and deter our adversaries."
This month, NATO announced that its surveillance planes and fighter jets were patrolling around the clock to protect the airspace of member countries. The alliance shared a video on Twitter that explained it was working to protect the skies of its allies in Eastern Europe "with more jets flying from air bases and aircraft carriers across the alliance" and by "bringing additional deterrence and defensive capabilities."
The video said that NATO was supplying a "constant defensive presence and monitoring the airspace" over Bulgaria, Estonia, Latvia, Lithuania, Poland and Romania, all of which are on or near NATO's eastern flank near Russia. Estonia and Latvia share borders with Russia.
Newsweek reached out to Russia's Defense Ministry and NATO for comment.