NATO Planes Conducting 24/7 Air Patrols Over Putin's Potential Next Targets
NATO surveillance planes and fighter jets are patrolling around the clock to protect the airspace of member states amid fears that Russian President Vladimir Putin's war could spread beyond Ukraine's borders.
NATO on Thursday shared a video on Twitter regarding the effort, showing its planes and pilots in action. A series of captions included in the video explained that NATO is working to protect the skies of its allies in Eastern Europe "with more jets flying from air bases and aircraft carriers across the alliance" and by "bringing additional deterrence and defensive capabilities."
The video said that NATO is also supplying a "constant defensive presence and monitoring the airspace" over Bulgaria, Estonia, Latvia, Lithuania, Poland and Romania, all of which are on or near NATO's eastern flank near Russia. A couple of the Eastern NATO members, Estonia and Latvia, share borders with Russia.
"Following Russia's invasion of Ukraine, NATO forces stand ready to secure allied airspace against all threats," the video added.
While Putin has not definitively voiced any plans to widen his "special military operation" in Ukraine, he did say that countries who create a "strategic threat" to Russia during the conflict should expect "retaliatory strikes." Russian state television and some of his allies have made direct threats against NATO member Poland.
Ukrainian President Volodymyr Zelensky warned while addressing the 2022 NATO Summit in Madrid, Spain, that not supplying Ukraine with modern artillery systems and other weapons could result in the defensive military alliance facing "a delayed war between Russia and yourself," PBS reported.
"The question is, who's next? Moldova? Or the Baltics? Or Poland? The answer is: All of them," Zelensky said.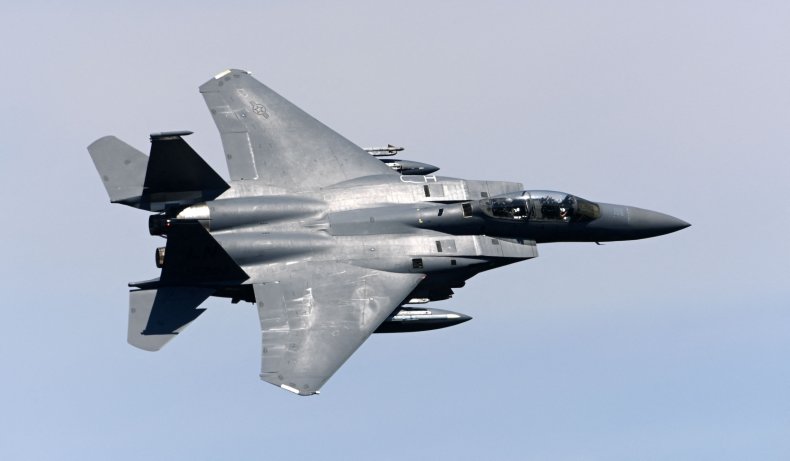 NATO Secretary-General Jens Stoltenberg acknowledged the threat that an expanded Russian war could pose to NATO countries.
While speaking at a press conference at the 2022 NATO Summit, Stoltenberg said that a full-scale war between NATO and Russia would cause "suffering, damage, death, destruction at a scale which is much, much worse than what we see in Ukraine today."
He said that the alliance was ready to "protect every inch of NATO territory" and any attacks "will trigger the full response from the whole alliance."
The U.S. announced in June that it would station its first permanent forces on NATO's Eastern flank as fears continued to mount over a potential war between Russia and the 30-member alliance. Putin has attempted to justify his invasion of Ukraine, at least in part, by citing the prospect of NATO expansion, though it seemed to backfire when European nations Sweden and Finland launched their bids to join NATO in the wake of Russia's attack on Ukraine in late February.
Russia's aggression in Ukraine has also prompted several Eastern European countries to move forward with deals to purchase High Mobility Artillery Rocket Systems (HIMARS) from the U.S.
Newsweek reached out to NATO and Russia's Foreign Ministry for comment.