U.S. Establishing Permanent Troops in Poland Amid Fears of NATO-Russia War
The U.S. will station its first permanent forces on NATO's Eastern flank, U.S. Defense Secretary Lloyd J. Austin III announced Wednesday, as fears mount over a potential war between Russia and the 30-member alliance.
In a Twitter thread detailing several new commitments from U.S. President Joe Biden to bolster security in Europe, Austin said that the V Corps Headquarters Forward Command Post, an Army garrison headquarters and a field support battalion will be stationed in Poland, which shares a border with non-NATO member Russia.
"These forces – the first permanent U.S. forces on NATO's Eastern Flank – will improve our command and control capabilities, interoperability with NATO, and management of prepositioned equipment," the Defense Department said in an accompanying fact sheet. "This action builds on the central role Poland has played in supporting NATO's combat credible deterrence and defense posture."
Officials such as Russian President Vladimir Putin and Kremlin spokesperson Dmitry Peskov have issued warnings in recent months against NATO expansion or perceived threats from the alliance that they say could endanger Russia's security, even as their own country continues its monthslong assault on Ukraine.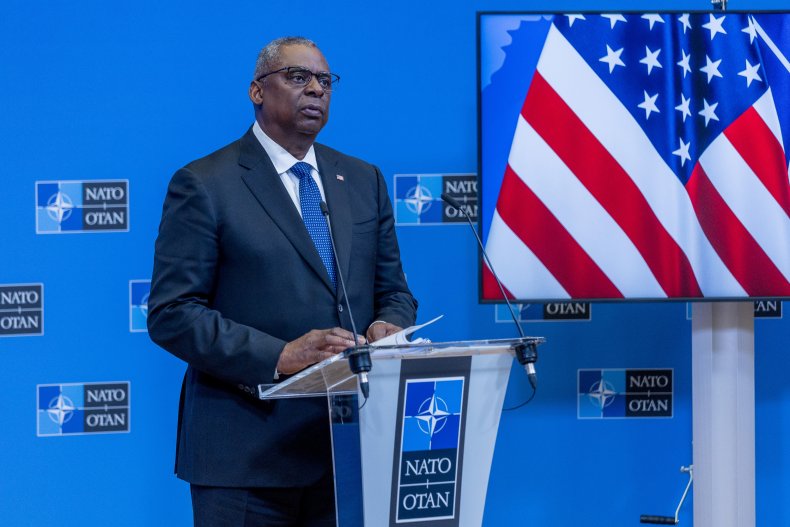 The new European security commitments from Biden that Austin announced on Wednesday, as well as NATO's invitation for Sweden and Finland to join its ranks, might further fuel Russia's ire and feelings of vulnerability against the alliance.
Putin has cited the prospect of NATO expansion as one of his reasons for justifying the war in Ukraine, though the move seemed to backfire when Sweden and Finland announced their intention to join the alliance after Russia's invasion. Russia has also warned against any direct NATO involvement in the war, and taken issue with the weapons and supplies some member countries have funneled into Ukraine.
Mikhail Khodorkovsky, a self-exiled Russian oligarch and Kremlin critic, warned during an interview with the France-headquartered television network Euronews last month that Putin could eventually wage war on NATO if Ukraine does not win the current war. Even Ukrainian President Volodymyr Zelensky warned in a video address to NATO's summit in Madrid this week that Putin's aggression could spread beyond Ukraine's borders and into a NATO country within a year.
Despite the prospect of Russian aggression, some of NATO's recent actions indicate that the alliance is not shying from bolstering its own strength and assisting Ukraine.
NATO Secretary-General Jens Stoltenberg said on Monday that the number of NATO troops on high readiness will increase more than sevenfold, the largest boost since the Cold War. He also said that NATO members will agree on a "strengthened assistance package" for Ukraine that includes anti-drone systems and secure communication.
Newsweek reached out to the U.S. Defense Department and Russia's Foreign Ministry for comment.