Russian Shaman Who Was Crossing the Country to 'Expel Putin' Kidnapped by Armed and Masked Men Thought to Be Security Officials
There is concern over the whereabouts of a shaman in Russia who was walking from Siberia to Moscow intending to drive President Vladimir Putin from power, amid reports he has been kidnapped by security services.
Alexander Gabyshev made headlines in March when he started his odyssey from the far east republic of Sakha. Walking around 13 miles per day with an aluminum cart containing his possessions, he has become an unlikely media figure across the country, having covered nearly 2,000 miles already.
His goal was to reach Moscow by August 2021 to "expel" President Putin from power. Over the last few months, supporters have joined him en route, helping him with his cart and giving him food and money.
He has described Putin as a "demon," telling Current Time TV in July: "So far, it's a protest march. But are we ready to use force? If need be but only if there's a need. Now we are walking in peace. To expel Putin is my only goal."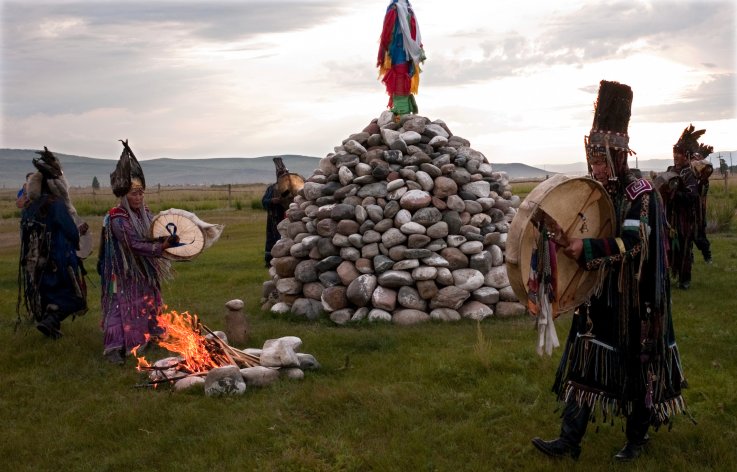 A witness has described how on Wednesday night, several cars arrived at a camp near the village of Vydrino on the border between the Buryatia and Irkutsk regions, where Gabyshev and his supporters had been staying.
Masked men then surrounded the shaman's tent and took him and his cart, before driving him away.
"The track was blocked by special services with weapons, they quickly surrounded our camp, and were right in front of the shaman's tent ... There were maybe several dozen of them," one witness told Radio Free Europe.
Witnesses said that none of the men presented identification and that cellphone networks were jammed. The shaman's supporters who asked for an explanation as to what was going on were laid face down on the ground.
Znak.com, citing an eyewitness, said that it was the police who carried out the arrest and that Gabyshev could be charged with organizing an extremist community.
Last week, a number of his supporters in the Buryatia capital of Ulan-Ude were detained. This sparked protests, both against the arrests and against the results of a mayoral race won by a pro-Kremlin candidate, Meduza reported.
A statement on the Buryatia branch of Russia's Ministry of Internal Affairs said a 61-year-old man, who was not named, had been arrested because he "was wanted for carrying out a crime on the territory of the Sakha Republic."
The statement added that the arrested man would be flown from Ulan-Ude to Yakutsk for further investigation.
Local news outlet Novaya Buryatia reported that the shaman could have been arrested by security forces from the Chita region for organizing an unauthorized rally back in July.
Siberia is considered to be a heartland of shamanism, and its practices of spiritual healing have existed for centuries, surviving persecution by the Soviet authorities.
Last week there were dozens of raids across Russia at the homes of opposition leader Alexei Navalny's supporters, after he urged tactical voting in Moscow council elections.
With Navalny urging his supporters to back non-government candidates, Putin's United Party managed to win only a slim majority in Moscow's City Hall. One mayoral candidate in the country's third city of Novosibirsk shared footage of him loading his hard drives onto a drone to escape the clutches of government officers knocking at his door.
After the Moscow election, which sparked protests, an open letter signed by 77 public figures, including the makers of TV show Game of Thrones and the actor Stephen Fry, condemned "political repression and lawlessness taking place today in Russia."
The letter by the working group, set up by Kremlin critic and oligarch Mikhail Khodorkovsky, called on companies like Facebook to Google, not to bow to Kremlin demands "to comply with domestic laws that stifle civil society."
Russian Shaman Who Was Crossing the Country to 'Expel Putin' Kidnapped by Armed and Masked Men Thought to Be Security Officials | World