Russian officials have shown off apparent trophies, including U.S. weapons, that its military has reportedly captured during the war in Ukraine.
On Sunday, August 7, the Russian Ministry of Defense (MoD) shared footage of a handful of weapons that had reportedly been seized from Ukrainian forces.
In the 2 minute and 15-second clip, Russian soldiers could be seen holding and talking about the weapons, which included a portable anti-tank Javelin
Officials said the small haul of weapons on display were obtained during what Russian officials call a "special military operation."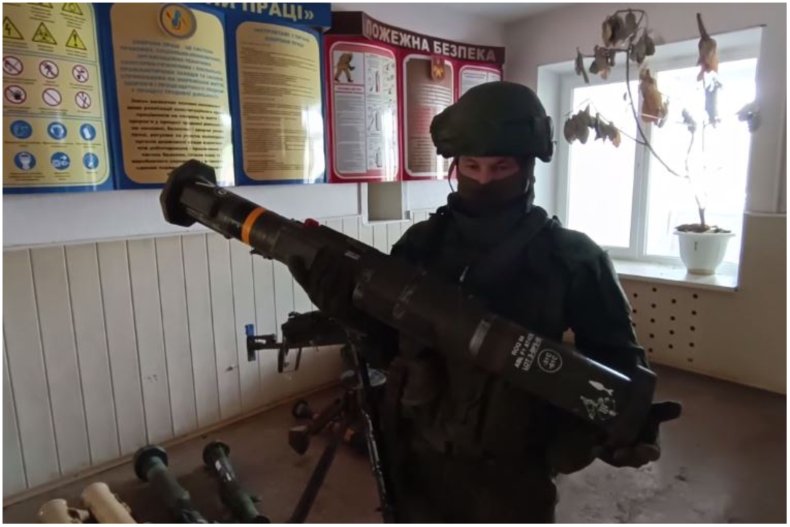 The Russian MoD said in the Telegram post: "Among the trophies, weapons are mainly of foreign manufacture. Hand-held anti-tank grenade launchers made in Great Britain, the USA, Poland, Sweden, including Javelin and Carl Gustaf missile systems, as well as heavy machine guns and Soviet-made small arms abandoned by Ukrainian nationalists.
"The servicemen of the reconnaissance unit also spoke about the circumstances of the capture of weapons during reconnaissance and search operations."
Russia's display of weapons seems to pale in comparison to the tanks and other equipment that have been captured by Ukrainian soldiers.
Since the outbreak of the war, Russia has reportedly lost some 5,000 military vehicles in Ukraine, according to analysis by Oryx, an open-source site tracking military-equipment.
Russia has also said it has destroyed a number of U.S.-Supplied M142 High Mobility Artillery Rocket Systems (HIMARS), although Western nations have cast doubt on the claims.
Soldiers in the clip also reinforced the Russian narrative that the war was waged to fight against supposed Nazi control of Ukraine, a claim that has been dismissed by Kyiv.
According to Russian state-affiliated media Tass, one of the soldiers in the clip added: "We found this machine gun on the outskirts of the edge, it was fully equipped, three full boxes of armor-piercing cartridges 12.7.
"A skull and swastika were painted on one of the boxes."
At the outbreak of the war, Russian Foreign Minister Sergey Lavrov claimed the purpose of the conflict was to "denazify" the country.
The apparent justification has been widely dismissed by Ukraine's President Volodymyr Zelensky as well as Western leaders.
Newsweek has contacted the office of the President of Ukraine and the Kremlin for comment.
The video comes as Russia experiences "more and more difficulties" in conducting its invasion of Ukraine, according to Dan Rice, a special adviser to the Ukrainian Armed Forces Commander-in-Chief Valeriy Zaluzzhnyi.
After failing to capture the Ukrainian capital of Kyiv, the Russian military has shifted its efforts to securing the separatist Donbas region, an area with a large number of Russian speakers.
Rice praised Ukraine for an "excellent job" in defending the country from Russian forces and blasted the invading forces for using a Soviet model of top-down leadership.