Russian Foreign Minister Sergei Lavrov appeared to slip up on Thursday as he described President Vladimir Putin's full-scale invasion of Ukraine as a "war" for the first time since the conflict began in February.
Lavrov made the admission at his annual news conference in Moscow, during which he also accused the U.S. and the military alliance NATO of playing a direct role in the war.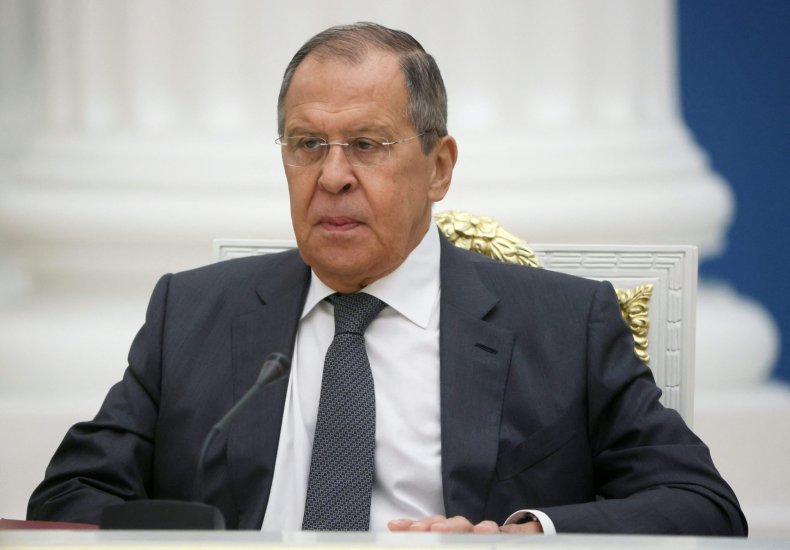 "With Ukraine, we didn't just get up, [only because] we because we didn't like [Ukrainian President Volodymyr] Zelensky, or because he stopped playing in the KVN [Russian and formerly Soviet humor TV show and an international competition] and stopped maintaining his theater, Kvartal 95 [publicly owned television entertainment production company, founded by Zelensky], and we went to war against Ukraine," he said.
"It's not just like that, we warned [Ukraine] for many, many, many years," Lavrov added.
Russian officials have so far echoed the Kremlin line that conflict, which began on February 24, is a "special military operation" and not an "all-out war."
Russian citizens have been convicted for referring to Putin's assault on Ukraine as a "war" or as an "invasion" under laws passed in March to crack down on dissent.
Russian TV host and Putin ally Vladimir Solovyov, nicknamed "Putin's voice" for his stridently pro-Kremlin views, on November 1 became was the first propagandist to describe Russia's full-scale invasion of Ukraine as a "war."
But Kremlin officials so far have called the conflict a "special military operation."
As recently as September 24, Lavrov told the UN General Assembly Russia had "no choice" but to launch a "special military operation" in Ukraine.
And on October 7, the foreign minister said a "special military operation" was launched to "neutralize...threats posed by the Kyiv regime."
According to analysis by the Carnegie Endowment for International Peace in September, rapidly unfolding events in Russia are effectively transforming the conflict in Ukraine from a "special operation" on someone else's territory into a war to defend supposedly Russian land.
Putin raised the stakes in his war when he announced a partial mobilization on September 21 to send 300,000 reservist troops to fight in Ukraine, and formally annexed four partially occupied regions of Ukraine, despite the regions not fully being under Russian control.
At the same press conference, Lavrov defended Russian missile strikes on Ukraine's critical infrastructure in October and November that caused power outages and blackouts across the country.
"We disable energy facilities [in Ukraine] that allow you [the West] to pump lethal weapons into Ukraine to kill Russians," Lavrov said.
"So don't say that the U.S. and NATO are not participants in this war—you are directly participating. Including not only with the supply of weapons, but also with the training of personnel—you train the [Ukrainian] military on your territory."
Newsweek has reached out to Russia's foreign ministry for comment.
Do you have a tip on a world news story that Newsweek should be covering? Do you have a question about the Russia-Ukraine war? Let us know via worldnews@newsweek.com.