Russians Spending More on Coffins in 2022 Than Pandemic, Data Suggests
Russia spent more on coffins to bury its dead in the first half of 2022, as the war in Ukraine was unfolding, than in the same period in 2020 and 2021, when the pandemic was ravaging the country, according to an investigation by an open-source intelligence community.
Molfar, a global open-source intelligence (OSINT) community based in Kyiv that unites 250 professionals working on military investigations, fact-checks, information search, and analytics, analyzed two years of data on what Russians spent on funerals and burials since 2020, collecting evidence of purchases and tenders.
It found that since the beginning of the year, Russia has spent almost $4 million on buying body bags and coffins.
Between January and July 2020, Russia spent $1.3 million on tenders for coffins; in the same period in 2021 that rose by 7.7 percent, reaching $1.4 million. In 2022, the figure was $2.8 million—doubling the costs of the previous year, according to Molfar.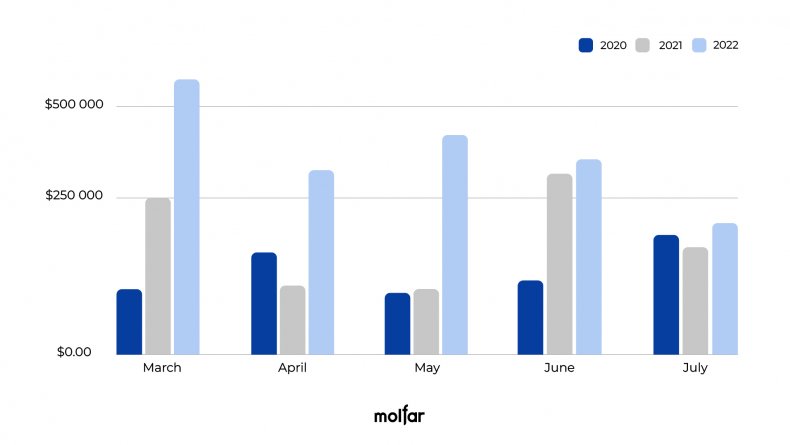 As the graph compiled by Molfar shows, the highest expenses date back to March, a month that was perhaps the most brutal period so far in Russia's invasion of its neighbor, before Moscow troops retreated from the areas surrounding Kyiv. In the aftermath of their withdrawal, evidence emerged of war crimes against civilians in areas such as Bucha.
In March, Russia spent $441,000 for coffins, with Molfar identifying 41 tenders held that same month.
Molfar has been closely involved in analyzing the war in Ukraine. It provides daily reports on the war's latest events and military strikes. It has also worked with international media on documenting alleged Russian war crimes, such as the bombing of a theater in Mariupol in March, and identifying alleged war criminals.
According to a new governmental standard for the urgent burial of people and animals who die during military conflicts or as a result of these conflicts approved in Russia in December 2021, regional authorities and local governments are responsible for creating stocks for these burials—including coffins, pathological bags, disinfectants and personal protective equipment—in peacetime.
According to the new regulation expediting mass burials, published on the Emergencies Ministry's website on December 20, 2021, regional and local authorities are responsible for collecting the bodies of the dead, delivering them to the place of burial, transporting the coffins and burying them.
At the time the new guidelines for mass burials were passed, the international community was already concerned Russia might be planning an invasion of Ukraine, as Moscow was gathering its troops at its neighbor's border.
Molfar estimates that this change in the rules around burials impacted the purchase of body bags at the end of 2021, as in December alone the costs for body bags were 25 percent of the expenses for the entire year, at $645,000.
The new law came into force on February 1, 2022.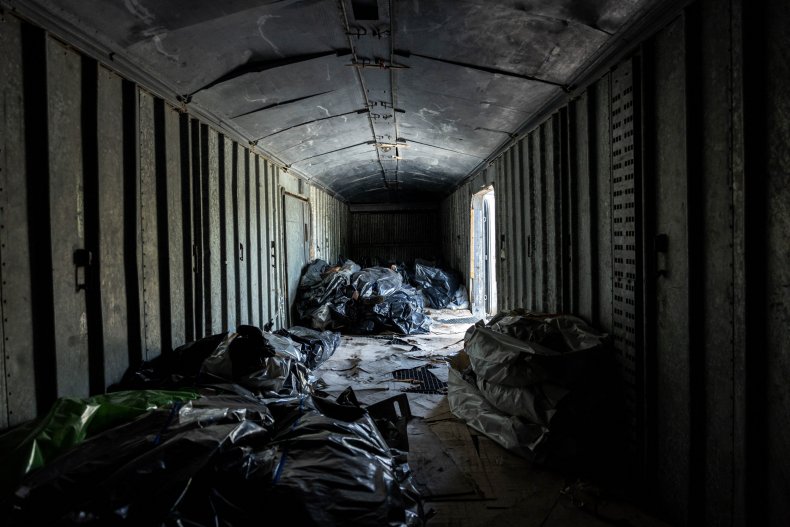 While the data suggests that the war in Ukraine has profoundly impacted Russia's expenses for burials and funerals, there's no way to verify a potential link between casualties from the war and burials within Russian territory.
According to Molfar, the sale of body bags and coffins is carried out according to a system of tenders that "hide large purchases in certain regions."
"Tenders are won by companies from almost the same regions," the report from Molfar reads. "So, the statistics remain unchanged, and the real picture of the buried people by region remains a mystery."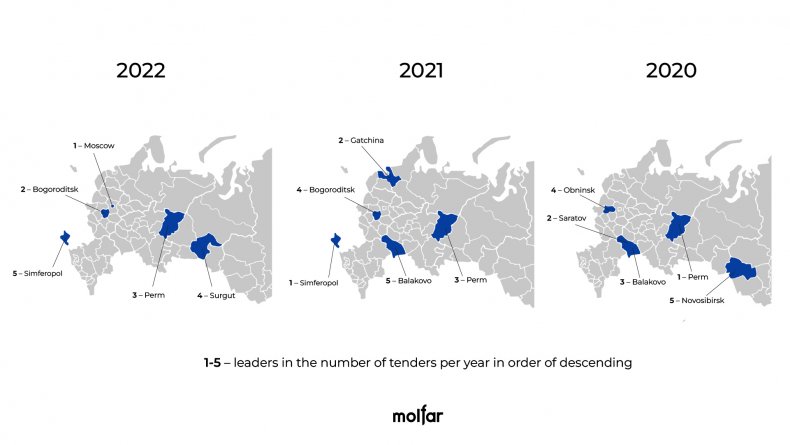 Russia has not declared the number of casualties it suffered in Ukraine since the beginning of the war. Western intelligence estimates up to 80,000 troops have been killed since February 24.
"The Russians are taking a tremendous number of casualties on the other side of the equation," the Pentagon's top policy official, Colin Kahl, said this month.
"I think it's safe to suggest that the Russians are probably taking 70 or 80,000 casualties in less than six months."
In July, CIA director William Burns said Russia had likely suffered around 60,000 casualties.
Ukraine's military estimates that some 45,550 Russian troops have been killed since the beginning of the full-scale invasion of its country.
By comparison, the pandemic claimed the lives of over 800,000 people in Russia as of July 2022. At the end of 2021, Russia's pandemic death toll had surpassed 658,000.
Newsweek has reached out to Russia's Ministry of Defense and Emergencies Ministry for comment.
Update 08/24/2022, 11:28 a.m. ET: This article was updated with additional information about Molfar and its work.