Russian Units Linked to Bucha War Crimes Likely 'Destroyed in Combat'
Russian units linked to the killing of civilians in the Ukrainian town of Bucha in the Kyiv region have likely been "destroyed in combat," a U.S.–based think tank said in an assessment on Friday.
The Institute for the Study of War (ISW), citing a report by Radio Free Europe/ Radio Liberty (RFE/FL), assessed that Russia's 64th Separate Guards Motor Rifle Brigade (64th SGMRB) of the 35th Combined Arms Army has likely been destroyed, possibly as "part of an intentional Kremlin effort to conceal the war crimes it committed in Kyiv Oblast."
The think tank cited an investigation by RFE/FL into the brigade, which was conducted following alleged massacres in April in the suburbs of the Ukrainian capital Kyiv. The investigation found that after heavy fighting in the area between Izyum and Slovyansk the brigade has "largely ceased to exist."
Out of 1,500 soldiers who were in the brigade before Russian President Vladimir Putin's war against Ukraine began on February 24, 200 to 300 troops were likely dead, ISW noted, citing the investigation conducted by RFE/FL investigative journalist Mark Krutov.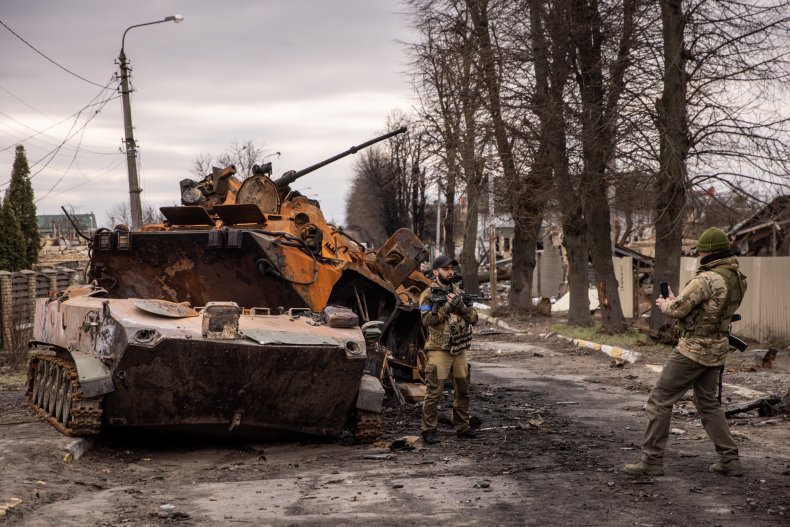 "It is typical for Russian units that are so severely degraded during combat to be disbanded and survivors reallocated into other combat elements, but Krutov noted that Russian President Vladimir Putin cannot disband the 64th SGMRB without embarrassment," ISW said in its latest assessment.
Russia's president had awarded the brigade the honorary "guards" designation on April 18, following the emergence of evidence that it had committed war crimes in Bucha, ISW said. It noted that the brigade was rushed back into combat in eastern Ukraine after it had completed its withdrawal from around Kyiv without much time to rest, refit, receive replacements, or recover.
"Speculation at the time ran that the Kremlin was eager to have the brigade destroyed in combat to avoid revelation of its war crimes," ISW said.
Hundreds of bodies were found lying on streets in Bucha, a town near Kyiv, prompting Ukrainian authorities to announce that they were investigating potential war crimes by Russian forces after they withdrew from the town following intense fighting.
On April 28, Ukrainian authorities filed criminal charges against 10 Russian soldiers accused of participating in alleged atrocities in Bucha. They were all non-commissioned officers and privates from Russia's 64th Separate Guards Motor Rifle Brigade.
Ukrainian President Volodymyr Zelensky said on April 5, while delivering a speech to the United Nations Security Council, that Ukraine had "conclusive evidence" that Russia committed a massacre in Bucha.
The Kremlin has denied any accusations connected to the killing of civilians in Bucha.
Newsweek has contacted Russia's Ministry of Foreign Affairs and the Ministry of Defense of Ukraine for comment.